Ten Things You Didn't Know About Dylan Dog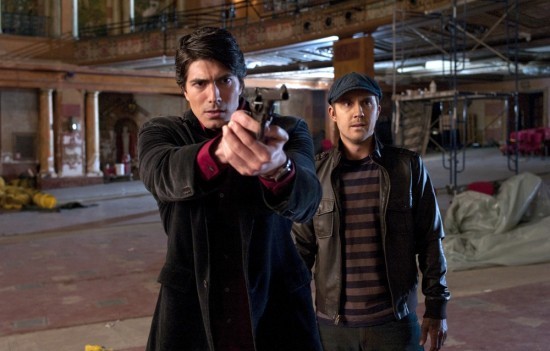 Italy's beloved supernatural detective finally comes to the big screen this week, with Dylan Dog: Dead of Night, starring Brandon Routh as the titular demon hunter. While a cult hero overseas, Dylan Dog is something of an unknown here. Created by Italian scribe Tiziano Sclavi way back in 1986, "Dylan Dog" has sold millions of copies in multiple languages. To get you ready for his big-screen debut, here are ten fun facts about one of the world's most popular ghost and ghoul busters.
He always wears the same outfit.
Easily the most stylish monster hunter around, Dylan has never been seen without his signature black jacket, red shirt, and blue jeans. Thankfully, Dead of Night continues the tradition, decking out Routh in an outfit straight from the comic's page. If nothing else, the new film retains the idea that Dylan Dog looks great whether he's fighting vampires or jetting around Europe breaking hearts at every port. You have to admire any hero whose wardrobe has remained chic for 25 years.
He calls London home.
While an Italian creation, Dylan Dog hunts down the undead from 7 Craven Road (a nod to horrormeister Wes Craven) in misty London. Much like how Constantine transported its titular character to Los Angeles from the U.K., Dylan Dog: Dead of Night moves the action to New Orleans. Fans are understandably worried about the loss of the comic's distinctive setting. Will Dead of Night pull a League of Extraordinary Gentlemen in its Americanization of a beloved London-set comic?
Rupert Everett inspired his look.
Original "Dylan Dog" artist Claudio Villa based the main character's look on Rupert Everett after seeing the actor in the 1984 drama Another Country. Because of his link to the character, fans have been angling for Everett to tackle the role on the big screen. Interestingly enough, Everett has another tie to the movie via his starring role in the cult horror favorite Cemetery Man. (Read on.)
Cemetery Man was Sclavi's first cinematic outing.
Further tying Everett to the project is the 1994 horror flick Cemetery Man. Based on a novel by Tiziano Sclavi, Everett's character, Francesco Dellamorte, is something of an Italian counterpart to Dylan Dog. (Like Dylan, Dellamorte battles while dressed in a stylish suit, and Dellamorte has also appeared in "Dylan Dog.") While not technically Dylan Dog, many fans consider Everett the first actor to play the beloved character.
He's afraid of bats.
Sclavi's comics are brimming with absurdist humor. Part of Dylan's appeal is his eccentric nature: a vegetarian and lover of literature, Dylan is also plagued by myriad phobias, ranging from arachnophobia (fear of spiders) to chiroptophobia (bats). Naturally, these fears make his life as a paranormal investigator somewhat difficult. While Dead of Night retains Sclavi's light touch, word is that it drops some of the weirder character stuff in favor of traditional horror-movie action.
He is formerly of Scotland Yard.
Dylan gained his sleuthing skills as an inspector for Scotland Yard. Inspector Bloch, Dylan's former boss, is something of a father figure to Dylan in the comics. Often acting as a Watson to Dylan's Holmes, Bloch provides a rational outlook on Dylan's cases, but, sadly for fans, Bloch is missing from the new film. Come on, Dead of Night team: you already moved the story to America. Would it have killed you to include Bloch as a detective on the New Orleans police force?
He shares a comic-book home with Hellboy.
With its offbeat sense of humor, creepy stories, and stylish artwork, "Dylan Dog" has developed a cult following in the U.S., thanks to reprints from Dark Horse Comics, the publisher behind "Hellboy." ("Hellboy" creator Mike Mignola drew covers for some of the reprint editions.) Pick up The Dylan Dog Case Files, which reprints several key Dylan Dog adventures, before you see the movie.
He's quite the ladies' man.
Or womanizer, if you want to be cynical. Dylan's stylish wardrobe, melancholy soul, and penchant for poetry make him catnip to the ladies. (Anita Briem falls for Dylan's charms in the new movie.) Unafraid to mix business with pleasure, Dylan Dog has had many, many female clients come in and out of his life. And as a classic sufferer of the Oedipus complex, Dylan tends to fall for women who resemble his late mother, Morgana.
He shares a weakness with Tony Stark.
Much like Tony Stark, recovering alcoholic Dylan Dog can't hold his booze. And like Constantine's nicotine addiction, Dylan's drinking problem will likely be dropped entirely (or, at the very least, toned down) for the new PG-13 flick. It's a shame that Hollywood seems intent on sanitizing some of the comic's most interesting characters in an effort to make them palatable to mainstream audiences.
His partner is a Groucho Marx impersonator.
In the comics, Dylan's partner is a wisecracking Groucho Marx impersonator who thinks he's the famous comedian and What's My Line? host. (Again, this is one weird comic.) But for obvious legal reasons, Groucho is replaced in Dead of Night with a snarky undead assistant named Marcus. Sam Huntington, who also starred opposite Routh as Jimmy Olsen in Superman Returns, now gets to play another hapless sidekick.
Read More