Russell Brand As Batman – and Other Celebrities Who've Dabbled at Playing Superheroes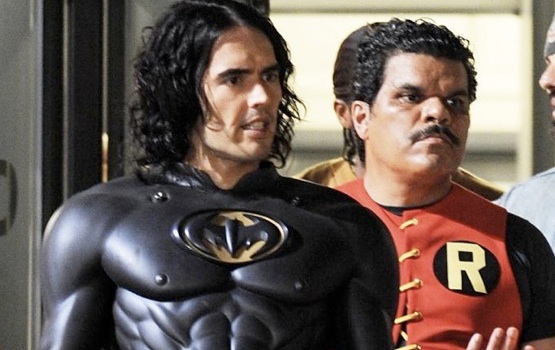 If you've seen the ads for the Arthur remake, you've probably caught a glimpse of one of the weirdest sights on the big screen this year: Russell Brand dressed in a full Batman costume. Brand's Arthur is so rich that he has his own movie-quality Batman outfit, complete with unfortunate Bat nipples and a Bat mobile for nights out on the town. (As Christopher Cross once sang, "Arthur, he does as he pleases.") Brand even has a trusty Boy Wonder, in the form of Luis Guzmán, who dons a retro (and revealing) Robin costume in what is easily the best gag in the movie. But Brand and Guzmán aren't the first celebrities to don capes and tights without actually playing superheroes. Let's take a look at a few stars who indulged in a little superhero dress up, both on-camera and off.


Sean Young As Catwoman
In easily the most infamous example, Young wore a homemade Catwoman costume on Joan Rivers's talk show in an effort to score a role in Batman Returns. Young was originally cast as Vicki Vale in Batman but was replaced by Kim Basinger after falling off a horse during rehearsals. Determined to get back into the Bat franchise, Young confronted Tim Burton on the Warner Brothers lot while dressed as Catwoman. Of course, the role went to Michelle Pfeiffer, and Young earned a reputation as one of Hollyweird's kookiest stars.
Kim Kardashian As Wonder Woman
While reality-show celebrity Kim Kardashian will never play Wonder Woman on the big screen, she did turn heads in a tight costume at a Halloween party a few years back. Kim gets points for the tiara and gold bustier, but the black tights are a bit off. Why not go for the traditional star-spangled bikini shorts and bare legs? (What, Kim felt like covering up for once? It's not like it's that chilly in Los Angeles in October.) Still, her costume isn't all that less revealing than the one that new TV Wonder Woman Adrianne Palicki is currently sporting.

Kenan Thompson As Superman
From the lame Hulk parody Disaster Movie to Carmen Electra as Mystique in the toothless X-Men parody Epic Movie, the recent spate of Movie movies is rife with broad lampoons of superhero flicks. Saturday Night Live
star Kenan Thompson donned a very Superman-like outfit (but not close
enough so as to infringe on the copyright) for the Halloween flick Stan Helsing. With its tired jabs at A Nightmare on Elm Street and Friday the 13th, Stan Helsing was pretty much (wait for it) DOA at the box office. A classic design despite its mock logo, Kenan's Superman costume is far better than the one Nic Cage almost sported in Tim Burton's aborted Superman Lives.
Tracy Morgan As Professor Xavier
While most of the heroes in Superhero Movie were lame parodies like the Spider-Man knockoff Nerdy Dragonfly, a few popular characters also popped up. Pamela Anderson squeezed into tight leather as Invisible Girl, while 30 Rock star Tracy Morgan wore a bald cap to play Professor X. Admittedly, Morgan as the buttoned-down
Xavier is pretty funny. Sadly, the rest of Superhero Movie is not, though it does answer this question: what if there were a Mrs. X, and what if she yanked off Invisible Girl's weave?
Vincent D'Onofrio As Thor
Before he starred on Law & Order: Criminal Intent, D'Onofrio turned up as a mechanic named Dawson whom young Sara believes is the Norse superhero Thor. (A huge fan of the hero, Sara wears a Thor helmet and carries around a toy hammer.) Though he initially refuses to turn the gang's car over when they find themselves low on cash, Sara's offer of her Thor helmet melts Dawson's heart. With his luxurious blond eighties rocker hair and giant hammer, D'Onofrio strikes a pretty convincing Thor pose. (Particularly when surrounded by steam.)


Heidi Klum and Seal As ?
Heidi claimed that she and husband Seal were superheroes when they showed up on the red carpet last Halloween. Which superheroes they're supposed to be is anybody's guess. Seal looks like Steel, the Superman character portrayed by Shaquille O'Neal in the 1997 cinematic non-classic of the same name. Meanwhile, Heidi seems to be a cross between Starfire from Teen Titans and a Starburst fruit chew.
Read More