New on DVD – April 5, 2011 – I Love You Phillip Morris and Tron: Legacy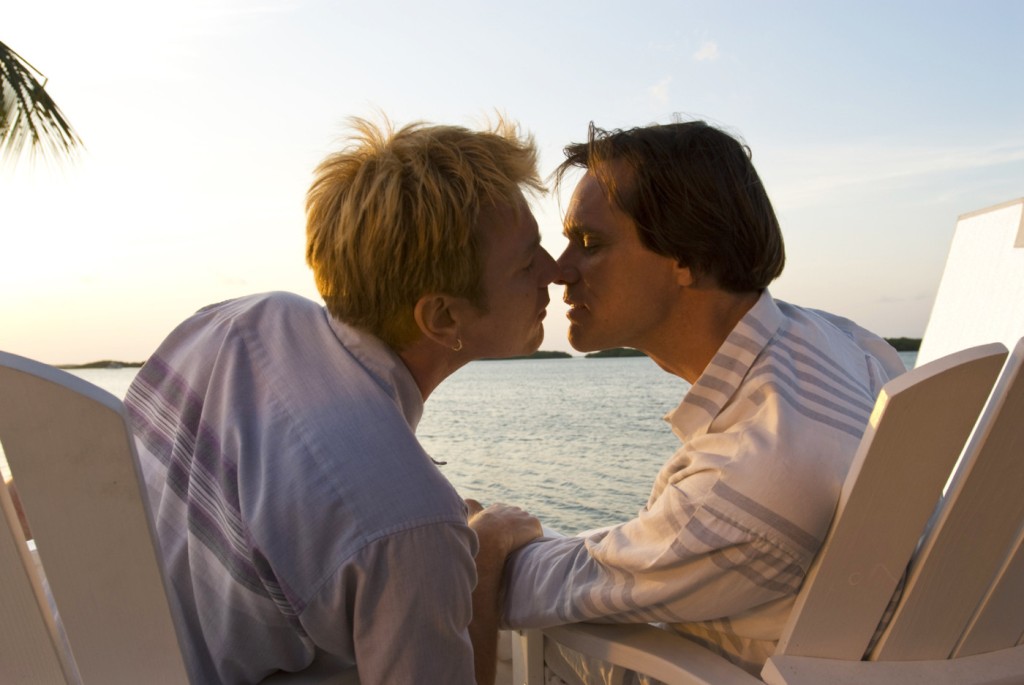 A scam artist in love and diving into computers, literally: an inveterate liar can't avoid Cupid's arrow in the comedy I Love You Phillip Morris, while the son of a missing legendary programmer follows him into the electronic netherworld in Tron: Legacy. These and other films (Little Fockers, Casino Jack) are coming this week to DVD and Blu-ray.
I Love You Phillip Morris

In this high-energy based-on-a-true-story comedy from the writers of Bad Santa, Jim Carrey brings all his manic gifts to bear playing a onetime married cop who chucks it all to come out of the closet and lead the life of a frequently jailed, inveterate grifter who falls in love with a pretty blond cell mate (Ewan McGregor). Our writer had high praise for Carrey's "furious comic inspiration" and compared the film to a "darker, weirder Catch Me If You Can," which "bounds along merrily as farce, while the darkness underneath deepens."
Tron: Legacy

Almost three decades ago, Disney released the original Tron, which starred Jeff Bridges as an obsessed computer programmer who finds himself literally transformed into an anthropomorphized piece of code inside a database. This sequel sends his son looking for him in an electronic world; it's that simple. We thought that — except for an incredible soundtrack by Daft Punk — the new film was quite similar to its predecessor, an "infuriating dichotomy of visceral thrills that pulsate off the screen and a plot so inexorably drawn to mundane family emo drama that it loses stream in spite of its impressive CGI rendering."
Little Fockers

In the beginning, there was Meet the Parents,
in which Ben Stiller has an awkward time meeting his girlfriend's
family, in particular the overbearing, scary father, Robert De Niro. A
sequel introduced Stiller's parents (Barbra Streisand and Dustin
Hoffman) and many, many more embarrassing incidents. Now comes a second
sequel, and there are children involved. The law of diminishing returns
is in full effect here, our critic writes, resulting in an unfunny, "ramshackle and lazy" film.
Casino Jack

There's already been an excellent documentary by the same name on the scandal that brought down infamous Republican lobbyist and scammer Jack Abramoff. This is the dramatic version of the story — the last completed
film of the late director George Hickenlooper — with Kevin Spacey back in
form as the manic, self-deluding Abramoff. We thought this farcical but well-researched story was "smartly paced, funny, and something
of a minor success in that it never feels self-satisfied in its condemnation of Abramoff."
Taxi Driver

Martin Scorsese's 1976 film gave voice to millions of depressed loners
(not always in a good way) and stars Robert De Niro as the titular driver
who wanders the streets of a crumbling New York, fuming in schizoid fury
at the corruption and sleazy degradation he sees all around him and
dreaming of a cleansing, violent catharsis. Now on Blu-ray, for all fans
of pre-Giuliani Manhattan and pre-Little Fockers De Niro.
The Chronicles of Narnia: The Voyage of the Dawn Treader

Another family-oriented series loses steam in this third adaptation from C.S. Lewis's children's fantasy series. As previously, World War II is raging, but one plucky group of
children is tossed yet again into the fantasy world of Narnia, where
they find themselves on a ship piloted by Prince Caspian on a dangerous
quest. Our writer had little patience for the story's plodding religious
allegories, which, he thought, left the film "stuck somewhere between the
Hobbits and Harry Potter….It's not a pleasant position to be in."
Read More