Uncategorized
Flashback Five – Morgan Freeman's Best Movies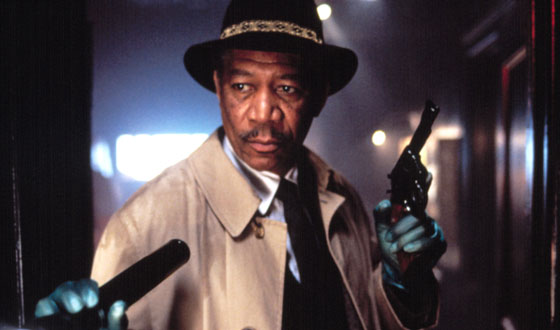 Morgan Freeman could read the phone book and your attention would never waver. That voice! Oh, that voice. But, dulcet tone aside, Freeman's no slouch as an actor either. He's a remorseless scene-stealer whose victims include Kevin Costner, Clint Eastwood, and Denzel Washington. He lends a solemn authority and easy familiarity to any role he's cast in. Although a late bloomer in the film world, he's assembled a collection of attention-getting roles in phenomenal movies. Here are some of his best.
1. The Shawshank Redemption (1994)
Whom would you happily do two life sentences with? Freeman. Although Tim Robbins is technically the lead, their friendship unfolds via Freeman's perspective and voice. Interestingly, Freeman's character, Red, was originally set to be Irish, which only underscores how crucial Freeman is to the movie's success. If he's not there, giving the flick its compassionate core, the movie doesn't work. With Freeman, Shawshank is a classic.
2. Se7en (1995)
Se7en is a buddy-cop thriller with a bout of depression. On rain-lashed streets, Freeman and Brad Pitt hunt for a Bible-inspired serial killer. There are no witty asides to break the glum mood — just tension. Even Freeman's relatively sunny disposition while mentoring both Pitt and his wife (Gwyneth Paltrow) can't cut through the clouds. But what Se7en lacks in happiness, it more than makes up for in thrills, mystery, and a shocking conclusion.
3. Unforgiven (1992)
One of the best Westerns ever, Unforgiven is a spectacularly violent Bucket List. Aging Ned (Freeman) goes with old friend Bill Munny (Eastwood) on one last carouse, hitting a frontier hellhole to kill some bad men. The gruff talent of Eastwood provides the perfect pairing for the silky smooth Freeman. Yes, this is the best modern Western and deserved its Oscar for Best Picture. But for all the talk of the movie as a radical reenvisioning, why does the Black guy still have to die first?
4. Lean on Me (1989)
Freeman tears into the inspiring-teacher genre with relish as a fierce principal who declares war on underachieving. This is what Rambo would have been like if he'd taken a few courses in public-school administration. He disarms knife-wielding students and reduces thugs to tears in the hallways. Freeman's principal is definitely of the "tough love" school of thought. For the actor's part, he sinks his teeth into his role, showing an early penchant for inspiring speeches.
5. Glory (1989)
Within a top-notch squadron, Freeman stands out as sergeant John Rawlins. This Civil War story really gives viewers the feel of the period, as it examines the undersang contributions of Black soldiers in the conflict. Freeman plays a sage runaway slave who frequently steers Matthew Broderick's befuddled commander onto the correct path. Denzel Washington won an Oscar for the flick, but Freeman is no less deserving.
Honorable Mentions
1. Street Smart (1987): Freeman's breakout role was not the type he'd often play (he's a menacing pimp), but it was great and earned the actor his first Oscar nod.
2. Driving Miss Daisy (1989): In a movie as touching as it is clichéd, Jessica Tandy plays the ultimate backseat driver, and it takes the patience of a saint (read: Freeman) not to knock that summer hat upside her head.
3. Invictus (2009): Who else could play Nelson Mandela? Freeman reunites with Clint Eastwood as the man who can bring a divided nation together.
4. Million Dollar Baby (2004): As boxing trainer Scrap Iron, Freeman provides the narration to this gut-punching tale. But he also gets in a few dramatic moments, providing the de rigueur pep talk to a bereft Clint Eastwood.
5. The Power of One (1992): A great distillation of Freeman's career in an underrated movie: he's a prisoner in South Africa who teaches a boy to box and brings the country together. No, really.

Catch Se7en on AMC, Sun., Apr. 3, at 6PM | 5C, right before the premiere of The Killing.
The Killing debuts with a two-hour premiere this Sun., Apr. 3, at 9PM | 8C.
Read More