How Do Nerdy Chicks in Juno and Fanboys Get the Guy? The Secret Is…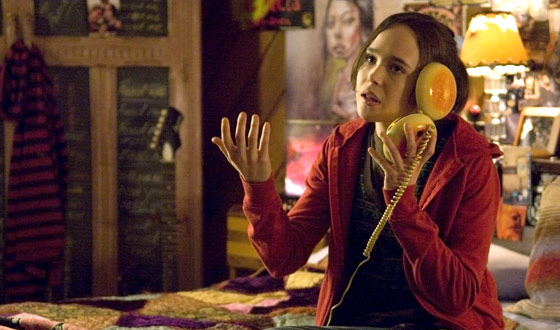 Don't you just hate that movie trope where a girl gets a complete makeover so the guy she likes will notice her? You know the story: she loses the glasses and lets her hair down, and all of a sudden she's a beauty queen. But what if, like many women, you're blind without your glasses and think being a nerd is kind of awesome? Does that mean you'll never get a guy? Geek, please. There are plenty of female characters who stay true to themselves while finding love. These awesome and awkward females talk the geek talk and walk the geek walk — right into the arms of a man. For your inspiration: a history of geeky girls who did it their way.
Zoe (Kristen Bell), Fanboys
The Talk: "That better be your lucky R2 poking me."
The Walk: She knows every Bond villain, quotes Clash of the Titans, and has beat every Nintendo Zelda game. That's just some of her geek cred. Unfortunately, as hot as that is (and as hot as she is — after all, this is Kristen Bell), it means she's seen as one of the guys. Guys can be so thick. But once the man of her dreams gets a clue, he picks the perfect geek time to make his move: while they sit on George Lucas's couch. Nice. Her fantasy, which was not to stop being a geek but to be a geek in love, comes true.
Juno MacGuff (Ellen Page), Juno
The Talk: "As far as boyfriends go, Paulie Bleeker is totally boss. He is the cheese to my macaroni. And I know that people are supposed to fall in love before they reproduce, but I guess normalcy isn't really our style."
The Walk: Juno marches to her own drum: she wears hoodies, enjoys horror movies, and deals shockingly well with having a baby. But being a geek — and, some would say, being downright awkward — can't stop her romantic escapades. Her way to romance: coming to terms with the fact that she wants it and then, as is her way, telling it like it is. She may be a nerd, but she's the pursued, not the pursuer. She didn't need the musical makeover montage. He's a geek, she's a geek, and that's golden.
Velma (Linda Cardellini), Scooby-Doo
The Talk: "Let's get jink-y with it."
The Walk: When not working with Mystery, Inc., she's working for NASA. Need I say more? The brains behind the classic crime-solving team, she's looking for clues while rocking an orange cowl-neck sweater, knee-highs, and glasses (of course). She might not be beautiful in the traditional sense, like Daphne, but when they save the day a gentlemen in a Led Zeppelin jersey is particularly thankful for her help. Not that she cares, but he's there if she wants him.
Aldys (Leelee Sobieski), Never Been Kissed
The Talk: "Oh my God, like, there goes another lemming!"
The Walk: Being a proud member of the math club is a clear indicator that Aldys is not on her way to becoming homecoming queen. The movie's star, Josie (Drew Barrymore), is a reporter reliving her high-school years, determined to be cool this time around. But Aldys never will be because she's too good for that. She shows up at the "meant for each other"-themed costume prom dressed as part of a double helix. She's going geek all the way. And why not? Guess who asks her to dance? The prom king!
Stephanie Speck (Ally Sheedy), Short Circuit
The Talk: "Welcome to my planet."
The Walk: She calls her ex a "mutation," has been fantasizing about being taken away by aliens, and drives a nutritional-snack shack for a living. Only a total geek like Stephanie would happily dance with a robot to "More Than a Woman," by the Bee Gees. But Number 5 isn't the only guy around her coming alive. Scientist Newton Crosby (Steve Guttenberg) also digs her looks and her love of all life-forms. Now she's all that.
Jordan (Michelle Meyrink), Real Genius
The Talk: "I know what the problem is. That's simple: it's obviously the drag coefficient."
The Walk: Jordan is beyond brainy. Her idea of fun is inventing an automatic page-turner for studying. But who wouldn't want to get with that? Seriously. Among the awkward ways this fast-talking insomniac pursues her love is by knitting him a sweater and giving it to him while he's going to the bathroom. Yet Mitch (Gabriel Jarret) knows she's got it going on. He could have had Patti D'Arbanville, but he chose her instead. Another geek gets the guy. Check.
Adrian Pennino (Talia Shire), Rocky
The Talk: "My mother, she said the opposite thing. She said, 'You weren't born with much of a body, so you better develop your brain.'"
The Walk: A classic geek, super-shy Adrian wears cat's-eye glasses and hides when Rocky (Sylvester Stallone) comes into her pet store. So how does she find love? By being herself. Rocky sees her beauty long before he asks her to take off her glasses in his apartment. A model (Brigitte Nielsen) might have Stallone's affection when he's in Cobra, but his sexiest character, the Italian Stallion, is all for Adrian. She's got flaws, he's got flaws, and together they work. It doesn't get any better than that.
Check out Short Circuit on AMC, Thu., Apr. 21, at 2AM | 1C and 9AM | 8C.
Check out Rocky on AMC, Sat., Apr. 30, at 3PM | 2C.
Read More