Uncategorized
Movie History – Like AMC's The Killing? You'll Love These Five Crime Dramas Too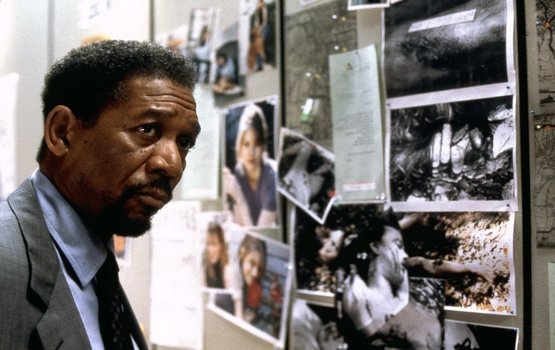 AMC's latest coup is a thirteen-part series about the violent death of a teenage girl, created by writer-producer Veena Sud. Set in Seattle, the brooding, noirish crime drama was adapted from the hit Danish mini-series Forbrydelsen. Each of the thirteen episodes represents one day in the investigation of the killing, conducted by dogged Seattle homicide detective Sarah Linden (Mireille Enos), who's leaving the force and so is accompanied by her replacement, brash cop Stephen Holder (Joel Kinnaman). The murder of Rosie Larsen (Katie Findlay) has taken a tremendous psychological toll on the remaining family and community members and threatens the political career of slick City Councilman Richmond (Billy Campbell).
For all of you who are fans of complex crime dramas with noirish elements, the following selection of five recent films may help to satiate your appetite between episodes. (Warning: Spoilers ahead!)
The Silence of the Lambs (1991)
One of the most taut, suspenseful psychological thrillers ever produced is this harrowing film by director Jonathan Demme. Fledgling FBI investigator Clarice Starling (Jodie Foster) is called upon to investigate a random string of murders (the cases involve mutilated female corpses, often with their skin removed) by a transsexual serial killer nicknamed Buffalo Bill. She finds herself used as bait to bargain and interact with the notorious cobralike psychiatrist turned psychopath Dr. Hannibal Lecter (portrayed masterfully by British actor Anthony Hopkins). She lures, provokes, and inspires Lecter into providing the bureau with information. Foster convincingly plays the part of the strong, inexperienced neophyte who eventually finds and rescues Catherine, the latest female victim, and solves the case.
Kiss the Girls (1997)
This realistic murder thriller begins when a college-age violinist (Gina Ravera) goes missing in Durham, North Carolina. Her uncle, best-selling author and D.C. forensics expert Dr. Alex Cross (Morgan Freeman), joins local detectives and an FBI agent (Jay O. Sanders) at the scene, where eight girls are now missing and three bodies have been found. The demented serial killer, who calls himself Casanova, is a collector who takes captured "specimens" and imprisons them in an underground lair, ritualistically raping and killing them if they violate his trust. A ninth kidnapped victim — strong-willed kickboxing medical intern Dr. Kate McTiernan (Ashley Judd) — is bound and drugged but escapes from Casanova (in a thrilling dash through the woods) and joins Cross in the search. A second killer, a competing psychopath known as The Gentleman Caller is discovered operating in the LA area. One red-herring suspect, Dr. Wick Sachs (William Converse-Roberts), confesses, but ultimately an unlikely pair of suspects are revealed as the evil collaborators.
The Pledge (2001)
Director Sean Penn's psychological thriller involves the gruesome murder of a little blonde girl named Ginny Larsen, whose body is discovered in the snowy area around Reno, Nevada. Retiring cop Jerry Black (Jack Nicholson) pledges his "soul's salvation" to the farm-owning mother, Margaret Larsen (Patricia Clarkson), that he will find the killer. Unsatisfied when a mentally unstable Native American (Benicio Del Toro) is arrested and commits suicide following a botched interrogation, Jerry begins to suspect a tall, black-garbed killer, seen in one of Ginny's hand-drawn pictures, who may have committed similar murders of two others. He soon sets up a surrogate family with an abused single mother (Robin Wright) and her 8-year-old daughter, using the girl as bait for the child killer. The unsettling film ends without closure, except for Black's hallucinatory insanity and the realization that his assumptions were right about numerous possible suspects.
Mystic River (2003)
The centerpiece of this bleak Clint Eastwood film is the brutal murder of 19-year-old Katie Markum (Emmy Rossum), the beloved daughter of ex-con and grocery-store owner Jimmy Markum (Sean Penn). Massachusetts homicide detective Sean Devine (Kevin Bacon), the boyhood friend of Jimmy, is assigned to the case while Jimmy conducts his own search for the killer. Markum suspects a third boyhood friend as the murderer — disturbed, violated, and haunted sexual-abuse victim Dave Boyle (Tim Robbins), who claimed that on the same night he murdered a pedophile in the parking lot of McGill's bar after seeing him having sex in a car with a child prostitute. Markum forces Dave to falsely admit to Katie's murder, then executes him and dumps his body in the Mystic River — only a few hours before the real killers confess. A break in the case finally comes through a clue on a 911 tape and a gun trace, which leads investigators to Silent Ray Harris and his skateboard pal John O'Shea. The two boys accidentally fired the gun during a prank, injuring Katie, and then pursued her when she fled and finished the job.
Gone Baby Gone (2007)
During the opening of Ben Affleck's crime drama, private investigator Patrick Kenzie (Casey Affleck) explains that his job is to find people gone missing from the tough working-class neighborhood where he grew up, near Boston. He was hired by Bea McCready (Amy Madigan) to find the abducted 4-year-old daughter (Madeline O'Brien) of an ignorant cocaine-addicted mother (Amy Ryan). He's assisted by other police detectives, including veteran Remy Bressant (Ed Harris) and police captain Jack Doyle (Morgan Freeman), and joined by his girlfriend, Angie (Michelle Monaghan), as they enter a seamy world of gangs, drug dealers, murderous child-molesting pedophiles, and corrupt cops. As it turns out, Amanda's kidnapping (and her death) had been faked, and she's found living happily with Captain Doyle and his wife, who had suffered the kidnapping and murder of their own child years before. The film ends on a sad note, with Amanda returning to her irresponsible and negligent mother.
Read More