Uncategorized
Flashback Five – Death Wish Movies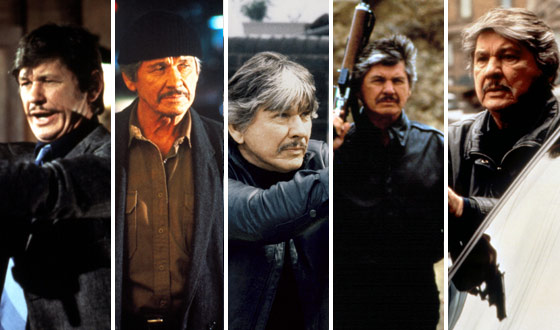 Before the saccharine era of superhero movies took hold, Charles Bronson was the cinematic vigilante who stood against the forces of chaos. Beginning as America's crime wave crested in the seventies, the Death Wish series depicts Paul Kersey as a one-man army enforcing law and order on the streets. The franchise, sequel by sequel, delves further and further into the pathos of revenge and vigilantism, like Taxi Driver spread over five action-packed movies. How did we get there? Let's take a heavily armed tour through Death Wish's violent past.
1. Death Wish (1974)
Paul Kersey's wife is murdered and his daughter raped, so he turns from a laughable liberal into an unblinking killing machine. Before long, he's avenging his family members while exercising his Second Amendment rights. A huge hit when it came out, Death Wish grossed over seven times its budget, striking a chord with paranoid suburbanites and crime-weary urban dwellers alike. Don't mind the ideologically judgmental overtones: Death Wish is dark, fun, and the best of the franchise.
2. Death Wish II (1982)
The setting's changed to Los Angeles, but Kersey's still cursed. His shell-shocked daughter gets raped (again) and dies. So instead of working on his tan or eating a wrap with avocado (or designing buildings, for that matter), he's dispensing retribution in the sunshine with a definite sense of irony. "Do you believe in Jesus?" he questions a punk wearing a crucifix. "Well, you're gonna meet him." He punctuates the scenes with a pull of the trigger. While not quite as excellent as the first flick, the second ups the violence and catchphrases. And what could be bad about that?
3. Death Wish 4: The Crackdown (1987)
A new drug called "crack" has hit the L.A. streets, and Bronson is there to put the dealers out of business. The fourth movie in the franchise jumps up to the third spot for its fantastic premise and spectacular violence: bankrolled by a drug-hating philanthropist, Bronson turns his vigilante hobby into a career. Among the highlights is Bronson planting exploding wine bottles on the tables of unsuspecting diners after he gets a job as a caterer.
4. Death Wish 3 (1985)
Wall Street is booming in the years before Black Monday, but in Bronson's New York City there's still an abundant supply of blue-collar criminals to provide him ample hunting grounds. Now operating with the okay of the cops, Bronson gives himself permission to go over the top — courtesy of a jumbo-size machine gun and a rocket launcher. Despite being paragons of racial harmony and fashion coordination (denim, headbands, funny eyewear), the hordes of malicious street thugs don't stand a chance.
5. Death Wish V: The Face of Death (1994)
Bronson has done his job. He's killed hundreds of criminals. Why not retire? He'd like to. He'd love to. Trouble is, his pretty bride-to-be (Lesley-Anne Down) happens to have an ex who is part of a crime family. You know what that means: Death Wish V, marking not only a return to the violence of times past but also, yes, Roman numerals. In this slightly inebriated action flick, Paul Kersey had his curtain call and provided the series's most awesomely weird kill: death by cannoli. But even that creative move isn't enough for this movie to reach the lofty heights of its predecessors.

Check out Can't Get Enough Death Wish, with a different Death Wish flick airing twice each night, starting on Mon., Apr. 25, at 8PM | 7C.
Read More