Uncategorized
Flashback Five – Angelina Jolie's Best Movies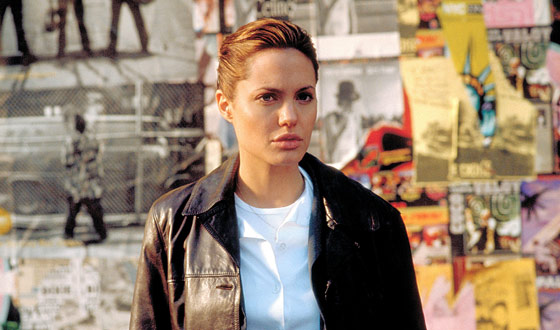 In a Hollywood bereft of gutsy female heroines, Angelina Jolie is the exception to nearly every rule. She plays edgy rebels who go pistol to pistol with guys like Johnny Depp and Nic Cage. Ladies like Megan Fox are merely walking in Jolie's stilettos. That she is set to play Cleopatra in David Fincher's upcoming biopic is hardly a surprise. Whether in CGI-enhanced form (Beowulf) or, fetchingly, in the raw (Original Sin), Jolie is a sight to behold. But her talents are more than skin-deep — as one might learn from this list of her best roles.
1. Girl, Interrupted (1999)
Before the term was invented, Angelina Jolie was the quintessential "hot mess." She plays a charismatic rabble-rousing nut job in this mental-hospital drama — instantly becoming a pinup for fellas with a penchant for emotionally disturbed women. Her sociopath matches Jack Nicholson's One Flew Over the Cuckoo's Nest performance tit for tat, adding pouty lips, of course.
2. A Mighty Heart (2007)
Although Jolie's physical transformation for A Mighty Heart did not net her an Oscar nod (as is the tradition — see Charlize Theron in Monster), her performance was worthy of the honor. As Mariane Pearl — the wife of kidnapped journalist Daniel Pearl — Jolie took audiences through a gamut of emotions: from uncertainty over her husband's fate to devastating grief upon learning the news of his execution. She makes you feel it all.
3. Hackers (1995)
Jolie does the impossible, making sitting in front of a computer seem sexy. Years before The Social Network, the actress got noticed as a high-school computer nerd fond of see-through shirts and putting down fellow hacker Jonny Lee Miller. Better known as Acid Burn on the Net, Jolie leaves a trail of hard drives and broken hearts in her wake before a campaign against a sellout corporate hacker (Fisher Stevens) helps bring her together with Miller.
4. Mr. & Mrs. Smith (2005)
The explosions onscreen don't trump the real fireworks: the sexual chemistry between Jolie and Brad Pitt. They play a married couple who are both secretly secret agents. Casting the most lusted-after movie stars of their time was actually something of a gamble. One can easily imagine the movie having too much star power, but their looks weave a romantic spell in this fun thriller. Oh, and you may have heard that they got together in real life while filming and since then have single-handedly kept the tabloid business afloat.
5. The Bone Collector (1999)
Imagine someone with the body of Angelina Jolie and the mind of Denzel Washington. Well, the scenario isn't just the stuff of science fiction: it's the conceit behind this smart serial-killer potboiler in which Angelina plays a novice cop assisting a paralyzed forensics detective (Washington). Washington solves the mystery while Jolie does all the legwork. Such is the lot of women. But the flick is nonetheless excellent.
Honorable Mentions
1. Lara Croft: Tomb Raider (2001): Could anyone else have played this role? Jolie has a body seemingly designed by hormonal computer nerds and just the right amount of badass attitude to make it work.
2. Changeling (2008): In between action roles, Jolie excels in stylish period flicks like this Clint Eastwood gem, in which she plays a women looking for her missing son.
3. The Good Shepherd (2006): Another period piece, this time opposite Matt Damon. Jolie manages to make you forget she's the world's most sought-after babe and becomes her character, an angry wife and devoted mother, with startling ease.
4. Salt (2010): Jolie is a secret agent. Ignore the plot holes and what you have is a deliciously wicked piece of entertainment.
5. Foxfire (1996): In a movie as dangerous and edgy as Jolie's early-career persona, you can already see her cinematic talents and bad-girl reputation. She also earned kudos from Variety as the "female James Dean."

Check out The Bone Collector on AMC, Sat., Apr. 9, at 10:30PM | 9:30C.
Read More