Can an Action Career Start Any Better Than Harrison Ford's in Star Wars? Yes, It Can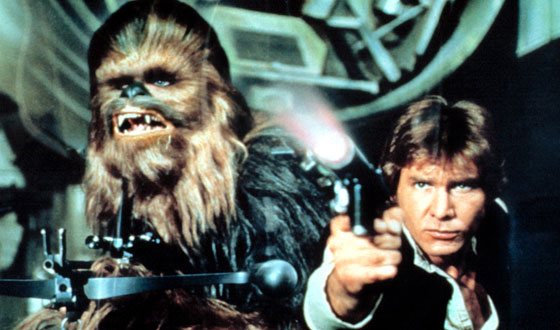 Everyone starts somewhere. But the best action stars tend to start with a bang. Take Will Smith. He's the Fresh Prince in music and on TV, an affable character with immense crossover appeal, a music-making, wisecracking scene-stealer. Only a fool or someone living under a rock (where only a fool would live) wouldn't realize he was destined for movie stardom. But as an action hero? Bad Boys changed that, and now Smith is one of the best out there. And though he may be Hollywood's No. 1 star, his action-hero debut isn't even the greatest. So where does Smith's debut rank relative to his rivals?
10. Sylvester Stallone, Death Race 2000
The ranking is not a slight against Sly as much as it is against the quality of the film, which keeps Sly — arguably the greatest action star ever — down at No. 10. He's not the only actor who owes his early career to legendary B-movie maven Roger Corman, and Stallone's action-movie debut in this Corman flick is wonderfully bad. Of course, it may be that the flick can only be retroactively enjoyed, thanks to, you know, Rocky and Rambo, so, again, No. 10 sounds right.
9. Jean-Claude Van Damme, No Retreat, No Surrender
Most action fans identify Bloodsport as the kickoff point for the big-screen age of Van Damme, the Muscles From Brussels. Nope: it was this forgotten 1986 gem, as Van Damme plays a campy kickboxing version of Ivan Drago. And before you wonder why a campy version of Drago gets the No. 9 ranking, remember that any version of Drago is really cool.
8. Steven Seagal, Above the Law
Most people — including yours truly — had no idea who the guy with the whispery voice and Pat Riley hairdo was when they saw Above the Law. By the end, I was convinced — along with everyone else — that the next great big-screen martial artist was this Seagal fella. Bonus points for this actually being one of his better movies!
7. Charles Bronson, The Dirty Dozen
The brooding. The intensity. The utter lack of dialogue. Who needs words when you have that squint? The man who would one day be Paul Kersey stands out in a star-studded group of hygiene-rejecting commandos in this World War II classic beloved by dads the world over. One look and you just knew this guy had "franchise-carrying badass" written all over him.
6. Will Smith, Bad Boys
Who would've thought that trading in "Parents Just Don't Understand" and DJ Jazzy Jeff for muscles and guns would've worked out so well? Once you see Bad Boys, one of the more underrated action movies of the last twenty years, you know Will Smith is an action star. But at the time, Smith had to do a lot to get us to forget The Fresh Prince of Bel-Air, and in Bad Boys he does it all, blowing stuff up and delivering one-liners with the best of them.
5. Chuck Norris, The Way of the Dragon
Imagine if your first movie, let alone your first action movie, is with Bruce Lee. And you have to fight him. No easy task, but Chuck Norris lands at No. 5 because he's barely even overshadowed by the legend. The first 75 minutes of this movie could have been stock footage of paint drying. It doesn't really matter: the fight between Lee and Norris at the end would still make the flick a classic. Not bad for a first effort.
4. Clint Eastwood, A Fistful of Dollars
Fire a gun. Ride a horse. Light a cigarillo. That's about the sum total of Clint's actions in the first of Sergio Leone's Dollars trilogy. Many actors have made a day's pay and a forgettable career of that. But when Clint Eastwood does it, there's something so cool about it that you know he's a star. Yup, he's just that awesome. Come on: who else launched himself to stardom playing a character who doesn't even have a name?
3. Harrison Ford, Star Wars
When your first action movie is Star Wars, you have a valid argument for having the No. 1 debut. But because there's relatively little action in Star Wars, Ford gets only to No. 3. Even if he'd retired after Star Wars, he'd still rank here. The swaggering captain of the Millennium Falcon is one of the best roles ever. He could have come off as a cocky jerk, but instead he managed to be a heroic tough guy. Also this is Star Wars! How could it rank any lower?
2. Arnold Schwarzenegger, Conan the Barbarian
Few roles fit the actor better than Conan did Arnold. Swords and sandals are a better look for Schwarzenegger than soliloquies. Thus the role of a giant muscular warrior-gladiator fellow fit him like a glove, and soon thereafter Arnold became the king of action heroes. Maybe not Arnold's best role but one of his best and the second-best debut out there.
1. Bruce Willis, Die Hard
Die Hard is Willis's action debut, his best movie ever, and the single greatest action movie ever. Therefore, by the transitive property of action movies, this is the best action-hero debut. And possibly the most surprising. If you say you were utterly convinced in 1988 that the wisecracking guy from that detective show with Cybill Shepherd was going to headline the best action movie of all time, then you are a liar or a soothsayer.
Check out Will Smith in Bay Boys tonight, Wed., Mar. 23, at 8PM | 7C.
Nick Stevens tries to make funny about movies, pop culture, and sports as often as possible. He lists John McClane, Batman, and Tom Brady as the people with whom he'd most like to have beers. For more of his grown-up nonsense, visit his Tumblr page or follow him on Twitter.
Read More