Uncategorized
Flashback Five – Michelle Pfeiffer's Best Movies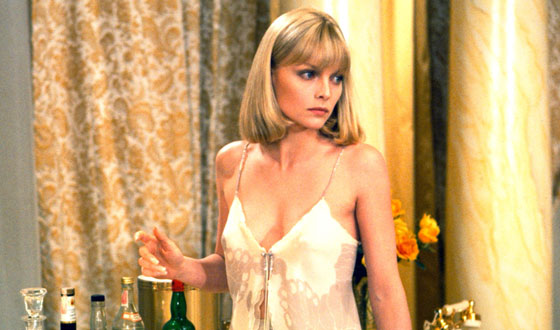 After a four-year break in the aughts, Michelle Pfeiffer has returned to the silver screen — and not a moment too soon. Despite the hiatus, the Oscar-nominated actress has still rung up plenty of top-notch movie performances over the years and always seems perfectly at home in a role, whether prowling the rooftops of Gotham City, serenading the crowd at a jazz club, giving tough love in the classroom, or gliding through nineteenth-century drawing rooms. Don't believe me? Prepare to be proven wrong.
1. The Fabulous Baker Boys (1989)
As an escort turned lounge singer, Pfeiffer helps rejuvenate a tired piano act with her sultry voice and perilously short skirts. A great tale about squandered talent, The Fabulous Baker Boys hinges on the talents of Pfeiffer. And she hits it out of the park, crafting a complex performance as a woman fighting her romantic chemistry with the gloomier Baker boy (Jeff Bridges) and trying to prove herself a worthy singer. Pfeiffer's smoky delivery of "Makin' Whoopee!," sprawled across a grand piano, is still a showstopper.
2. Scarface (1983)
Here Pfeiffer catches the eye of ruthless gangster Tony Montana (Al Pacino). And how could she not? While there are some obstacles to their relationship (she's the mistress of another drug kingpin), true love knows no bounds. He kills her boyfriend, marries her, and shares the most important thing in his life with her: his cocaine stash. Not exactly a Valentine's Day classic. In between the violence and Pacino's bombastic Tony is a truly sexy and memorable performance by Pfeiffer, who seems warm on the surface but is able to play icy, cold, and ruthless far better than you'd ever expect.
3. Batman Returns (1992)
"I am Catwoman. Hear me roar." Pfeiffer as the feline super-villain was perfect casting. It's no surprise that the actress gives her most feral performance in the role, cracking the whip in a vinyl bodysuit that looks like it was put on with spray paint. When not playing acrobatic cat-and-mouse games with the Caped Crusader, Pfeiffer is trading catty (ha) one-liners with the Penguin (Danny DeVito). Along the way, she became an icon for lonely cat ladies the world over and one of the most complex big-screen super-villains.
4. Dangerous Liaisons (1988)
Love is a battleground, and Pfeiffer is caught in the crossfire. As the chaste Madame de Tourvel, she's become an unwitting pawn in a game between the devious marquise (Glenn Close) and womanizing Valmont (John Malkovich). This daring, aristocratic psychodrama has been put on film multiple times — Valmont (1989), Cruel Intentions (1999), Dangerous Liaisons (2003) — but this version is the best. As the seemingly innocent Tourvel, Pfeiffer exudes an authentic vulnerability before turning the tables on her seducer.
5. The Age of Innocence (1993)
This society drama is more than an excuse for Pfeiffer to wear funny hats. Directed by Martin Scorsese, you won't see Joe Pesci stabbing someone in the eyeball but a carefully controlled tale of repressed emotions with Pfeiffer, once again, at the center of romantic intrigue. As a fallen woman whose exotic air tempts Daniel Day-Lewis out of his engagement to Winona Ryder, she's once again able to carefully balance seductive and likable, remaining the conscience of the movie. It's one of Scorsese's finest and most uncharacteristic films.
Honorable Mentions
1. I Am Sam (2001): A tearjerker if ever there were one. Pfeiffer brings her tough-as-nails (but still lovable) style as the harried lawyer of a mentally impaired man (Sean Penn) fighting for custody of his disturbingly cute daughter (Dakota Fanning).
2. Frankie and Johnny (1991): Scarface co-stars Pacino and Pfeiffer reunite as lonely people embarking on a love affair. It's a testament to Pfeiffer's and Pacino's talents that people as beautiful and magnetic could ever seem lonely.
3. The Witches of Eastwick (1987): The all-star coven includes Susan Sarandon, Cher, and our lady of the hour. Bored in their small town, the spellbinding trio seduce the devilish new man in town (Jack Nicholson) in a truly funny flick.
4. Dangerous Minds (1995): With a leather jacket and the attitude and skills of an ex-marine, Pfeiffer seems right at home bringing order to the gangster's paradise of a troubled inner-city school. She's one tough chick.
5. Married to the Mob (1988): Pfeiffer reprises her role as a mob moll, albeit in a considerably less violent fashion than in Scarface. All the same, in this crime comedy falling for an FBI agent (Matthew Modine) still has plenty of mortal hazards.
Check out Pfeiffer in Scarface, airing Sat., Mar. 5, at 8PM | 7C, as part of AMC's Can't Get Enough Scarface.

Read More