Hey, Johnny Depp! Here Are Some Superheroes You Should Play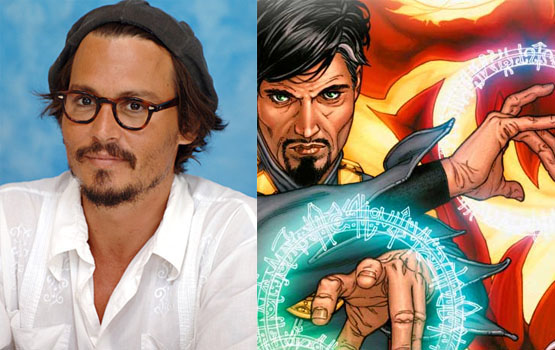 Recently, while watching Johnny Depp in Alice in Wonderland, something dawned on me: one of our greatest actors has never played a superhero. And it's not for lack of interest — Depp recently told Hero Complex that he's a big fan of Marvel's Sub-Mariner and DC's Sergeant Rock. While playing a frequently shirtless Atlantean king or a grizzled World War II platoon sergeant might be a bit of a stretch, there are plenty of other comic-book characters who could benefit from Depp's unique talents.
With Depp's latest film Rango hitting theaters this week, I'd like to offer a list of potential superheroes for Jack Sparrow to play. Fittingly for Depp, they're all a bit on the quirky side. (And most have swank facial hair.)
Doctor Strange
Admit it: a Doctor Strange movie starring Johnny Depp would be insane. Strange has mystical adventures, sports a goatee, and is a little prickly — that's Depp all over. And since he can't go more than a couple of movies without working with Tim Burton, the character would be perfect for the quirky duo to tackle. Marvel reportedly has a script for a Strange movie in the works (Guillermo del Toro was attached at one point), but so far the good doctor has had to wait in the wings until The Avengers is out of the way. If Burton and Depp expressed interest, Strange would jump to the A-list faster than you can say "Dormammu."
Spider Jerusalem
While he doesn't technically have powers, pill-popping gonzo journalist Spider Jerusalem is a larger-than-life anti-hero. He also resembles one of Depp's most famous roles. Star of Warren Ellis's acclaimed Vertigo comic "Transmetropolitan," Spider is a hard-living Hunter S. Thompson-esque scribe who strives to preach "the truth" in a dystopian future. Depp nailed Hunter S. Thompson in Fear and Loathing in Las Vegas, and a "Transmetropolitan" movie would give the actor a chance to pay homage to his friend and inspiration in a different genre.


Starman
As offbeat superheroes go, you can't really do much better than Jack Knight, the popular DC character who made his debut in James Robinson's acclaimed "Starman" series. A reluctant pop-culture-addled hipster who is more interested in collectible tchotchkes than in crime fighting, Jack Knight protects Opal City from super-villains, swamp monsters, and pirate ghosts. (It would be fun to see a comic-book city other than Gotham, Metropolis, or New York City on the big screen for a change.) While a fan favorite in comics, Starman is still something of an unknown to the general public. With Depp in the role, a whole new audience would discover one of the best superhero comics of all time. (He would also be perfect as the Shade, Jack's stylish arch nemesis.)


The Question
Much like Spider Jerusalem, the Question is an investigative journalist who seeks to root out corruption and vice in a city gone mad. (Astute comic-book geeks know that he's the inspiration for "Watchmen"'s Rorschach.) Created by famed "Spider-Man" artist Steve Ditko, Question is a conspiracy theorist and a practitioner of Eastern philosophy. (He made some particularly memorable appearances in the Justice League animated series.) A cult favorite, Question is exactly the sort of left-of-center hero that Depp could really, uh, disappear into.


Green Arrow
Part street vigilante, part liberal crusader, DC's swashbuckling archer has a roguish, offbeat charm that Depp could nail. Plus, since Oliver Queen has always seemed a little older than the rest of the Justice League, Depp's age wouldn't be an issue. An untapped gem in DC's stable, Green Arrow has unfortunately been in development hell for years. (At one point, he was attached to a bizarre super-villain concept called Supermax.) Casting Depp — and keeping Oliver's politics intact — could make for a game-changing comic-book flick.
Read More