Forget Spider-Man: Turn Off the Dark – Dick Tracy Is the Comic-Strip Musical That Should Be on Broadway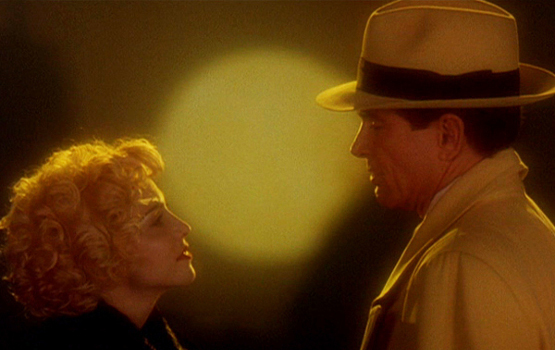 Spider-Man: Turn Off the Dark – Dick Tracy Is the Comic-Strip Musical That Should Be on Broadway" width="560″/>
As you've no doubt heard, the disastrous Spider-Man musical, Spider-Man: Turn Off the Dark, continues to be plagued by problems. Last week, director Julie Taymor exited the project amid multiple delays, accidents, and abysmal reviews. (I've seen it and can confirm that every terrible rumor you've heard is true.) With the opening delayed until June and rumors of disgruntled cast members, it seems there's no end in sight for the most expensive disaster in Broadway history.
It's a shame that so much money and time have been poured into adapting Spider-Man for the stage when there is a fantastic comic-strip-movie musical dying to be brought to the Great White Way: 1990's Dick Tracy is brimming with colorful characters, fantastic songs (penned by musical-theater giant Stephen Sondheim), and a gorgeous four-color production design that would pop onstage. Plus, as evidenced by Shrek, The Adventures of Priscilla, Queen of the Desert, High Fidelity, and countless other movies turned musicals, Broadway loves the built-in audience of a big-screen hit. Warren Beatty considered bringing Dick Tracy to Broadway several years ago, but the ongoing legal battle
between Beatty and Tribune Media over ownership of the
character has stymied everything Tracy related. A shame because they're sitting on a gold mine. Here are some reasons why Dick Tracy should be the next hero belting out a tune on Broadway.


1. The story could easily be adapted for the stage.
Unlike Spider-Man, the Dick Tracy concept is pretty simple: he's a good cop in a city filled with wacky over-the-top hoods. (Basically he's Eliot Ness, if Ness fought bad guys with faces shaped like prunes.) Even better for Broadway, the film's plot is written around the music. Montages set to songs like "Back in Business" and "Sooner or Later (I Always Get My Man)" could be translated to the stage with minimal heavy lifting. Plus several scenes are set at Big Boy Caprice's nightclub, where Breathless Mahoney and her backup dancers perform.
2. Breathless Mahoney is a star-making role.
When Madonna played Mahoney, in 1990, she was arguably at the peak of her career. Her underrated performance showcased her vocal range, while her vampy acting style fit in perfectly with the film's tone. (Let's face it — Dick Tracy is easily her best film.) The role doesn't come with the historical baggage of having been played by countless Broadway divas and could be given new life by an up-and-coming belter. With great songs and a sultry persona, Breathless Mahoney is a part that could launch the next Bernadette Peters or Kristin Chenoweth.
3. Fans are still humming the tunes.
Re-watching Dick Tracy today is like discovering a great lost Sondheim musical. "More" is a big, brassy number that sounds like an outtake from Gypsy. The sultry ballad "Sooner or Later (I Always Get My Man)" wouldn't be out of place in Sweet Charity. And "What Can You Lose," a gorgeous duet performed by Madonna and Mandy Patinkin, is a semi-sequel to "Move On" from Sondheim's Sunday in the Park With George. It's a testament to the strength of the music that Madonna used several of the songs for her best-selling album I'm Breathless, a collection of thirties-style tunes (and, uh, "Vogue") inspired by the film.
4. Tracy's rogues' gallery is made for the stage.
The literal parade of villains in Turn Off the Dark (dubbed the Ugly Parade by the show's annoying "geek chorus") is embarrassing for fans. Beloved villains like Carnage and Electro come off as extremely silly when dressed in arty Julie Taymor garb. With much of Act Two taken up by the ridiculous Taymor-created villain Arachne, the Green Goblin-Spider-Man dynamic is completely lost. Dick Tracy, however, features a rogues' gallery of over-the-top crooks straight out of a Damon Runyon story. A character like the trigger-happy Flattop wouldn't be out of place in Guys and Dolls or Anything Goes.
5. Comic strips play well on Broadway.
From Annie to It's a Bird…It's a Plane..It's Superman, comic strips and Broadway have gone together like the cast of Turn Off the Dark and hospital bills. Dick Tracy is broad and campy in the best possible sense. The story is simple and kid friendly (there's even a scrappy Oliver!-esque tyke named the Kid) without being harmful to your brain
cells. Everyone from Al Pacino, as Big Boy Caprice, to Dustin Hoffman, as Mumbles, gives an over-the-top comic performance that would play well to
the back of the house.


6. Fanboys won't freak out.
From the moment it was announced, fans were apoplectic over the idea of Spider-Man singing and dancing. While Dick Tracy has a lot of fans, it's safe to say that no one will freak out over the idea of an 80-year-old comic-strip character coming to Broadway. For one thing, the movie is already basically a musical. And as a (literally) square-jawed do-gooder rooted in the thirties, Tracy is a better fit for the stage than Spider-Man or Batman. (His comic is more "Little Orphan Annie" than "Batman: The Dark Knight Returns.") Any new material would be met with joy by fans.
7. Mandy Patinkin could reprise his role as 88 Keys.
Patinkin's long-running association with Stephen Sondheim (he was nominated for a Tony for his brilliant turn in Sunday in the Park With George) made him the perfect addition to Dick Tracy. Whether duetting with Madonna or performing solo at the piano, Patinkin brought the sort of pipes rarely seen in movie musicals these days. (Was Pierce Brosnan singing in Mamma Mia! or strangling a cat?) Casting Patinkin, an actor who splits his time between stage and screen, would be both a nod to fans of the film and a reassurance to Broadway audiences that Dick Tracy wouldn't be another Carrie: The Musical.
Read More