The Female Cops of Demolition Man and The Enforcer Are No Damsels in Distress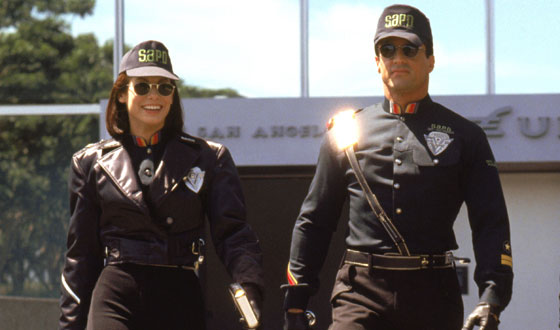 A woman on the police force is no longer the novelty it was in the days of Cagney and Lacey. This weekend, AMC adds The Killing's Sarah Linden to the cannon of great female cops. But on the big screen, women haven't fared as well. Kate Moore? Who? You should know that name. Without Moore (Tyne Daly), Dirty Harry would've bit it. Sly Stallone gets the credit in Demolition Man, but how far could he get without Sandra Bullock? Without the following five female cops, Hollywood's leading men don't make it out of their movies alive. When you're watching Linden on The Killing, remember these five names, starting all the way back in the day with a true underrated original.
Kate Moore (Tyne Daly), The Enforcer
Before winning awards on Cagney & Lacey, Daly was Clint Eastwood's partner in a Dirty Harry flick. Of course, when Harry discovers his partner is a woman, he's not pleased. But whenever he questions her competence she simply intones, "Don't concern yourself." Tragically, that is what she tells him as she dies of gunshot wounds received saving his life. She proves she's one of San Fran's finest, and, as Harry says, "A cop getting a new partner could do a hell of a lot worse."
Officer Anne Lewis (Nancy Allen), RoboCop
Yes, RoboCop (Peter Weller) rules. But don't forget who makes him the cyborg he is: his partner, Lewis. She gets the man who becomes RoboCop killed by heading into a dangerous situation sans backup, just like the boys do! Once he's a cyborg, she's there, helping him discover his true identity and humanity. And when a SWAT team tries to destroy him, guess who helps him escape? She might not have been able to save him as a human, but she's the one keeping his memory (and whatever else remains of him) alive.
Detective Phoebe O'Hara (Pamela Reed), Kindergarten Cop
She spends most of this comedy throwing up, and, on the surface, it seems O'Hara's purpose is as a continual sight gag, while Arnold Schwarzenegger does all the heavy lifting. And that's not just a metaphor: he carries her around. But she's a real cop and a real women, offering serious police advice and helping Arnold with his love life. Oh, and she saves his life! O'Hara knocks out the the woman about to kill Arnold. He's the hero, but you can thank her for the happy ending. Typical.
Lorna Cole (Rene Russo), Lethal Weapon 3
Cole breaks into the boys' club that is the world of Riggs (Mel Gibson) and Murtaugh (Danny Glover). No small feat. And, frankly, she deals with Riggs just as well as his male partner does. When asked if he's trying to bait her, Riggs says, "I'm a master of it." Seriously; this is what she deals with. Being a woman in a man's world is not easy, but Cole is more than a match for Riggs. When they're fighting crime together, she's got his back. How much fun is it to see her save the guy who usually does the saving? Insert fist pump for girl power here.
Lenina Huxley (Sandra Bullock), Demolition Man
Huxley is desperate for some action in nonviolent 2032. And when action arrives, she's up to the challenge, unlike her fellow (male) officers, making her the perfect partner for John Spartan (Sylvester Stallone). Despite a lack of real-life experience, she can throw down and draw a laugh with failed attempts at historical lingo like, "Chief, you can take this job, and you can shovel it." A partner who makes you laugh while fighting crime? Priceless. More priceless? When she saves his life! Yes, even Sly can't handle Simon Phoenix (Wesley Snipes) without some help from his beautiful partner.
Check out Demolition Man on AMC, Thu., Mar. 31, at 10:30AM | 9:30C.
The Killing debuts with a two-hour premiere this Sun., Apr. 3, at 9PM | 8C.
Read More