Uncategorized
Don't Sell Danny DeVito Short – He Can Play More Types Than You Might Guess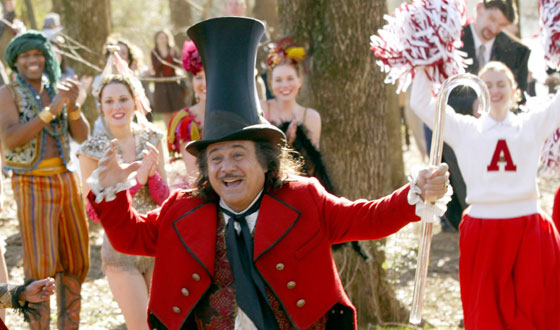 Casting directors once told five-foot-tall Danny DeVito that his stature would limit his career. But a few decades later the TV star (Taxi and It's Always Sunny in Philadelphia) has as diverse a movie career as anyone. Forget the height and the foul mouth for a moment: if you're looking for someone to play a super-villain, DeVito is your guy. A comic foil to an action hero? Forget Will Ferrell. Call DeVito. A sexual savant teaching a younger woman about bliss? Well, you get the idea. So what are some of the roles DeVito can play? The following nine — starting with his recent movies — are only cracking the surface of this onscreen chameleon. Yes, Danny DeVito can play the following.
A Sexual Healer, The Oh in Ohio
Imagine, if you will, a sheltered midwestern gal (Parker Posey) who, after doing her best to rekindle the spark in her marriage to a lumpen dolt, finds sexual bliss in the arms of a local swimming-pool magnate. Where does DeVito fit into this scenario? Yup, he's the guy who brings on the sexual healing, and the best thing about this genial indie comedy is that it lets DeVito play Wayne as a character rather than a cheap sight gag.
A Sad Werewolf, Big Fish
Tim Burton would cast DeVito as an enigmatic circus ringmaster who turns out to be a benevolent werewolf. But Tim Burton is crazy. Not many other people would, and they'd have missed out on the opportunity to see DeVito utilize both his full comic bluster as a carny and his best acting chops as the strutting showman whose darkest secret (the aforementioned lupine issue) has been laid bare.
A Humorless Criminal, Heist
In David Mamet's intricate crime drama, DeVito is a crook who sets up the heist central to the action. The trademark big dirty mouth is present, as DeVito easily takes to Mamet's uniquely stylized, blisteringly profane dialogue. But the scary part is there's no hint of the warmth or sadness that pervades many of his other characters. And don't even look for the hilarious delivery and sitcom mannerisms that made him famous. His character is just one scary little dude.
A Sleazy Tabloid Kingpin, L.A. Confidential
In a flick about corruption and ambition in fifties Los Angeles, DeVito is a magazine publisher whose Hush-Hush is the crème de la crème of celebrity-scandal rags. His writers always get the hottest scoops because his payroll includes a dirty cop willing to set up movie stars on headline-grabbing vice charges. DeVito plays him straight down the line: as a venal, amoral little shark thriving in a neon-lit cesspool.
A B-List-Actor Turned Leading Man, Get Shorty
If DeVito ever played a desperate actor, that was long ago. So kudos for his fun Get Shorty character, the distilled essence of every B-movie never-was who doesn't care how many times he's auditioned for a plum part and settled for "Rude bartender" or "Convenience-store clerk no. 2." (Both parts DeVito could nail, by the way.) He's funny as hell — even cast as the movie-within-the-movie version of the stylish, supercool gangster Chili Palmer (John Travolta).
A Demented Super-Villain, Batman Returns
Forget the funny little Penguin of the sixties TV series: DeVito plays the criminal mastermind as the seriously warped product of parents so monstrously rich and shallow that they tossed their baby into a sewer for not being cute. That DeVito never disappears under the elaborate makeup is an accomplishment in and of itself; that he actually makes you pity the squawking, waddling little monster is due to some damn fine acting.
An Arnold Schwarzenegger Twin, Twins
DeVito and Arnold Schwarzenegger are fraternal twins, the unwitting products of a top-secret genetic experiment. Arnold is a brilliant and naïve Übermensch, while the plug-ugly DeVito is a creepy, conniving runt raised in a Dickensian orphanage. This is the DeVito you see on TV currently — a crazed nut who can get a laugh out of his height and in any number of other ways.
An Idiotic Swindler, Romancing the Stone
If you have Michael Douglas as a sexy adventurer and Kathleen Turner as a sexy romance novelist, what else do you need? A comic idiot. Enter DeVito as Ralph, the seething, fuming swindler who thinks he's a step ahead of everyone when he's actually two steps behind. The performance is far from subtle, but it is funny and hadn't worn out its welcome by the time DeVito reprised it, in The Jewel of the Nile.
A Lovable Mental Patient, One Flew Over the Cuckoo's Nest
A none-too-bright sex-obsessed — and oddly likable — mental patient is the role of a lifetime for an unconventional actor like DeVito. The movie version debuted the same year as Taxi, and DeVito's quietly touching performance as Martini, whose limitations are offset by a childlike sense of fun and a fierce loyalty to his friends, just may have saved him from a lifetime of playing comically dyspeptic tyrants, as he did on Taxi.
Check out DeVito in The Rainmaker on AMC, Tue., Mar. 22, at 8PM | 7C and 11PM | 10C.
Read More