Uncategorized
Flashback Five – Arnold Schwarzenegger's Best Eighties Movies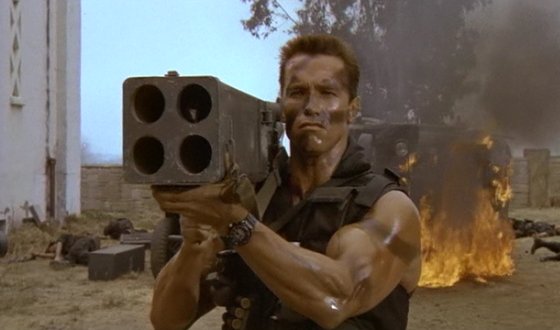 In the age of Reagan and Gorbachev, which muscled actor started his own arms race just by flexing his biceps? Arnold Schwarzenegger — that's who. And if rumors are to be believed, the action hero turned Governator is now primed to be a governor turned action hero. Will the king of eighties action reclaim the throne he sacrificed for politics? The world should be so lucky. Get pumped on the possibility via AMC's Crazy About Arnold, a daylong marathon of Schwarzenegger movies starting Sun., Mar. 13, at 9:15AM | 8:15C. Until then, here's a top five list of the eighties movies that made him a superstar.
1. Predator (1987)
You won't see Arnold in leg warmers or a piano tie, but Predator is still the quintessential eighties flick — at least as far as action movies go. The first half is your requisite shoot-'em-up with Arnold going ballistic in Central America. The second half features a human-hunting alien that wants our hero's head on a mantle. In short, Predator is the type of movie that goes from awesome to legendary.
2. Commando (1985)
Commando has everything you want: a staggering body count, cool one-liners ("Let off some steam, Bennett!"), a young Alyssa Milano, exploding chests, and cracked necks. Milano, playing Arnold's daughter, is kidnapped by a foolish cabal that includes Dan Hedaya as El Presidente and David Patrick Kelly as a slimy scumbag with a Napoleon complex. Inspired by their treachery, Arnold goes on the warpath like never before or since.
3. The Terminator (1984)
The eighties were the start of the computer age, and you can see the technophobic backlash beginning to bubble in The Terminator's man-killing robot (Schwarzenegger), which caused an entire generation to ask, "Is my Commodore 64 out for my blood?" Here the greatest man-versus-robot franchise was launched (as was the catchphrase "I'll be back"). Given how menacing Arnold is in this movie, it's a bit disheartening to realize he's steered clear of baddies ever since.
4. Conan the Barbarian (1982)
If you need a mythical Teutonic strongman, Dolph Lundgren and Lou Ferrigno just don't cut it when compared with Arnold. Scripted by Oliver Stone and John Milius (Red Dawn), this sword-and-sandal epic is a shrine for warrior-lovers. Or to put it another way, watching Conan is the next best thing to playing with He-Man figurines. And unlike today's kid-friendly fantasy flicks, this one's rated R, with plenty of cringe-worthy bloodshed.
5. Raw Deal (1986)
In this forgotten Arnold classic, he's a former FBI agent who slicks back his hair and wears Armani to go undercover in the Chicago mob. So clever! There's no way you'd recognize the 260-pound Austrian bodybuilder, given the elaborate camouflage. But with so many incredible gunfights, there's no time to be annoyed with any plot holes. The epic finale substantiates the movie's tagline: "His trigger has all the answers."
Honorable Mentions
1. Conan the Destroyer (1984): Arnold's monosyllabic warrior is once again ready for action, sparring with a feral Grace Jones and continuing to wallop his foes and grimace intensely.
2. Red Heat (1988): This buddy-cop movie has the courage to ask, What if a hamburger-eating, baseball-loving American cop (James Belushi) were partnered with a borscht-loving, free-market-hating KGB agent (Schwarzenegger)?
3. Twins (1988): Arnold tries comedy for the first time and succeeds, largely because Danny DeVito, as his pint-size brother, is the perfect foil for their odd-couple dynamics.
4. Red Sonja (1985): Arnold's eighties movies are surprisingly short on romantic subplots, but the bulky actor meets his match here in sword-swinging she-warrior Sonja (Brigitte Nielsen).
5. The Running Man (1987): In this future-is-hell flick, Arnold throws a wrench into the media-industrial complex. Take that, reality TV!

Read More