Top Ten Reasons We Can't Get Enough of The Shawshank Redemption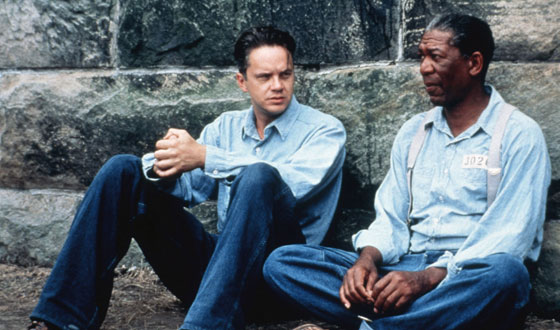 Everybody loves The Shawshank Redemption. The flick's a regular on Best Movie lists of every stripe (AMC users have ranked the flick as the No. 2 movie of all time) and exemplifies old-fashioned drama done right. Shawshank skips the flashy stuff and devotes 142 minutes to making you really care about Andy Dufresne (Tim Robbins) and Red (Morgan Freeman), whose unlikely life-changing friendship blossoms in a brutal penitentiary. We love Andy, we love Red, and we love Shawshank — and here are the top ten reasons why.
10. Guys Can Cry, Too
Shawshank is in the elite ranks of macho weepies. What guy wouldn't cry when Red, who's finally made parole, finds the letter Andy hid for him? By the time Red reads "Hope is a good thing, maybe the best of things, and no good thing ever dies. I will be hoping that this letter finds you and finds you well," he's a blubbering mess. And if a tough-guy like Red can cry, anyone can.
9. Bogs's Payback
Bogs and his pals are the Sisters, Shawshank's resident rape posse, and alpha dog Bogs is the worst of the worst. So when Andy makes a deal with the lesser evil and enlists the brutal Captain Hadley to beat Bogs into a wheelchair, we cheer. It may not be nice to cheer when a guy is crippled, but Bogs earned every bloody second of that beat down.
8. The Ominous Prison Architecture

Only Hollywood could devise a prison both so forbidding and elegant, right? Wrong. Shawshank's interiors are studio sets, but the exterior is a real prison, an imposing architectural mishmash that looks like a vampire's castle. Forget the drab modernist architecture you expect in a prison: Shawshank is so menacing that the jailhouse is a character in itself.
7. Author Stephen King
The prolific author is mainly known for horror like The Shining and Carrie, but Shawshank is adapted from a King story — and one of his best, at that. King's short story — and the screen adaptation — prove that the story matters, as the flick attracted King's usual legion of followers without a ghost, ghoul, or supernatural fright of any kind.
6. Screenwriter and Director Frank Darabont
Maybe we're biased here at AMC in favor of The Walking Dead's writer, director, and executive producer, but Darabont shows the same talent for pulling intimate human drama out of terrible situations — like decades in prison or a zombie apocalypse — that would later make The Walking Dead a huge success.
5. Andy Finding Freedom
When Andy steps into freedom and lifts his face to the sky, letting rain wash away years of abuse, how come the scene isn't a total cliché? Because "Andy crawled to freedom through 500 yards of shit-smelling foulness I can't even imagine….Or maybe I just don't want to. 500 yards. The length of five football fields. Just shy of half a mile." That's why: Andy earned his moment of cheesy glory.
4. Andy's Innocence or Guilt
After all, Shawshank's opening scene places a drunk, distraught, pistol-packing Andy right outside the bungalow where his hot-to-trot wife and her horny golf-pro lover are having a noisy tryst. That doesn't look good. Yet he swears he didn't pull the trigger. But as Red points out, Shawshank is packed to its vaulted ceilings with guys who say they didn't do what they're in for. Hmmm.
3. Color-blind Casting
In Stephen King's story, Red is actually a white Irishman. But Darabont and the production didn't bind themselves to that, thinking outside the box in casting Morgan Freeman instead — which turned out to be an inspired move. Try to imagine Shawshank without Freeman. You can't.
2. Morgan Freeman's Voice-Overs
Voice-overs tend to be annoying but not in the dulcet tones of Morgan Freeman. Red's running commentary, simultaneously streetwise and compassionate, is what reveals the human drama of prison. Who else could make a line like "Some birds aren't meant to be caged; their feathers are just too bright" sound so smooth?
1. Andy and Red's Legendary Friendship
Forget all those slick buddy movies about mismatched cops learning to look past their differences. Shawshank is about real friendship: Red and Andy get thrown into the same fire and come out the same way. All the superficial stuff — race, education, class — has burned off, and what's left is two men with more in common than they (or anyone else) would have imagined. When they're finally reunited, there aren't even any words, just joy.
Check out The Shawshank Redemption tonight, Wed., Feb. 16, at 8PM | 7C and 11PM | 9C, as part of AMC's Can't Get Enough Shawshank.
Read More