Top Ten Reasons We Can't Get Enough Rocky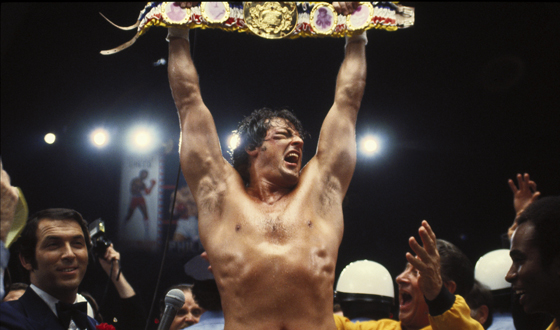 Both on-and off-screen, Rocky really is the ultimate underdog tale. The boxing movie grossed 225 times its budget, made a household name of its screenwriter-star Sylvester Stallone, and launched a franchise that still has juice 35 years later. Amazing, right? All next week, relive the glory of the original movie and its sequels during AMC's Can't Get Enough Rocky Week, beginning with Rocky on Mon., Feb. 7, at 8PM | 7C. And if you're wondering how this boxing franchise has stayed so eternally popular, check out these ten reasons we personally can't get enough Rocky.
10. "Gonna Fly Now"
Now a staple of every single arena-pumping sports montage, Rocky's theme, "Gonna Fly Now," pairs the smooth sound of Philadelphia soul to brazenly minimalist lyrics ("Trying hard now. / It's so hard now") and never sounds better than when accompanying Rocky sprinting through the freezing winter streets of Philly. Need to get pumped up? This is your song. Need to push through that last mile? This is your song. Admit it: "Gonna Fly Now" is playing in your head, and you can't make it stop, nor do you want to.
9. The Robot
In addition to knowing how to throw a punch, Rocky also knows how to give the perfect gift: a giant robot to Paulie (Burt Young) in Rocky IV. This strange piece of artificial intelligence is so fun that it's developed a cult following and been spoofed on TV shows like Family Guy.
8. "Yo, Adrian, I did it!"
The series's most famous line, which also happens to be the most quoted sports-movie line ever, is delivered by Rocky as he stands in the ring, beaten and bloodied, holding the championship belt aloft after outlasting Apollo Creed (Carl Weathers) in Rocky II. The line — both the primal scream of a tough guy who loves his lady (Talia Shire) so much it hurts and a triumphant victory cry — is heartbreakingly sweet and inspirational.
7. Clubber Lang
Clubber Lang is the one Rocky nemeses who is completely evil. He's also the only man to defeat Rocky, which adds a layer of menace. Eighties icon Mr. T plays Lang with such incredible anger and aplomb that, whether making a sexually explicit pass at Adrian or killing Mickey (Burgess Meredith), Lang is a believably bad man — and all the more fun for it. Oh, and Mr. T even sprinkles his signature catchphrase — "I pity the fool!" — into the dialogue for good measure.
6. The Original's Shocking Ending
No, Rocky doesn't win his first go-round with Creed. Technically, they tie, which means Apollo keeps the belt and Rocky goes back to cleaning the gym. Lame, right? No way. Rocky scoring an eleventh-hour knockout would have been an embarrassingly sentimental fairy tale. Remember: he doesn't go home empty-handed. He leaves with the pride of knowing a nobody went the distance against the best in the world, which was the whole point.
5. Sylvester Stallone
Stallone completely embodies the spirit of Rocky — the character he created, wrote, and played. Like Rocky, Sly was a nobody with a sad face who'd spent years trying to break into his desired profession with little success, and just like his character he turned into one of the world's biggest stars. Stallone's never been noted as the world's greatest actor, but forget all that: he is Rocky Balboa.
4. It's Patriotic
From Rocky's trademark American-flag boxing shorts to his insistence on fighting his Russian nemesis on Christmas Day in Russia (for free) — partially because he just loves America so darn much — Rocky is one patriotic dude. But he's not the only one with American fever: Apollo's entrance to his showdown with Ivan Drago (Dolph Lundgren) — a full-on Vegas-style spectacle involving James Brown singing "Living in America" and a sequined American-flag getup — is as patriotic as it gets.
3. Burgess Meredith As Mickey
Also known for playing the Penguin in the Batman TV series, Meredith received an Oscar nomination for playing Rocky's trainer, Mickey, and with good reason. Salty old Mick's trademark growl — urging Balboa forward with fantastically impolite motivational language like "You're gonna eat lightning; you're gonna crap thunder" — is a quintessential part of the series. And Mickey's funeral, in Rocky III? Don't pretend you don't cry every time.
2. The Rocky-Apollo Bromance
Long before Will Ferrell made bromances cool, the male-on-male bonding of these two former enemies became the stuff of legend. Rock and Apollo go from trash-talking to pummeling the crap out of each other to mutual respect to sharing a too-intimate hug on the beach to Rocky undertaking a vendetta against Apollo's killer. All the way through, we see this friendship grow and mature into something truly special.
1. The Fights
Don't pooh-pooh the movies' fights in favor of more realistic ones. The Rocky series wouldn't contain six of the most beloved sports flicks of all time unless the fights were extraordinary, and extraordinary they are. Try picking a favorite: Rocky's two endless battles with Apollo, where neither man would quit? Rocky going southpaw to defeat Lang? The wrestling match against Thunderlips (Hulk Hogan)? Defeating Drago despite his three-foot height advantage? Or the back-alley brawl with Tommy Gunn (Tommy Morrison)? Each and every fight in the franchise gets the blood pumping and leaves you wanting more.
Read More