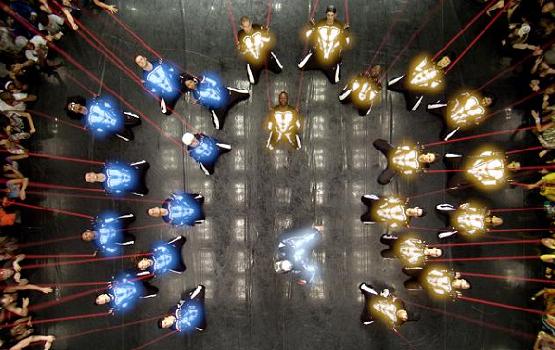 Dance-offs are often the best scenes in a dance movie. When the competition gets fierce, the skill level skyrockets — and, more often than not, you get to witness the amusing exchange of sneering glances between opposing dancers. Some of the most entertaining dance battles are the ones that poke fun at themselves, but then there are showdowns that amaze you with their sheer dancing talent. Here are our picks for movie dance-offs that beat the pants off other dance flicks.
10. Stomp the Yard
In this 2007 movie starring Columbus Short, step teams from two fraternities square off in a national competition. It all comes to a head in the final scene, with Theta Nu Theta in black tracksuits and the Gammas in red wifebeaters. When the Gammas pull a move they secretly stole from the Thetas, DJ (Short) one-ups them with a victorious twist — a backward roll-and-headstand maneuver that his brother pulled off before getting fatally shot at the start of the movie.
9. West Side Story
In a world where violence erupts in the form of pirouettes and synchronized snapping, dance-offs take on a whole new meaning. During the opening prologue, the Jets and the Sharks clash in an urban turf battle expressed in vigorous sashays and twirls. As the gangsters attack each other with high leaps and kicks, all to the tune of Leonard Bernstein's classic West Side Story prologue, the effect really is surprisingly violent.
8. Zoolander
Technically this is a walk-off, not a dance-off, but they're more or less the same thing. Strutting down the runway to Michael Jackson's "Beat It," Derek Zoolander (Ben Stiller) and rival model Hansel (Owen Wilson) start with simple moves — a little twirl, a toss of the designer jacket. This is followed by a progression of fancy footwork, slow-motion leaps, break dancing, handstand walks, acrobatics, and (of course) renditions of the robot. Hansel clinches the victory by pulling his briefs right off his body.
7. Step Up 3D
Forget the fact that the movie barely has a plot — who watches Step Up movies for anything but the dancing? There are several riveting dance battles as the House of Pirates troupe makes its way to the finale, an international dance jam. The standout battle, though, takes place in the second round, when water starts spurting (inexplicably) from the ground. As the Pirates break-dance in the shallow pool, the screen becomes a mesmerizing spectacle of whooshing water and moving limbs.
6. House Party
Who can forget the hot mess of MC Hammer pants, yellow bodysuits, and high-top hair that dominates the dance scene in this Kid 'n Play flick? When Kid starts teaching his moves to a couple of friends, Sidney (Tisha Campbell-Martin) and Sharane (A.J. Johnson) taunt him, "What are you doing? This ain't aerobics class." Them's fighting words. Before you know it, they're all engaged in a good-natured battle on the dance floor.
5. Austin Powers in Goldmember
The battle between Austin Powers and Britney Spears lasts all of one minute, but, oh, what a memorable minute it is. As Mike Myers comes prancing onto a soundstage in the midst of his happy-go-lucky opening sequence, he discovers Britney, and she and Austin try to out-snap, out-slap, and out-stare each other. When gun barrels poke out from Britney's bra top and take fire, Austin defeats her with his mojo. Britney: 0. Austin: 1.
4. Girls Just Want to Have Fun
Girls Just Want to Have Fun casts Sarah Jessica Parker as a teen dancing queen who must sneak around her conservative daddy's back whenever she wants to get her groove on. Armed with a battery of gymnastic moves, she and her dance partner, Jeff, win a final-act dance-off to become regulars on the TV show Dance TV. Even the hard-ass dad can't help but beam with pride.
3. Beat Street
Produced by Harry Belafonte, Beat Street features a quintessential dance-off scene between two competing break-dance crews — the Beat Street Breakers and the Bronx Rockers. In classic battle form, members of each crew take turns flaunting their moves in the center of a circle. Between the head spinning and vermicular body movements, these guys (including actual dancers from the New York City Breakers) defy laws of physics and physiology.
2. Starsky & Hutch
As Starsky (Ben Stiller) warms up for his disco dance-off with Eddie (Matt Walsh), Hutch (Owen Wilson) implores him to bow out — not because he's outmatched but "because it's so incredibly lame." Starsky and Eddie bust out some hilarious moves in their Afros and bell-bottoms nonetheless, from the hand-over-hand tug-of-man to the funky disco robot. As emcee Patton Oswalt notes, "That's a bucketful of confidence right there."
1. Breakin'
The dance-offs in this classic break-dance movie are terrifically earnest. When street dancers Ozone (Adolfo Quinones) and Turbo (Michael Chambers) recruit Kelly (Lucinda Dickey), a classical dancer by training, they dominate rival dance crew Electro Rock in a competition emceed by Ice-T. Ozone and his foes really nail the rival-on-rival glare, and the athleticism of their moves is reason alone to watch. Bonus: keep an eye out for Jean-Claude Van Damme in an early dance scene, pulling some truly cheesy moves.
Read More