Uncategorized
Movie History – Why Are There So Few Lesbian Romance Films With Positive Endings?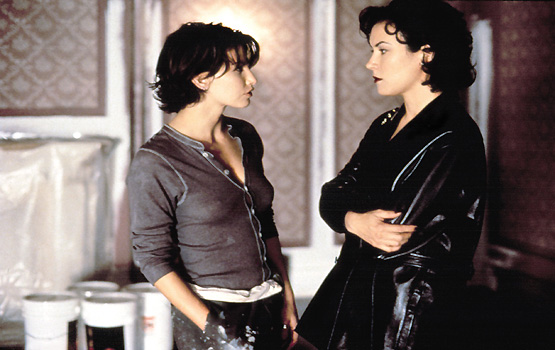 Lesbian tales may be gaining steam in the movie industry, but with regard to romantic comedies or dramas they've become more commonplace in Hollywood cinema only as of late. This was confirmed when writer-director Lisa Cholodenko's Kids Are All Right (2010) received acclaim during the 2010 Oscars season. But why have there been so many negatively skewed lesbian romance films? In recent decades, Hollywood's depiction of these types of characters has improved, but lesbian romances historically included conflicts and barriers and often ended in heartbreak or tragedy. Examples abound, as in Personal Best (1982), Entre Nous (1983), Wild Side (1995), High Art (1998), Gia (1998), Kissing Jessica Stein (2001), Lost and Delirious (2001), Mulholland Dr. (2001), and Monster (2003). Fortunately, there are a few feature films that have portrayed positive female sexual relationships — though it's been a long time coming.

Lesbian Film Portrayals in the Past
Before the mid-thirties restraints of the Hays Production Code — which specifically forbade depictions of homosexuality — one rare characterization was offered by Greta Garbo, who appeared as the bisexual Swedish queen in Queen Christina (1933). Images of lesbians onscreen included dyke or mannish stereotypes, such as sadistic prison matron Hope Emerson in Caged (1950) or Barbara Stanwyck's lecherous New Orleans bordello madam in Walk on the Wild Side (1962). William Wyler's re-titled These Three (1936) hinted at the forbidden objectionable theme of lesbianism. In its finale, when remade as The Children's Hour (1961), as in many lesbian tales, the self-loathing Shirley MacLaine character broke down over her "sick" feelings and committed suicide. At the end of the tame R-rated Fox (1967), which was based on a D.H. Lawrence novella, a strong lesbian relationship was melodramatically destroyed by an intruding male (the titular fox). Meanwhile, the landmark film The Killing of Sister George (1968) didn't condemn its characters for their sexual preferences, but it did contain stereotypical butch-femme posturings.
The Evolution of Lesbian Films
Hardcore sexuality made cinematic inroads in the late sixties and seventies, and the soft-core series of Emmanuelle films from France made a significant impact. Non-pornographic depictions of serious adult themes and lesbian sex led the MPAA to give up the X rating and create the NC-17 category, first applied to director Philip Kaufman's Henry & June (1990), about an erotic triangle. The face of Hollywood lesbianism was tamely reflected in the glossed-over, scaled-down stories of The Color Purple (1985) and Fried Green Tomatoes (1991).
In the last few decades, lesbian filmmaking was hampered by homophobia, funding difficulties, a limited pool of talented lesbian scriptwriters and directors, and the belief that marginal lesbian film audiences were unprofitable. Lesbian representations have not been straightforward and have instead been played for sensationalism, depicting lesbians as deviant psychopaths, criminals, or murderers, as in Basic Instinct (1992), Single White Female (1992), Jennifer's Body (2009), Cracks (2009), and Chloe (2009), or as vampires, as in The Vampire Lovers (1970) and The Hunger (1983).
The Rare Lesbian-Themed Film With a Happy Ending
These days, lesbianism has become more acceptable — even chic — in mainstream film culture. However, it is rare within queer cinema to find openly lesbian characters in Hollywood-style happy-ending romances. The following are recent examples.
Desert Hearts (1985)
This groundbreaking low-budget film was the first full-length lesbian-themed feature film written and directed by a woman (Donna Deitch) and reportedly the first mainstream lesbian movie to have a positive outcome in its plot. It told of a slowly developing unlikely lesbian relationship in the late fifties between a repressed literature professor named Vivian Bell (Helen Shaver) and a dude-ranch owner's beautiful adopted stepdaughter (Patricia Charbonneau). The film ended with the open-ended promise of the two being together.
Claire of the Moon (1992)
During a Pacific Northwest retreat for female writers in the early nineties, promiscuous heterosexual author Claire Jabrowski (Trisha Todd) roomed with lesbian sex therapist Dr. Noel Benedict (Karen Trumbo), and the two engaged in long philosophical conversations about sexual politics before their relationship inevitably culminated in a romantic encounter.
The Incredibly True Adventure of Two Girls in Love (1995)
"There's a First Time for Everything" was the tagline for this light romantic comedy about first love between two culturally opposite high-school seniors: lower-class tomboy Randy Dean (Laurel Holloman) and smart upper-middle-class Black Evie Roy (Nicole Ari Parker). The film ended slightly ambiguously with the two kissing — a typical ending for straight Hollywood romances.
When Night Is Falling (1995)
The homoerotic content in writer-director Patricia Rozema's lesbian-themed love story led to an unwarranted NC-17 rating, and it was released unrated. It set up a dichotomy between the bland heterosexual life of professor Camille Baker (Pascale Bussières) and the passionate freedom she found when seduced by the surreal world of lesbian circus
performer Petra Soft (Rachael Crawford).
Bound (1996)
The Wachowskis' noirish gangster film was a crime thriller in which butch lesbian ex-con Corky (Gina Gershon) met glamorous moll Violet (Jennifer Tilly) and the two swindled the latter's mobster pal, Caesar (Joe Pantoliano), out of $2 million, while enjoying a notably amorous relationship and ending up a rich couple.
Better Than Chocolate (1999)
Canadian director Anne Wheeler's delicious comedy told about a lesbian love affair between college dropout Maggie (Karyn Dwyer) and itinerant artist Kim (Christina Cox). They were forced to keep things clandestine at their Vancouver sublet during a prolonged visit by Maggie's divorced mother, Lila, and her brother, but things concluded very happily when the truth of her sexuality was revealed.
But I'm a Cheerleader (1999)
Writer-director Jamie Babbit's R-rated satirical comedy about deprogramming clinics told of two teens who resisted their training to be sexually oriented away from lesbianism. Seventeen-year-old high-school cheerleader Megan (Natasha Lyonne) and college student Graham (Clea DuVall) escaped from the homosexual-rehabilitation camp and locked lips together in their getaway truck.
Girl Play (2004)
Robin (Robin Greenspan) and Lacie (Lacie Harmon) were cast as frustrated lovers in a cinematic version of their sapphic play. To bring out their intimacy during rehearsals for the L.A. stage, the two platonic friends found themselves brought together for the first time as lovers and partners.
Saving Face (2004)
Advertised as a new comedy, Alice Wu's directorial debut was a light comedy about two young Chinese-American lesbians: young surgeon Wilhelmina Pang (Michelle Krusiec) and dancer Vivian Shing (Lynn Chen). Further issues arose when Wil's widowed, intolerant 48-year-old mother (Joan Chen) moved in with the couple.
Imagine Me & You (2005)
In Ol Parker's fluffy romantic comedy, Rachel (Piper Perabo) was walking up the aisle on her yuppie wedding day to marry Heck (Matthew Goode) but fell in love instantly after glancing at wedding florist Luce (Lena Headey). The remainder of the film followed Rachel's struggle to be honorably released from her marriage to follow her heart.
Read More