Uncategorized
When the Young Godfather (Pacino) Takes on the Old (Brando), Who Will Survive?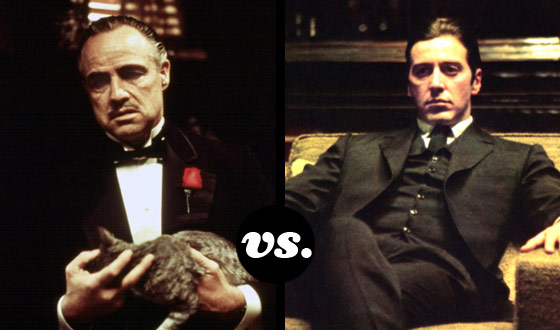 Yes, they're murderers, swindlers, and all-around criminals, but you can't help but admire the strength of the men of The Godfather trilogy. Don Vito Corleone (Marlon Brando) has a legendary mumble and nice manners that belie a strength that allowed him to rise to the top of the crime world. Refuse an offer from him, and your brains will be on that contract he asked you to sign. Sonny (James Caan) favors the hothead approach, living life pushing people around and going out like he lived — in a fiery shoot-out. Tom Hagen (Robert Duvall), the strategist, will think circles around you until you're dizzy. And then there's Michael (Al Pacino), a man to which settling scores means the elimination of every single enemy he has. But which of these mafiosi — and four others — rises to the top in an all-Godfather throw down? Remember: choosing one means alienating the others, so pick wisely.

Check out The Godfather on Tue., Feb. 22, at 8PM | 7C, and Wed., Feb. 23, at 4PM | 3C.
Check out The Godfather: Part II on Wed., Feb. 23, at 8PM | 7C, and Thu., Feb. 24, at 3:30PM | 2:30C.
Read More