Seven Comic Book Movies That Need to Be on DVD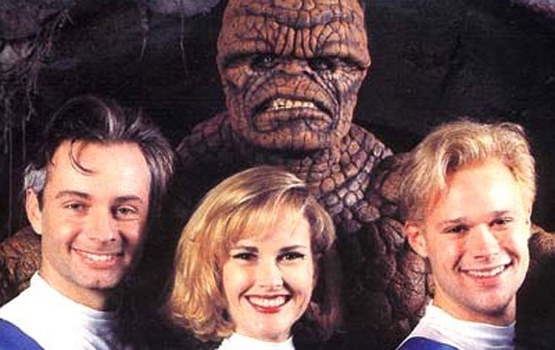 As we continue to be battered by Snow-pocalypse 2011 (I blame the diabolical Mr. Freeze), you're probably looking for some fun DVDs to cozy up with at home. Luckily, we live in a golden age of comic-book movies, with tons of titles — from blockbusters to obscure gems — available on DVD and Blu-ray. Still, there are a handful of comic-book movies that for various reasons have yet to be officially released for your home-viewing pleasure. Some are longer versions of established classics, while others are notorious B-movies familiar to anyone who has ever perused the dusty bootleg bins at comic-book conventions. Let's take a look at seven comic-book movies that seriously need to be on DVD.
The Fantastic Four
Roger Corman's infamous low-budget take on the Fantastic Four was produced by Constantin Film (which would eventually bring us the only slightly superior Jessica Alba version) strictly as a means of retaining the big-screen rights. Unfortunately, the producers failed to tell the cast and crew that their (extremely poor) efforts would never see the light of day. Its status as both a company embarrassment and a favorite on the bootleg circuit has turned The Fantastic Four into Marvel's Star Wars Holiday Special. Isn't it time that Marvel acknowledged its cinematic black sheep and released a proper DVD? You can't hide the pre-CGI Human Torch forever, Marvel.
Dick Tracy
While the theatrical version of the 1990 Warren Beatty-Madonna vehicle is loads of fun, fans have been waiting for the rumored director's cut (which would reportedly add an additional twenty minutes of footage) for over a decade. Unfortunately, the protracted legal battle between Beatty and comic-strip syndicate Tribune Media Services over big-screen rights to the character have held up the release of a sequel and a special-edition DVD and Blu-ray. For now, fans are stuck with the bare-bones DVD release from 2002, just like Tracy is stuck with that annoying kid.

Captain America
Long before Chris Evans picked up the shield, Marvel allowed 21st Century Film (the company that gave us Death Wish V) to produce a
low-budget take on the Star-spangled Avenger. Starring soap actor Matt Salinger (son of J.D.) and a slumming-it Ned Beatty, Captain America
is notorious among fans for both its dated story line (the preachy
environmental message is straight out of the early nineties) and glaring
inaccuracies. (The Red Skull is an Italian Fascist instead of a Nazi, for
some reason.) Still, the curiosity factor alone has made it a
must-have for fans of so-bad-it's-good cinema.
Doc Savage: The Man of Bronze
Currently
starring in DC's "First Wave" line of comics, Doc Savage goes all
the way back to the days of pulps. On the big screen, however, he hasn't
been so lucky. Arnold Schwarzenegger tried to get a Doc Savage
movie off the ground for years, but then decided to go run Cawl-e-fornia
instead. So all Doc fans have is the campy George Pal version from
1975, featuring a hero with a literal twinkle in his eye and one of the catchiest
theme songs in movie history. Currently, the globe-trotting
adventures of the Man of Bronze are available only through Warner Archive's print-on-demand DVD service. Pal's trademark visuals (glowing green snakes) deserve a
proper remastering.
Dr.
Strange
Originally made as a two-hour pilot
for a possible TV series, this strange (literally) movie has surfaced
on video and cable over the years. While it features some spectacularly
dated outfits, Dr. Strange is well acted and far more faithful to
its source material than the Hulk and Spider-Man TV shows from the same era.
(Arrested Development fans will also enjoy seeing a young
Jessica Walter as the villainous Morgan Le Fay.) With Marvel finally
moving forward on a proper Dr. Strange movie, now is a good time
to unearth this creepy little gem featuring the smoothest seventies TV doctor besides Trapper John.
Gen 13
With their skimpy costumes and angst-y story lines, the teen heroes of Gen 13 were a more extreme version of the X-Men. Consequently, they were all the rage during the nineties. The comic's popularity led Disney
to produce a never-released animated film in 1999. Directed by the Batman:
The Animated Series vet Kevin Altieri, the movie features solid
animation and voicework by the likes of Mark Hamill and Flea.
Unfortunately, Disney shelved the film after publisher WildStorm was
purchased by DC. While the entire movie can be found online,
it's yet to be given a proper DVD release. With DC Comics' edgy
animated movies currently tearing up home-video charts, now is the
perfect time for Warner Brothers to snatch this racy, ultraviolent flick
back from the Mouse House.
Asterix and the Vikings
Beloved by young and old the world over, Asterix the Gaul and his loyal, rotund pal, Obelix, have been the subject of numerous movies. (Gerard Depardieu has played Obelix three times already.) Several Asterix comics have been adapted for animation, but they're hard to come by on DVD. (Though if you took French in high
school, chances are you've seen at least one of them.) 2006's Asterix
and the Vikings features gorgeous animation and a perfectly cast
Brad Garrett and Paul Giamatti in the lead roles. So why is it so hard
to find on DVD? Perhaps the upcoming Tintin movie will kick off a
European-comics renaissance and lead to Asterix and the Vikings
raiding our shores.
Got other flicks you wish would come to DVD? Leave a comment below.
Read More