Uncategorized
Flashback Five – Robert De Niro's Best Movies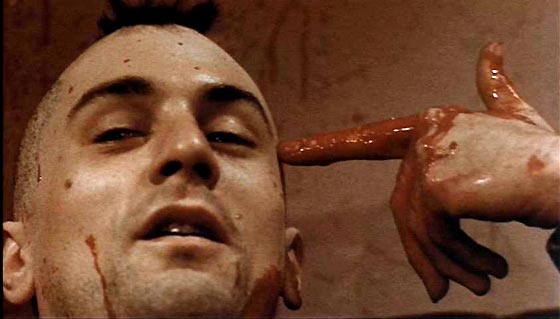 Anyone who witnessed his backhanded acceptance of a Lifetime Achievement Award at the Golden Globes knows that Robert De Niro is a character. Which is appropriate, since he's played some of the most memorable characters ever to hit the big screen: the crazed Travis Bickle in Taxi Driver, savage boxer Jake La Motta in Raging Bull, and the young Don Corleone in The Godfather: Part II, to name a few. All great performances; all equally great movies. This Sun., Feb. 20, at 8PM | 7C, check out De Niro at his best when AMC Celebrates the 35th anniversary of Taxi Driver. But before you do that, check out this take on the actor's finest starring roles.
1. Taxi Driver (1976)
De Niro is charismatic, scary, and mysterious as Bickle, who is an enigma, just like the man playing him. Consider the scene when he takes out-of-his-league Cybill Shepherd to a porno on their first date. Is he hopelessly naïve or just willfully self-destructive? Or something else entirely? De Niro's performance entertains both possibilities throughout, right down to the climactic bloodbath that tears the audience between sympathy for a heroic act and horror at a senseless slaughter.
2. The Godfather: Part II (1974)
Consider that De Niro is essentially playing a young version of a character whom Marlon Brando won an Oscar for and that De Niro's performance might be better. Now consider that De Niro won an Oscar, too, even though his performance was nearly entirely in Italian, and you'll start to get an idea of why The Godfather: Part II is considered by some to be an even better movie than the original.
3. Raging Bull (1980)
De Niro's Jake La Motta is a man who only understands violence, making Raging Bull as brutal as any movie you'll see. The biopic was a labor of love for De Niro, who roped Martin Scorsese into the project and gained 60 pounds in order to play La Motta's pudgy declining years. But the highlights of the all-around great flick are De Niro's scenes riffing with Pesci. Their dialogue turns from improv comedy to beat-you-in-front-of-your-wife-and-kids drama at the (very tense) drop of a hat.
4. Goodfellas (1990)
Ray Liotta and Pesci get the bigger headlines, but De Niro is the crucial straight man in Scorsese's colorful cast of mobsters. De Niro's Irish hood Jimmy Conway starts off likable as an elder statesman of the flick's low-level mobsters. Sprouting gray hairs by the movie's end, he's quietly menacing as a man looking out for only himself, smiling at you while handing you your death sentence. If you think De Niro can't play strong and subtle at the same time, then you haven't seen Goodfellas.
5. Once Upon a Time in America (1984)
De Niro starts the movie smoking an opium pipe, uncoiling a series of memories that make for a wistful, nostalgic, and very violent cross-generational crime epic. There's not a gangster movie quite like Once Upon a Time in America, and for that you can thank director Sergio Leone, who imbues the flick with the same epic sweep and dazzling visuals present in his classic Westerns. But the emotional resonance comes from De Niro himself and is present in every look, gesture, and word.
Honorable Mentions
1. The King of Comedy (1982): One of the best Black comedies ever, the flick is also an eerily accurate preview of the reality-TV era. Like the movie itself, De Niro's performance is very hilarious and very sad.
2. Casino (1995): Leave it to De Niro to make each mobster unique, in this case a casino boss whose downfall isn't crime but an addiction to his druggie ex-prostitute wife (Sharon Stone).
3. Mad Dog and Glory (1993): Typecasting is turned on its head as Bill Murray plays the gangster and De Niro the average Joe. The result is a gem of a romantic comedy that deserves more attention than it received in theaters.
4. A Bronx Tale (1993): De Niro's directorial debut is a fantastic period drama, mob flick, and coming-of-age-tale centering on a son and father who don't quite get each other — and the charismatic mobster who comes between them (Chazz Palminteri).
5. Mean Streets (1973): The long collaboration between Scorsese and De Niro started out with this evocative neighborhood drama. As wild card Johnny Boy, De Niro steals every single scene with his shaggy charm.

Read More