Uncategorized
Natalie Portman's Dirty Secret Is She Keeps Making Scifi Flicks (And She's Not Alone)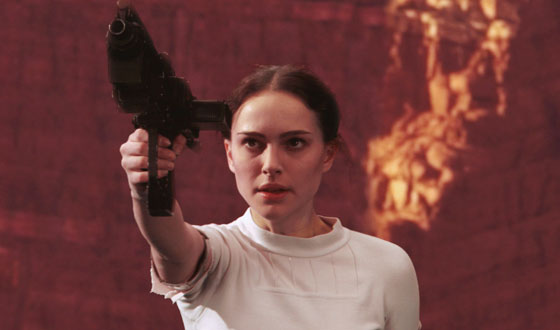 Scifi needs a publicist. Bad. The genre gets a bum rap as mindless and something socially adjusted adults decline to partake in. So what's a poor genre with a bad public image to do? One approach might be to invite respected actors into its metaphorical mother's basement to star in its movies, making it easier for naysayers to tune in. Think Star Wars is for nerds? What if the lovely Natalie Portman were involved? Don't like films about killer sharks? How about the theatrical stylings of Samuel L. Jackson? But these aren't the only respected actors who have dabbled in scifi. There are more where they came from.
Samuel L. Jackson – Thirteen Scifi Movies
Here's an actor so prolific there's bound to be scifi on his résumé. Beginning with Jurassic Park and continuing through being eaten in Deep Blue Sea, Jackson keeps going back to the scifi well. He's been the bad guy — the arch-enemy of Bruce Willis's superhero in Unbreakable and the antagonist of Jumper. Oh, and he played a significant role in the Holy Grail of scifi, as Mace Windu in the Star Wars prequels. And he's not done: Jackson will soon make comic fans weak in the knees by reprising his Iron Man role as Nick Fury in the forthcoming Avengers film.
Sigourney Weaver – Nine Scifi Movies
Weaver has never won an Oscar, but three nominations indicate she's truly a great actress — and she was even nominated for scifi, specifically for her turn as Ripley in Alien. Ripley is as badass as film heroines come, a fact she proved across three other chest-bursting films. And Weaver's subsequent roles in Ghost Busters, Ghostbusters II, and Galaxy Quest show she has a sense of humor too. Recently she returned to scifi in a little movie called Avatar, which is only the most popular movie of all time.
Michael Caine – Six Scifi Movies
The two-time Oscar winner has many, many credits to his name. Okay, actually the number is 150, but his scifi work is recent. Despite an appearance in the TV movie 20000 Leagues Under the Sea, it was in 2005, when he took on the role of the world's most famous butler in Batman Begins, that his scifi career truly got going. Caine's fatherly portrayal is the perfect counterbalance to Christian Bale's hotshot Bruce Wayne. Caine reprised the role in The Dark Knight, which proved to the world that top-notch scifi exists, then appeared in Children of Men, The Prestige, and Inception — yet another blockbuster.
Natalie Portman – Six Scifi Movies
Sigourney Weaver may be the First Lady of highbrow scifi actresses, but Portman is also a genre queen, which is just what she played as Padmé in the Star Wars prequels. But Star Wars wasn't the beginning or the end of Portman's flirtation with scifi: as a teen, she starred in Mars Attacks!, and, post-Star Wars, she kicked more ass in the graphic-novel adaptation V for Vendetta and the trippy fantasy Mr. Magorium's Wonder Emporium.
Christopher Plummer – Three Scifi Movies
Best remembered for The Sound of Music, Plummer made his scifi debut in Dreamscape, a 1984 film in which Dennis Quaid learns he can enter people's dreams. But most fans recognize Plummer from the mother of all scifi franchises. In Star Trek VI: The Undiscovered Country, he's the Shakespeare-quoting Klingon, Chang, who fears an alliance between humans and Klingons. And in the time-travel thriller Twelve Monkeys, he is the virologist father of a mental patient played by Brad Pitt. Not a bad scifi résumé for this respected actor.
Check out Christopher Plummer's non-scifi work in Dracula 2000, Sat., Feb. 19, at 1:30AM | 12:30C.
Natalie Portman is up for an Oscar for Black Swan. Think she should win the award? Vote in AMC's Oscar poll.
Read More