Uncategorized
Q&A – True Grit's Roger Deakins on the Oscars, the Coens, and the 3-D Craze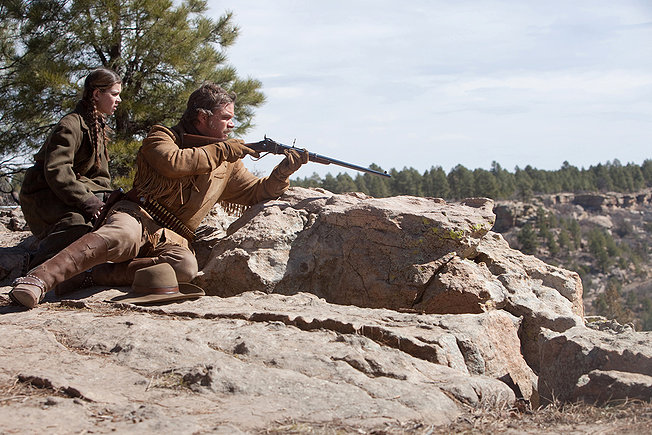 The New York Times recently described filmmaking legend Roger Deakins as the "Susan Lucci of cinematography," a shortsighted jab at Deakins's nine Oscar nominations but zero wins. He'll be back at the Academy Awards on Sun., Feb. 27, in support of True Grit, his eleventh collaboration with Joel and Ethan Coen. Their creative partnership stretches back to Barton Fink and includes such cinematic classics as Fargo, The Big Lebowski, and the Best Picture-winning No Country for Old Men. We spoke to Deakins ahead of the Oscars about the ceremony, 3-D filmmaking, and his documentary roots.
Q: This will be your eighth trip to the Academy Awards. Where do cinematographers get to sit during the Oscar ceremony?
A: I think one year all of the nominees got to sit together. The last few years, we have been dispersed throughout the crowd with no particular rhyme or reason.
Q: Do you get nervous?
A: I kind of enjoy it now. In a way, I get to see people I haven't
worked with in quite a while. Now I know a lot more people in the
profession, having been here long enough, so there's a comfort level
about that. Do I still get nervous? The idea of having to maybe get up
there and speak can be kind of nerve-racking.
Q: True Grit has connected with an audience outside of the
Coen brothers' dedicated fan base.
A: Yeah, I don't really care about box office, but I did see it has
made over $150 million, which you have to laugh at. It's just fantastic
for Joel and Ethan. A Western starring a 13-year-old girl — I mean,
yeah, go figure. It seems to have revived people's interests in the
Western and the history of the American frontier. There are so many
stories yet to be told about the beginnings of America and the struggles America had.
Q: Would you be interested in diving right back into the genre and
telling another Western?
A: Well, I've been lucky. I feel like I did three Westerns in a row.
In my mind, No Country for Old Men was a modern Western. And then
I did The Assassination of Jesse James, followed by True
Grit. They are three very different ones. But I would like to go
back and do another. I really like the genre.
Q: If you did, you'd probably have to shoot it in 3-D. Hollywood's
determined to shoot every new film in 3-D now. Have you played around
with 3-D cameras or dabbled in the technology yet?
A: Oh, yeah; I worked in 3-D on How to Train Your Dragon. I also
work at DreamWorks Animation in between doing live-action films or while I'm doing live-action films sometimes. [Laughs] It's basically the
same principle. You're telling your story with images, light, and camera
movement.
Q: Is it getting easier for storytellers to shoot in 3-D?
A: I think 3-D has its place. I mean, I can't imagine seeing True
Grit in 3-D. That idea, to me, would be absurd. But in certain films,
like Dragon, I think the 3-D worked quite well. You are giving
the audience a slightly different experience. It's like the audience is
becoming immersed in this world you are creating. Whereas in the
dramatic films I do with, say, the Coens, we're giving you a view
through into another world. Perceptually, it's a different experience.
Q: You shot documentaries early in your career. Do you watch
footage of the political upheaval happening in Egypt and think, I'd
like to go photograph that?
A: You know, I made documentary films about the war in Rhodesia, when
it was Rhodesia, in the eighties. So I do have some experience of doing
that kind of work.
Q: Do you miss the immediacy of documentary filmmaking?
A: You know, I had a problem in the end with it. I had been doing
documentaries for nearly seven years, and I made a slow transition to
feature work and dramas, and it just seemed like a natural evolution for
me. But I did have a problem about the voyeurism of a man with a movie
camera in a documentary situation. I was doing a film tracking patients
in a mental ward, and I ran into a moral issue about when you actually
shoot film of what's happening in front of you and when you actually put
the camera down and take personal charge of your position in that
situation, you know? It's a dilemma. One colleague told me once that
he'd realized he had gone too far when he was photographing dead bodies,
and he found himself rearranging the dead bodies to make a more perfect
image. That's an extreme case, but somehow there's this responsibility
of a filmmaker in a documentary situation, and there's a fine line
between believing you're making a difference and bringing information to
the rest of the world — making a statement about it — and exploiting a
situation by being a voyeur. And I think that's very pertinent to what's
happening in Egypt right now. The media is so quick to decide that the
story is going one way or the other way, but it's a very complex
situation and it's not necessarily being explained very well.
Read More