Uncategorized
Q&A – Johnny Depp on Women, Little White Lies, and Justin Bieber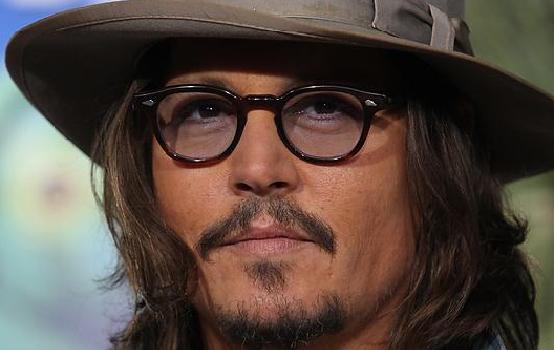 Johnny Depp has played a lot of peculiar characters. In fact, one could say with confidence that the wildly popular actor is drawn to the weird and abnormal. His performance in the upcoming Rango, which hits theaters on Mar. 4, arguably could be his most bizarre — despite the fact that the film is animated and rated PG. In it, he plays a pet chameleon who aspires to be a swashbuckling hero. He gets his chance after haphazardly stumbling upon a desolate Western civilization filled with some of the most eccentric characters in recent memory. Here's what Depp has to say about his new film, Santa Claus, Bieber fever, and the attention he gets from ladies.
Q: We've heard reports that you fought to make sure that Rango wasn't going to be 3-D. How do you feel about 3-D as a trend in general?
A: I'm waiting for 5-D. That's what I want.
Q: You do a lot of repeat business with directors like Tim Burton and Gore Verbinski, who directed Rango. What is it that draws you to these people, and what draws them to you?
A: Well, I've been told I smell good, though I don't look like I smell good. [Laughs] Working with Gore in three Pirates films and Rango — certainly there are no limits to the possibilities. He allows you to try all kinds of things that sometimes fail miserably. And other times, we go into this kind of weird place. It is like arriving at a place that you know no one's ever been to before. And he welcomes it, and he creates an atmosphere that allows you to just go, essentially, ape. It's a blast. That's really a fun part of the process.
Q: You've played a lot of characters whom kids love, from Edward Scissorhands to Captain Jack Sparrow to Willy Wonka. What is your relationship like with that audience?
A: I think kids in general are the way forward because they're not sullied by intellectual expectation. It's a very pure response to the work. Before Pirates, I had a daughter, and for about four years all I watched were cartoons, just cartoons. And I realized, at that point, that the parameters were far from what we do in normal, everyday movies. You can get away with a lot more. Kids accept a lot more, and they buy it because they're free. So for me, that was everything, in terms of coming up with what Captain Jack would be. I trust kids far more than I do adults. Kids give you their honest opinion. They tell the truth.
Q: Probably for you, Johnny, the only real critics whom you pay attention to are your kids. How do they feel about their dad playing a lizard? Did it work for them?
A: They actually call me the Lizard King. [Laughs] I've forced them to address me like that since they were tykes. Yeah, no, it was an odd sort of thing. "Where you going, Daddy?" "Ah, I gotta go to work." "What are you doing?" "Well, I'm playing a lizard." "Okay." You know, it'd literally be that kind of thing: you drop your kids off at school, give them a kiss, and it was, "Oh, yeah — now I'm gonna go be a lizard." The things I've done that my kids have been privy to — Willy Wonka and all — it doesn't register. They're far more interested in Family Guy or Justin Bieber.
Q: Are you a Belieber?
A: A Belieber? Wow. [Laughs] I've actually never heard that one. You know what? Yes, I am a Belieber. I am. And I shall remain so.
Q: Rango's character tells lies to people to get through a critical situation. What kind of lying experiences have you had in your life? Any you feel especially guilty about?
A: I actually tell lies for a living. That's what acting is, really. But I had horrific guilt for many years playing along with the Santa Claus thing and waiting for that moment to arrive when they say, "Hey, you've been telling me a lie for my entire life. What are you prepared to do about that?" I had horrific guilt. And we're now just on the outskirts of that, so I feel okay. These are lies that society tells you that you must keep going, these kinds of myths. Yeah, and I feel guilty about it. I still do.
Q: Have you had a chance to look at any of the films up for Oscars this year? What do you think?
A: I have. You know, I don't do well with modern films, to be honest. I don't know, after the opening credits, I'm just gone. [Makes a snoring sound] People make great films; I just don't have the eyes to watch them. But there is a film that I was really, really impressed with, that I absolutely adored, and I've seen it a few times now. It's called Exit Through the Gift Shop. I thought it was a very brave film and a very honest film. I'm all the way with that film.
Q: You've won a lot of praise by the media as one of the most attractive people in showbiz. What does it feel like to get that kind of attention, especially from the ladies?
A: Attention is a strange sort of thing, the idea of it. It's always nice that someone appreciates your work. But I've never quite understood any of the other bits — when you've been voted as something for a magazine. It's a complete mystery to me. I wake up and I have to look at that head when I brush my teeth every morning. And it's weird. And it's unpleasant at times. So, yeah, I don't know about the attention thing.
Read More