Oscars – The King's Speech Wins Best Picture, Director While Franco, Hathaway Bomb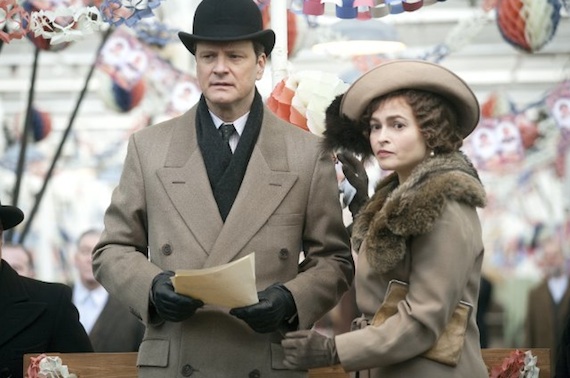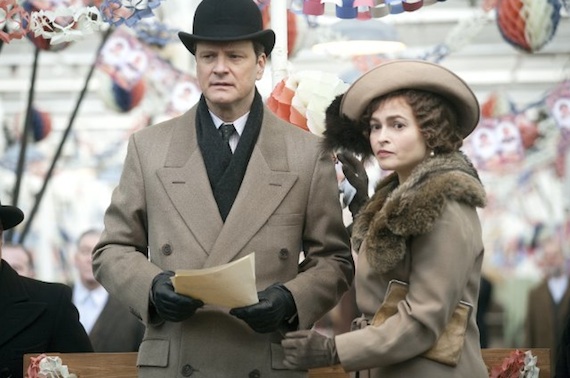 It wasn't exactly the King's Sweep, but Tom Hooper's period drama The King's Speech took home the two biggest trophies at the 83rd Academy Awards on Sunday night, claiming Oscar trophies for Best Picture and Director.
Nominated for twelve Oscars, Hooper's film eventually won four. Colin Firth claimed a well-deserved Best Actor trophy for playing the stammering King George VI, and Speech screenwriter David Seidler claimed a statue for his work.
Early attention fell on the evening's hosts, however. Too bad for them — and too bad for us.
First timers James Franco and Anne Hathaway stumbled out of the gate with a brutally unfunny monologue that reminded us why the Academy previously hired comedians to host the evening. Hathaway gave it the old college try with a song-and-dance routine slamming Hugh Jackman. Franco, however, was a total stiff. The wooden actor — a nominee for his spectacular performance in Danny Boyle's 127 Hours — looked completely out of his element on live television. He came off as shockingly unfunny (bubbly Hathaway tried to connect with him to no avail) and more than a little mean. His worst dig was aimed at the "nerds" who won the science and tech Oscars off-site. Then again, maybe this Ph.D. candidate was being witty. If so, his humor was lost on us. Presenters Robert Downey Jr. and Jude Law showed more chemistry together. Give them the show. Heck, Billy Crystal's tribute to Bob Hope was funnier than Franco and Hathaway's effort. Maybe the Academy can persuade Crystal to return in 2012.
But enough about the hosts — really, enough. The evening was about the movies, and the Academy spread the love around, recognizing different nominees in other categories throughout Sunday's ceremony. Natalie Portman earned the Best Actress statue for Black Swan. And Fighter co-stars Christian Bale and foulmouthed Melissa Leo split the Best Supporting Oscars. While many held out hope for a better showing for David Fincher's Social Network, its highest-profile win was for Aaron Sorkin in the Best Adapted Screenplay category.
Christopher Nolan's Inception took home most of the evening's technical awards, from Best Sound Mixing and Editing to Cinematography (for Wally Pfister). Tim Burton's Alice in Wonderland seemed to grab the technical wins Inception lost out on. And when all was said and done, live-action short-film director Luke Matheny (God of Love) might have had the evening's best lines when he stood up with his mop top, mentioned he should have gotten a haircut, plugged his Oscar-winning short on iTunes, and thanked his mom for running craft services on his shoot. Best speech of the evening.
Winners From the 83rd Academy Awards
Best Picture
The King's Speech
Directing
Tom Hooper, The King's Speech
Actor in a Leading Role
Colin Firth, The King's Speech
Actress in a Leading Role
Natalie Portman, Black Swan
Actor in a Supporting Role
Christian Bale, The Fighter
Actress in a Supporting Role
Melissa Leo, The Fighter
Writing (Adapted Screenplay)
Aaron Sorkin, The Social Network
Writing (Original Screenplay)
David Seidler, The King's Speech
Animated Feature Film
Toy Story 3
Animated Short Film
The Lost Thing
Documentary (Feature)
Inside Job
Art Direction
Alice in Wonderland
Cinematography
Inception
Costume Design
Alice in Wonderland
Documentary (Short Subject)
Strangers No More
Film Editing
The Social Network
Foreign-Language Film
In a Better World
Makeup
The Wolfman
Music (Original Score)
Trent Reznor and Atticus Ross, The Social Network
Music (Original Song)
"We Belong Together," by Randy Newman, from Toy Story 3
Short Film (Live-Action)
God of Love, Luke Matheny
Sound Editing
Inception
Sound Mixing
Inception
Visual Effects
Inception
Read More