Can the Oscar Momentum for The King's Speech Undermine Natalie Portman's Chances, Too?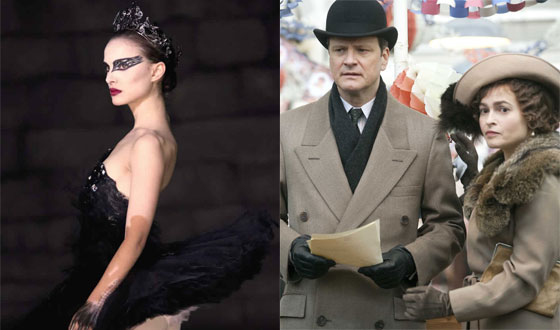 How quickly momentum can change in the Oscars race: a week ago, despite The King's Speech taking home two Screen Actors Guild Awards, True Grit was still deemed the favorite in AMC's Oscars poll, leading among voters for Best Picture and three other awards. A week later, as of Fri., Feb. 11, the leaders for Best Picture, Actor, Supporting Actress, Supporting Actor, and Director — all the categories in which The King's Speech is nominated — have seen their leads evaporate or been supplanted entirely.
Only Natalie Portman — who, in the Best Actress category, has no competitor from The King's Speech — is safe: the Black Swan star still leads, with 62 percent of voters concurring that she deserves the Oscar for the creepy ballet movie. But for the first time since the nominations were announced, True Grit has lost its lead for Best Picture, and now The King's Speech — the most nominated movie of the year — leads, 32 percent to 28 percent. Even a week ago, True Grit led that category by a wide margin — 36 percent to 20 percent — over the Colin Firth flick.
It's a similar story in the Best Actor voting, where Jeff Bridges's early rout (50 percent as of last Friday) for playing Rooster Cogburn has evaporated, and he now trails Firth, 46 percent to 38 percent. Even Hailee Steinfeld's seemingly insurmountable lead in the Best Supporting Actress category seems in danger: Helena Bonham Carter — also of The King's Speech — is gaining on her and now has 24 percent to Steinfeld's 48 percent, a far cry from Steinfeld's 57 percent and Bonham Carter's 14 percent of a week ago. The Coen brothers aren't immune to the surge from director Tom Hooper's movie, either. Last week, Joel and Ethan led the voting comfortably, with 47 percent, and The Social Network's David Fincher sat in second, with 16 percent. But currently their portion of the vote has narrowed to 38 percent, and Tom Hooper of The King's Speech has moved into second place, with 27 percent, while Fincher's votes have remained relatively static, at 15 percent. And Geoffrey Rush is benefiting from all the great press surrounding The King's Speech. Last week, Christian Bale (The Fighter) led, with a resounding 55 percent, but his lead has narrowed to 48 percent, against Rush's 39 percent.
Will The King's Speech's momentum continue, or is it a short-lived phenomenon? Who should win the Oscars?

Read More