Do the Coen Brothers Deserve Another Oscar? Vote Now, Before It's Too Late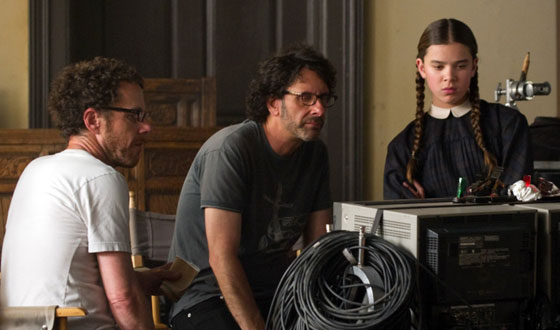 This Sunday, the winners of this year's Academy Awards will finally be announced, and it's still anyone's guess as to whom the voters will deem the best of the year. The Coen brothers — nominated for Best Director and Adapted Screenplay for their updated version of True Grit — are no strangers to the Oscars race. The brothers have a slew of nominations under their belt and have already won Best Director and Adapted Screenplay for 2009's No Country for Old Men and Original Screenplay for Fargo (not to mention their four other nominations). And according to AMC's Oscar poll, the Coen brothers might just add some more hardware to their mantle come Sunday.
While The King's Speech is cleaning up in other categories, as of this morning Joel and Ethan still lead in the voting for Best Director, with 32 percent of the vote, ahead of Tom Hooper's 29 percent. In the Best Adapted Screenplay category, Joel and Ethan have a far larger lead, with 43 percent of voters saying they'll win the Oscar. Meanwhile, True Grit's fortune is split in other categories. Hailee Steinfeld leads the voting for Best Supporting Actress, with 43 percent, but AMC voters think the movie will be the runner-up in its two other categories: Jeff Bridges trails Colin Firth for Best Actor, 53 percent to 30 percent, and the movie itself trails The King's Speech, 35 percent to 21 percent, for Best Picture.
Got a different opinion? The Oscars will be given out on Sunday, so time is running short to show your support for the Coen brothers or any of the other actors, directors, screenwriters, and movies nominated. Vote now.

Read More