Oscar Predictions – Get Your (King's) Speech Ready, Winners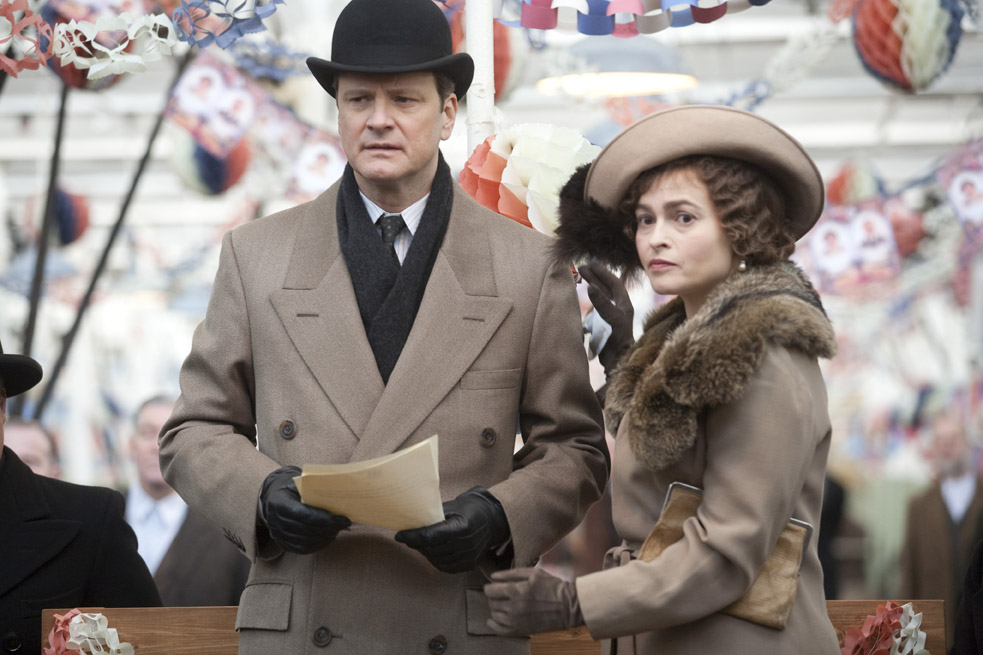 The 83rd Academy Awards ceremony is days away, and prognosticators' tongues are wagging.
Will this year's Oscars ceremony feature a royal sweep for Tom Hooper's historical drama, The King's Speech? Could enough Academy members click "Like" for David Fincher's contemporary, relevant Social Network? Or does David O. Russell's underdog boxing flick, The Fighter, have a puncher's chance at pulling off an upset in the evening's Best Picture category?
James Franco and Anne Hathaway host the Academy Awards this year, which will be televised live on Sun., Feb. 27. Ahead of Hollywood's Super Bowl of cinema, we make our picks in every major category, followed by a line or two of explanation for our choices. Use our piece to help you win your office Oscars pool, then tune in this weekend to see how right (or woefully wrong) we were.
Picture

Black Swan

The Fighter

Inception

The Kids Are All Right

The King's Speech

127 Hours

The Social Network

Toy Story 3

True Grit

Winter's Bone
Winner: The King's Speech. There's a groundswell of support for David Fincher's Social Network, and the Academy has shown a willingness to reward edgier, challenging efforts like The Hurt Locker and No Country for Old Men. But Speech is the quintessential Oscar-bait picture, and we're betting the Academy can't resist.
Director
Darren Aronofsky,
Black Swan
David O. Russell, The Fighter
Tom Hooper, The King's Speech
David Fincher, The Social Network
Joel and Ethan Coen, True Grit

Winner: Tom Hooper. Some are predicting a picture-director split, with Fincher winning here but The King's Speech taking Best Picture. We don't see it. Hooper won the Directors Guild prize, and the Academy failed to recognize Fincher for Fight Club, Zodiac, or Benjamin Button. What makes anyone think they'd wake up and start honoring him now?
Actor in a Leading Role
Javier Bardem, Biutiful
Jeff Bridges, True Grit
Jesse Eisenberg, The Social Network
Colin Firth, The King's Speech
James Franco, 127 Hours

Winner: Colin Firth. In truth, they are all winners. Five fantastic
performances make up this unusually strong field, but we're betting on
Firth emerging victorious for his measured motivational turn as a
stuttering king.
Actress in a Leading Role
Annette Bening, The Kids Are All Right
Nicole Kidman, Rabbit Hole
Jennifer Lawrence, Winter's Bone
Natalie Portman, Black Swan
Michelle Williams, Blue Valentine

Winner: Annette Bening. This is our first prediction of an upset, as
Natalie Portman has earned virtually every actress award leading up to
the big dance for her work on Black Swan (and deservedly so). But
Bening is beloved by her Academy peers. She's a four-time nominee, and
she doesn't have an Oscar to show for her distinguished career. We
suspect that will change on Sunday.
Actor in a Supporting Role
Christian Bale, The Fighter
John Hawkes, Winter's Bone
Jeremy Renner, The Town
Mark Ruffalo, The Kids Are All Right
Geoffrey Rush, The King's Speech

Winner: Christian Bale. Like Portman, Bale has swept every race
during the lengthy awards season. Unlike Portman, Bale doesn't have a
contender in his group with a strong enough reason to steal his thunder.
Actress in a Supporting Role
Amy Adams, The Fighter
Helena Bonham Carter, The King's Speech
Melissa Leo, The Fighter
Hailee Steinfeld, True Grit
Jacki Weaver, Animal Kingdom

Winner: Melissa Leo. Perhaps the toughest category to predict. While it seems possible that Fighter
gals Leo and Adams would split the vote, none of the remaining three
nominees seem strong enough to rise up and claim the prize. Leo has won a
number of trophies leading up to this, so we predict that she takes
home the Oscar on Sunday.
Writing (Adapted Screenplay)
Danny Boyle and Simon Beaufoy, 127 Hours
Aaron Sorkin, The Social Network
Michael Arndt, John Lasseter, Andrew Stanton, and Lee Unkrich, Toy Story 3
Joel and Ethan Coen, True Grit
Debra Granik and Anne Rosellini, Winter's Bone

Winner: Aaron Sorkin. Book it. That's one of the evening's only locks.
Writing (Original Screenplay)
Mike Leigh, Another Year
Scott Silver, Paul Tamasy, and Eric Johnson, The Fighter
Christopher Nolan, Inception
Lisa Cholodenko and Stuart Blumberg, The Kids Are All Right
David Seidler, The King's Speech

Winner: Christopher Nolan. If The King's Speech turns the
Oscars into a landslide, Seidler could ride the film's coattails.
However, we predict the Academy will try to spread the love around,
recognizing Nolan's blockbuster for its originality.
Animated Feature Film

How to Train Your Dragon

The Illusionist

Toy Story 3

Winner: Toy Story 3. In a just world, Pixar's gem would have a
legitimate shot at the Best Picture Oscar. In our flawed society, Best Animated will have to do.
Documentary (Feature)

Exit Through the Gift Shop
GasLand

Inside Job

Restrepo

Waste Land

Winner: Inside Job. While we'd love to see Banksy crash the party and accept for Exit, Charles Ferguson's methodical doc on our nation's financial crisis was so well done (and so well received). It will likely prevail.
The nominees in the remaining categories:
Art Direction

Alice in Wonderland

Harry Potter and the Deathly Hallows: Part 1
Inception
The King's Speech
True Grit
Cinematography
Matthew Libatique, Black Swan
Wally Pfister, Inception
Danny Cohen, The King's Speech
Jeff Cronenweth, The Social Network
Roger Deakins, True Grit
Costume Design

Alice in Wonderland

I Am Love
The King's Speech

The Tempest
True Grit
Documentary (Short Subject)

Killing in the Name
Poster Girl
Strangers No More
Sun Come Up
The Warriors of Qiugang
Film Editing

Black Swan
The Fighter
The King's Speech
127 Hours
The Social Network
Foreign-Language Film

Biutiful

Dogtooth
In a Better World
Incendies
Outside the Law
Makeup
Adrien Morot, Barney's Version
Edouard F. Henriques, Gregory Funk, and Yolanda Toussieng, The Way Back
Rick Baker and Dave Elsey, The Wolfman
Music (Original Score)
John Powell, How to Train Your Dragon
Hans Zimmer, Inception
Alexandre Desplat, The King's Speech
A.R. Rahman, 127 Hours
Trent Reznor and Atticus Ross, The Social Network
Music (Original Song)
"Coming Home," Country Strong
"I See the Light," Tangled
"If I Rise," 127 Hours
"We Belong Together," Toy Story 3
Short Film (Animated)

Day & Night, Teddy Newton

The Gruffalo, Jakob Schuh and Max Lang

Let's Pollute, Geefwee Boedoe

The Lost Thing, Shaun Tan and Andrew Ruhemann
Madagascar, a Journey Diary, Bastien Dubois
Short Film (Live-Action)

The Confession, Tanel Toom

The Crush, Michael Creagh

God of Love, Luke Matheny

Na Wewe, Ivan Goldschmidt

Wish 143, Ian Barnes and Samantha Waite
Sound Editing

Inception
Toy Story 3

Tron: Legacy
True Grit

Unstoppable
Sound Mixing

Inception
The King's Speech

Salt
The Social Network
True Grit
Visual Effects

Alice in Wonderland
Harry Potter and the Deathly Hallows: Part 1

Hereafter
Inception

Iron Man 2
Read More