New on DVD – February 15, 2011 – Unstoppable and Waiting for 'Superman'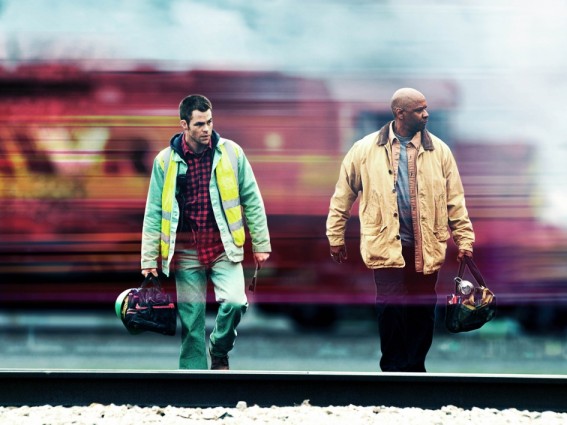 Runaway trains and rundown schools: Tony Scott's Unstoppable pits Denzel Washington against an out-of-control locomotive, and Waiting for "Superman" pits educational reformers against the bureaucracy. These and many other films, from comedies (You Will Meet a Tall Dark Stranger) to documentaries (William S. Burroughs: A Man Within), are coming this week to DVD and Blu-ray.
Unstoppable

Chris Pine (from Star Trek) and Denzel Washington (from just about everything else) team up in this hyperkinetic Tony Scott action flick about a pair of engineers who stop a train carrying a load of lethal toxins from barreling out of control toward a defenseless town. Our writer thought it not exactly flawless but nevertheless an "exhilarating popcorn blockbuster."
Waiting for "Superman"

This documentary from Davis Guggenheim, the director of An Inconvenient Truth, tackles another looming disaster facing the nation: the seemingly inevitable collapse of the educational system. According to our writer, this "informative, upsetting sound-the-alarm documentary" is a ringing call for citizens to stop waiting for Superman to save their schools and get around to doing it themselves. You Will Meet a Tall Dark Stranger

Woody Allen goes back to London for this lighthearted occult-flavored piece about men who don't know what to do with their women, whether it's a writer (Josh Brolin) who can't pay attention to his wife because he's too busy staring at the beauty across the alleyway or a wealthy old fool (Anthony Hopkins) who thinks shacking up with a laughably clueless tart will save his life. Our writer was glad to find Allen's writing "theatrical but sharp" but was put off by the general doom and gloom of it all.
Summer Wars

The entire world is plugged into a virtual-reality environment called Oz in this semi-humorous anime about a young computer whiz who accidentally unleashes a virus that could destroy Oz and, by extension, the world. Calling it a "candy-colored YA trip," our writer found the film a "great place to hang out" but just too sketchy and incomplete in the end.
William S. Burroughs: A Man Within

Burroughs, the anti-poet-laureate of the American literary set, inspired plenty of adulation in those who weren't too worried about his many failings (including shooting to death, perhaps on purpose, his wife). This documentary about the viciously satiric beatnik novelist, according to our critic, is just another raving fan letter whose "friendly speak-no-ill attitude feels off."
Promised Lands

The dust from the 1973 Yom Kippur War had barely settled when intellectual provocateur Susan Sontag took a camera crew and went to Israel to record this impressionistic documentary of a land under siege and undergoing rapid change. Her "punishing sense of war's brutality…provides the film's moral backbone," our critic thought, but added that its "rambling" interviews "could have benefited from a tauter structure."
Read More