New on DVD – February 1, 2011 – Never Let Me Go and The Tillman Story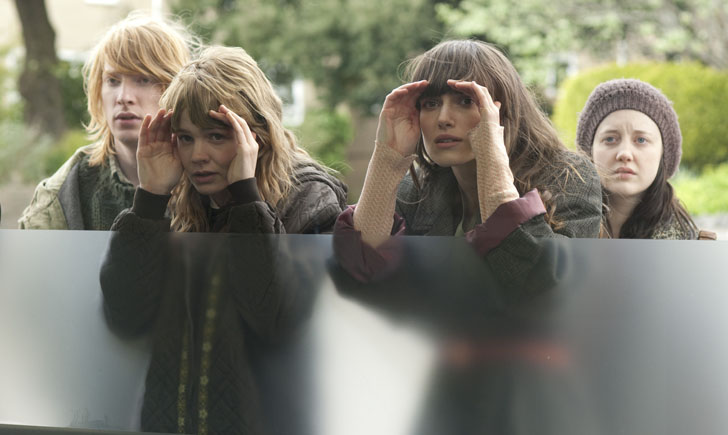 Future shocks and real-life heroism: Never Let Me Go posits an alternate world where medicine has made huge strides at a horrible price, while The Tillman Story reveals what happened when an NFL star died under mysterious circumstances in Afghanistan. These and many other films (from avant horror flicks Monsters and Let Me In to dramas like Conviction and Night Catches Us) are coming this week to DVD and Blu-ray.
Never Let Me Go

Carey Mulligan, Andrew Garfield, and Keira Knightley star in this adaptation of Kazuo Ishiguro's beloved sci-fi novel about an alternate reality where human clones are raised in isolation to be used as organ donors. Our writer praised the film's powerful emotional tones and inspired acting but thought that director Mark Romanek "digs himself into a bit of an emotional rut about halfway through the film [. . .] settling for a lilting melancholy while the characters themselves voice helplessness and sweat-inducing dread."
The Tillman Story

The story of how pro-football icon Pat Tillman passed up a multi-million-dollar payday to join the Army only to die in Afghanistan would be tragic enough if it weren't for the tragically inept and bureaucratically craven Pentagon cover-up that followed. Our writer found this "spirited, nimble" film's handling of the highly charged material a "better tribute to its unique subject than any slo-mo JumboTron accolade."
Let Me
In

The only problem with this highly faithful remake of the groundbreaking
2008 Swedish film Let the Right One In — in which a lonely,
picked-on boy befriends the curious girl next door, who just so happens
to be a vampire — according to our critic, is that it's a remake.
Otherwise, he wrote, this "equally flawless" version, "expertly filmed,
beautifully acted, and retaining much of the original's sense of sadness
and dread without resorting to a literal re-creation," would have been
hailed as a masterpiece. Which it certainly is.
Conviction

A
ripped-from-the-headlines true story about a blue-collar woman (Hilary
Swank) whose happy-go-lucky but deadbeat brother (Sam Rockwell) is
imprisoned for a murder he didn't commit. She dedicates her
life (including going to law school) to freeing him. Even though our
writer was thoroughly impressed by the acting in this "competent,
true-crime drama," he found the film "loosens its grip as it marches
along to its predetermined beats."
Monsters

Shot for next to nothing, this sci-fi film imagines the world six years after a returning space mission has unleashed monstrous alien life-forms into the
wilds of Mexico. A journalist and a wayward daughter are forced to journey through the heart of the quarantined zone. Our writer was initially heartened by the filmmaker's innovative effects and quiet, subtle misdirections but ultimately thought the movie had "little
to fill the void with, besides some lengthy cribs from Apocalypse Now
and a coda that's as baffling as it is anti-climactic."
Night Catches Us

In this period
drama set in seventies Philadelphia, an ex-Black Panther (Anthony Mackie) returns home to deal with the family estate after his father's death.
Once there, his past rises up to haunt him in the form of an old
gangster associate who thinks he ratted their old friends out and also
an ex-girlfriend (Kerry Washington) who may not have moved on with her life. "Tending toward lyricism rather than urgency," our writer said, this
graceful, romantic film "strikes a tone that is both melancholy and
ultimately hopeful."
Welcome to the Rileys

James Gandolfini plays a suburban salesman whose relationship with his agoraphobic wife (Melissa Leo) and life in general has been drifting since the death of his daughter. Wandering the streets of New Orleans while on business, he strikes up a friendship with a runaway stripper
(Kristen Stewart), quickly seeing in her need for attention a
substitute for his lost child. We thought it was nicely performed but
too schematic in its emotions, seeming like little more than a "rigged
mourning-based obstacle course."
A
Woman, a Gun and a Noodle Shop

For some reason, that master of Chinese martial-arts excess Yimou Zhang (House of Flying Daggers) decided to remake the Coen brothers' comic noir Blood Simple, setting it in an isolated frontier town in
ancient China. The results weren't pretty, our critic reported, writing
that, "where a sharp, noirish tang of guilt and recrimination is called
for, Zhang can only muster up a turgid tale of mistakes and cheap shtick."
Read More