Uncategorized
Flashback Five – Francis Ford Coppola's Best Movies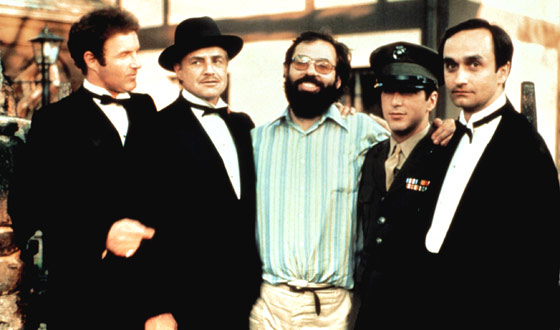 Francis Ford Coppola is a gambler, and The Godfather paid off big-time. The director took a huge risk casting the notoriously prickly Marlon Brando as the title character, but that paid off, with one of the most iconic performances ever. The rest of Coppola's career isn't half bad, either. But before you decide which Coppola movie is best — The Godfather or The Godfather: Part II? — spend this weekend with both movies, during AMC's Can't Get Enough Godfather, beginning Sat., Feb. 12, at 4PM | 3C. For now, here's one take on the filmmaker's career.
1. The Godfather (1972)
What can you ever say about Coppola's mob masterpiece? A lot, actually. Each viewing offers up something new: an observant study of family dynamics, a trenchant commentary on American ambition, and (of course) a violent thriller. Perhaps the most ambitious aspect of the flick is Coppola's casting: Al Pacino, Marlon Brando, James Caan, and Robert Duvall. They're household names now, but getting them into the movie was a fight for Coppola — and one that nearly got him fired. Instead, it made him famous.
2. The Godfather: Part II (1974)
Forget everything you know about sequels: The Godfather: Part II is a classic in its own right. And while it may not rank above the original, it's actually more ambitious, as it seamlessly cuts between the early life of Vito Corleone (Robert De Niro) in turn-of-the-century Italy and the power machinations of Michael Corleone (Al Pacino) in fifties Nevada. The movie also does something sequels rarely do — it has its characters change for the worse. The powerful final shot pretty much sums up how power eats away at the soul.
3. The Conversation (1974)
This was the art film Coppola made in exchange for doing a hack commercial project — you know, The Godfather. And while some of Coppola's ambitious projects sink under the weight of their own pretensions (see Youth Without Youth), The Conversation is an exception. Gene Hackman stars as a surveillance expert in a movie that's both a masterful character study and an exploration of misinterpretation and self-deception. While superficially a rip-off of Blow-Up, the taut thriller demolishes the source material and constructs a house of mirrors you'll never forget.
4. Apocalypse Now (1979)
Now considered a movie milestone, the ultimate Vietnam flick went through countless drafts, recastings, cuts, heart attacks, and even a hurricane before arriving in theaters. The result is a haunting war poem that wouldn't have been the same if it were made any other way. While some Vietnam movies have all the insight of a political bumper sticker, Apocalypse Now surpasses politics to become a movie that feels like war. Watching it is like sinking into a malarial dream filled with hallucinatory images that will turn your stomach and open your mind.
5. Rumble Fish (1983)
Mixing black, white, and color, this audaciously stylish teen drama has the same great storytelling of Coppola's previous work. While some fault the movie for being pretentious, the great characters in this whimsical tale of juvenile delinquents bring you through and play to Coppola's strengths as an innovator. Watch for a great performance by Mickey Rourke, playing the older brother of the lead (Matt Dillon).
Honorable Mentions
1. One From the Heart (1982): This musical sunk Coppola's ship, budgeted at $26 million but recouping just under $400,000. But the movie is a beautiful shipwreck. The retro sets are gorgeous, and how bad can a movie be with a soundtrack from Tom Waits?
2. The Rainmaker (1997): While this John Grisham adaptation doesn't reach the heights of Coppola's other literary adaptation (of a certain Mario Puzo book), The Rainmaker remains the best Grisham adaptation and features a top-notch cast led by a young Matt Damon.
3. The Outsiders (1982): Tom Cruise, Patrick Swayze, Charlie Sheen — in the casting alone, Coppola shows he was light-years ahead of everyone else, recognizing three future superstars for what they would become.
4. The Rain People (1969): This rough-around-the-edges road movie shows what Coppola might have kept doing if The Godfather never hit it big. Shirley Knight stars as a woman who abandons her old life to travel the highway in a finely honed character study played across the American landscape.
5. Tetro (2009): Watch this movie for the character-driven beginning rather than the overplotted second half. Vincent Gallo and Alden Ehrenreich are great, and the black-and-white photography is gorgeous.

Read More