Games, Polls & Quizzes
Thinking Outside the Box – The Wackiest Golden Globe Awards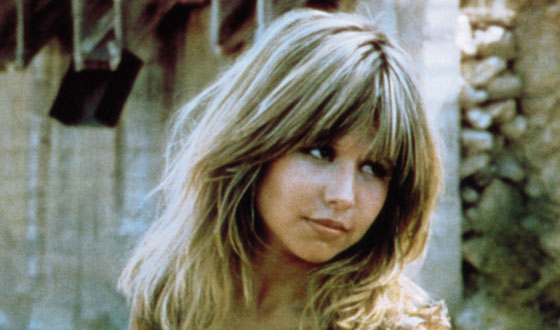 Depending on whom you ask, the Golden Globes, given by the Hollywood Foreign Press Association (HFPA), are either a
bellwether for the Oscars or a refreshing alternative that
favors popcorn fun over the intentionally grave. Sometimes the latter
seems true, like when, say, the 2010 Oscar went to The Hurt Locker while the Golden Globes awarded the candy-colored Avatar. But, hey, in 2009 both groups showered Slumdog Millionaire with top-tier awards, and neither will live down giving a Best Picture nod to The Greatest Show on Earth. That said, the 2011 Globe nominees include some memorable outside-the-box thinking, like the surreal Alice in Wonderful for Best Musical or Comedy. With that in
mind, let's take a look at some of the oddest awards
given at the Globes.
New Star of the Year – Pia Zadora, Butterfly
Anyone can make a mistake, and the HFPA is no different, but their track record in spotting future stars is pretty
good: they called Mia Farrow and Arnold Schwarzenegger, among others. But giving Zadora — whose only previous credit was Santa Claus Conquers the Martians — an award for playing an incestuously inclined strumpet (the New York Times
called her performance "spectacularly inept") in a movie financed by
her wealthy husband was a major reach. And over Kathleen Turner, no less. Nearly 40
years later, "Pia Zadora" remains shorthand for "marginally talented
tootsie whose sugar daddy bought her career." Kathleen Turner? She's a good actress.
Best Original Song – "You Light Up My Life," by Joseph Brooks
This award is only freaky in retrospect. At the time, the award for director-producer-writer-composer Joseph Brooks's insipid theme to his movie of the same name represented one mediocre song triumphing over a few others. But in light of Brooks's 2009 indictment on 91 counts of sexual assault (he used his Oscar, not his Globe, to lure aspiring actresses to his apartment), "You Light Up My Life"'s paean to the power of love seems poisonously creepy. Can't blame the HFPA for that. But still, that's just weird.
Best Foreign-Language Film – Two Women
Three movies were nominated for the 1962 Best Foreign-Language Film award: Italy's Two Women, Mexico's Ánimas Trujano, and Germany's Good Soldier Schweik. Two Women won, but HFPA struck a pioneering blow for self-esteem building by making sure the two others went home with Silver Globes, a trophy never seen before or since. That's so nice, encouraging those poor little foreign movies to keep on trying. Maybe one day their children will grow up to be as good as Hollywood movies. Also fun? Making up awards on the fly. Other award shows should try this tactic to add mystery to the proceedings.
Best Film Promoting International Understanding – A Majority of One
Kudos to HFPA for this high-minded category — in use from 1945 to 1963 — but recognizing this well-intentioned movie about a Jewish widow
falling for a Japanese businessman was an inexplicable step back for HFPA, given that the businessman is played by Alec Guinness, of Obi-Wan Kenobi fame. Yes, Hollywood cast white actors as Asians back in the day, but in 1961 the times they were a-changin', and the HFPA itself had spotlighted actual Asian star Nancy Kwan just a year earlier. An odd choice all-around. Why not just award Mickey Rooney's
excruciatingly bucktoothed Japanese landlord in Breakfast at Tiffany's? To their credit, they didn't.
Special Journalistic Merit Award – Louella Parsons and Hedda Hopper
This onetime award went to a pair of old-time gossip columnists who terrorized Hollywood for more than 40 years. Parsons devoted herself to ruining Citizen Kane because she recognized Kane as a thinly disguised and unflattering version of her boss, William Randolph Hearst. Her bitter rival, Hopper, was a washed-up silent-movie actress turned gossip columnist who named names to the House Un-American Activities Committee, driving Charlie Chaplin into exile. Now that's journalism. To the vindictive scandalmongers go the spoils.
Best Foreign-Language Film – Genevieve
George Bernard Shaw thought England and America were "separated by a common language," but that doesn't really explain awarding Genevieve a foreign-language award. The movie is in English. But the award is indicative of HFPA's understandable early confusion about what to do with foreign films in English, domestic films in other languages, and the lot. Between 1950 and 1958, they sometimes handed out awards to foreign-language movies, sometimes to movies in English that weren't American. Then in 1966 they started giving awards for both Best Foreign Film in English and Best Foreign Film in a Foreign Language, and in 1974 they settled on a Best Foreign-Film Award for movies that were neither made in the U.S. nor in English. Glad they finally cleared that up.
Surprised to hear that Paul Hogan and Sacha Baron Cohen won Golden Globe Awards? Read about some of the more memorable Golden Globe winners of the past 25 years at FilmCritic.com.
Read More