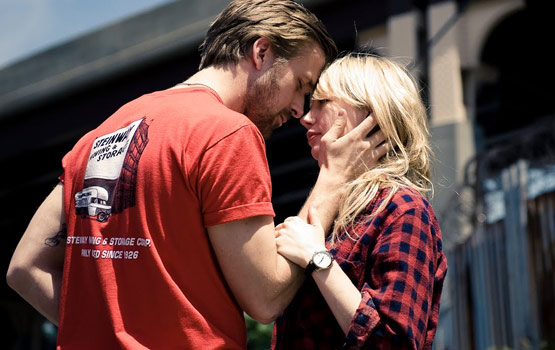 When the MPAA slapped Blue Valentine with an NC-17 rating for a "scene of explicit sexual contact," the Weinstein brothers appealed for an R rating and won. Had Blue Valentine been stuck with the NC-17, it would have been in the company of other notable films that became stigmatized by the dread rating — many theaters won't play NC-17 movies, and some publications won't even run NC-17 ads. Here are ten films whose NC-17 status didn't doom them to obscurity.
10. Showgirls
Nobody's calling Showgirls a masterpiece, but there's something to be said for a movie that gets an NC-17 rating and still goes on to gross $45 million — the highest box-office earning for an NC-17 flick. This is one of the rare movies that may have actually benefited from all the ratings hype. Sure enough, Paul Verhoeven delivers the X-rated goods with lots of gratuitous nudity and sex. Is it overboard? Sure, but it's also one of the campiest NC-17 flicks in existence.
9. Last Tango in Paris
As two strangers who meet by accident in Paris, Marlon Brando and Maria Schneider share some explicit sex scenes, one of them famously involving butter. Throw a little violence into their emotionally charged relationship, and — voilà — you've got yourself an NC-17 movie. Last Tango in Paris originally earned an X rating when it came out, in 1972, but the MPAA changed it to NC-17 when the film was rereleased, in 1997.
8. Lust, Caution
On the heels of his Oscar win for Brokeback Mountain, Ang Lee let sexual inhibition fly in Lust, Caution. Set in China during the Japanese occupation, the steamy flick has an innocent enough plot — a group of dissidents band together to assassinate a government official — but things get torrid when the assassin falls hard for her target. Next thing you know they're having wild sex, limbs twisted in configurations that only gymnasts should try at home.
7. Kids
Teenage lust abounds in Larry Clark's 1995 drama, which put Chloë Sevigny and Rosario Dawson on the map. The film opened to controversy over the sexual abandon displayed by the teenage characters, who share an alarmingly blasé attitude toward sex and drugs at the height of the HIV scare. The gritty realism of Kids was its downfall as far as ratings were concerned, but it still stands as a landmark film in nineties cinema. Besides, the sex scenes are nothing compared to those in Clark's more controversial film Ken Park.
6. The Evil Dead
Sam Raimi's cult classic was deemed unfit for young audiences owing to its "substantial graphic horror, violence, and gore." If you consider all the torture porn that's been coming out in the past decade, though, this low-budget gore-fest is comparatively mild. It's clear from the camp factor that Raimi's over-the-top gore (decapitations and severed limbs) is not there just to shock — it's supposed to make you laugh. Some people just don't have a sense of humor.
5. Mysterious Skin
This movie about homosexuality and sex abuse was popular with critics but not the MPAA. Joseph Gordon-Levitt, shedding his child-actor reputation once and for all, plays a gay teenager who's been molested by his baseball coach and turns to hustling. There are some tough-to-watch moments here, but more likely it was the homosexual themes that doomed this film to NC-17 purgatory.
4. Henry & June
Henry & June has the dubious distinction of being the first film to ever receive an NC-17, which replaced the X rating in 1990. Based on the eponymous book, which gathers excerpts from Nin's racy diaries, the film depicts the erotic love triangle between Nin; author Henry Miller; and his wife, June (played by Uma Thurman). It went on to earn $11 million — not too shabby, given the MPAA's death sentence.
3. Happiness
It's no surprise that a movie featuring a pedophile (Dylan Baker) who rapes a boy and tells his own son that he enjoyed it would get an NC-17 rating. Todd Solondz, ever the provocateur, decided to forgo ratings altogether when he got the NC-17. His subsequent movie, Storytelling, received an NC-17 as well, which makes his most recent project, the R-rated Life During Wartime, seem like a Disney movie.
2. Requiem for a Dream
Darren Aronofsky's absorbing portrayal of the misery of drug addiction is chock-full of sex and drugs, with a memorable orgy thrown in for good measure. Aronofsky refused to edit the movie for the sake of an R rating and released it unrated. It's certainly not pleasant watching Jared Leto inject heroin into an infected arm, but without such scenes the film loses potency. Kudos to Aronofsky for holding his ground.
1. Crash
Graphic sex and violence are never a good combo if you're trying to avoid an NC-17 rating, especially when violence is the prime source of your characters' sexual arousal. Ratings were clearly the furthest thing from David Cronenberg's mind as he ushered James Spader into the creepy world of car-crash fetishists. You know you're watching a twisted flick when Spader and his paramour (Holly Hunter) go on a date to see a re-creation of James Dean's deadly car crash.
Read More