The Top Ten Films of 2010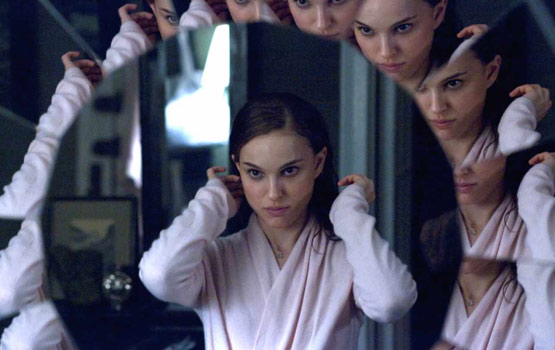 Certain titles showed up on virtually every top-ten list turned in by the staff members of FilmCritic.com. Inception. Black Swan. The Social Network. Scott Pilgrim vs. the World. While it's unlikely 2010 will be remembered as a great year for cinema, Hollywood produced a handful of instant classics that did resonate with us and truly could be considered special. Below is a collective top ten, formed after all of our individual top-ten lists were tallied. You'll find those lists at the bottom of this feature. So without further adieu, here are FilmCritic.com's ten favorite films from 2010.
Is the tormented U.S. marshal (Leonardo DiCaprio) tracking a missing patient around a desolate New England island or clawing away at his own psychological demons? That fevered debate, left open for discussion, fuels Martin Scorsese's visceral genre exercise, which our critic called an "ominous, claustrophobic, and at times confusing endurance test that audiences no doubt will want to take."
Nicole Holofcener is a keen chronicler of liberal guilt, and Please Give is her funniest and most insightful movie yet. A stellar ensemble including Holofcener muse Catherine Keener, Rebecca Hall, Oliver Platt, and Amanda Peet brings Holofcener's sharp dialogue to life, embodying complex characters with contradictory inner lives. As our critic put it, "Holofcener's characters are primed to live beyond the movie's frame."
8. Greenberg
Noah Baumbach's caustic character study about a weirdly charismatic
misanthrope is both brutal and brutally funny, featuring a career-best
performance from Ben Stiller as the title character. ("He has never been
this instinctual and yet inscrutably complex," said our critic.) Greenberg is hard to like but easy to understand, and his relationship with a naïve assistant played by Greta
Gerwig offers one of the year's most unexpectedly moving romances.
Widely
known as the movie where James Franco hacks off his own appendage, 127
Hours lands on our year-end list for the myriad ways that
whizbang Oscar winner Danny Boyle and his admirably flawed leading man
make the claustrophobic true-life tale of climber Aron Ralston a
compelling, compassionate, imaginative, and inspirational story of
resiliency and triumph. As our critic wrote about 127 Hours,
"Once you've witnessed it, it's impossible to dismiss."
Pixar puts Andy's beloved toys away for good but not before taking audiences of all ages on another nostalgic,
witty, and flat-out funny Toy Story adventure. The preschool predicament of Buzz (Tim Allen) and Woody (Tom Hanks) — itself a spoof of Hollywood's
prison-movie genre — may have too closely mirrored Toy Story 2
for some critics. But it was director Lee Unkrich's courageous
inclusion of a near-death experience that placed the perfect cap on Pixar's Toy Story
series with a sequel that "is light-years ahead of its competition."
Instead of subverting a
traditional genre (their specialty), the Coen brothers make a "straight-ahead Western, an old-fashioned, classically told cowboy movie,
and a darned good one," according to our critic. What doesn't change,
however, is the Coens' commitment to quality, from Carter Burwell's
majestic score and Roger Deakins's breathtaking cinematography to the
spot-on performances by the entire ensemble.
You know the drill.
Boy meets girl. Boy loses girl. Boy assumes the supercharged powers of a
video-game hero to defeat girl's seven evil ex-lovers. Okay, Edgar
Wright's take on Bryan Lee O'Malley's graphic novels had no interest in
adhering to familiar formulas. Yet that's exactly why Scott Pilgrim
connected with Gen Y audiences, delivering the "most mind-bending hipster-obsessive delight since Baz Luhrmann turned Moulin Rouge! into a Nirvana-spouting, synapse-shocking spectacle," spoke our critic.
Darren Aronofsky isn't always interested in the goals that drive his obsessive characters. He's more fascinated with whether or not they can endure the strain of the journey. Nina Sayers, Natalie Portman's
ballerina in the director's mesmerizing Black Swan,
appears to crumble under the pressures of her dance. But in doing so she and Aronofsky have created a riveting artistic expression that, our critic says, "descends, rapidly, into madness but thrills every toe-shod step of the way."
Almost every critic on our staff clicked the Like button for David Fincher's Social
Network, which detailed with razor-sharp wit and keen intelligence
how Harvard loner Mark Zuckerberg (Jesse Eisenberg) birthed Facebook
from a broken heart. As our critic wrote, comparisons between Fincher's Network
and Orson Welles's Citizen Kane are "innumerable," as this
prescient contemporary drama captures our generation's need for both
social connectivity and technological isolation.
Were
we dreaming? Better question: did we ever emerge from the dream? Not
since
The Matrix
has a movie so completely immersed audiences in
an alternate sci-fi reality somewhere between reality
and reality-bending imagination. Christopher Nolan's mind-warping
Inception
"is a new cinematic idea and a fresh story that is executed with a
precision and energy rarely dreamed of in Hollywood," according to our
critic. It's also the best movie of 2010, as determined by the
FilmCritic.com staff.
And here is each
critic's individual top-ten list:
Christopher
Null
1. Toy Story 3
2. True Grit
3. Inception
4. The Social Network
5. 127 Hours
6. The American
7. The Square
8. The Kids Are All
Right
9. Scott Pilgrim vs. the World
10. Black
Swan
Sean O'Connell
1.
Rabbit Hole
2. 127 Hours
3. Toy Story 3
4.
Black Swan
5. Shutter Island
6. True Grit
7.
Catfish / The Social Network
8. Cyrus
9. Winter's
Bone
10. Kick-Ass
Norm Schrager
1.
127 Hours
2. The Oath
3. Enter the Void
4.
The Social Network
5. Shutter Island
6.
Inception
7. The Town
8. Cairo Time
9.
Toy Story 3
10. The Misfortunates
Bill
Gibron
1. True Grit?
2. Black Swan?
3.
Let Me In?
4. Never Let Me Go?
5. Inception?
6.
The King's Speech?
7. The Social Network?
8. 127
Hours?
9. Rabbit Hole?
10. Scott Pilgrim vs. the
World
Pete Croatto
1. The
Kids Are All Right
2. The Social Network
3. Please
Give
4. True Grit
5. Greenberg
6.
Terribly Happy
7. Heartbreaker
8. Delta
9.
Cool It
10. Rabbit Hole
Jason
McKiernan
1. Inception
2. Mother and Child
3.
Scott Pilgrim vs. the World
4. I Am Love
5.
Catfish
6. The American
7. Winter's Bone
8.
Black Swan
9. The Social Network
10. Shutter
Island
Josh Bell
1.
Greenberg
2. Please Give
3. Scott Pilgrim vs. the
World
4. True Grit
5. Winter's Bone
6.
127 Hours
7. The Social Network
8. Monsters
9.
Black Swan
10. Inception
Rob
Vaux
1. Black Swan
2. Toy Story 3
3.
Inception
4. The Ghost Writer
5. Scott Pilgrim
vs. the World
6. Tron: Legacy
7. The American
8.
Buried
9. Kick-Ass
10. True Grit
Jesse
Hassenger
1. Inception
2. Greenberg
3.
The Social Network
4. Toy Story 3
5. Black Swan
6.
Scott Pilgrim vs. the World
7. I Love You Phillip Morris
8.
Fish Tank
9. The Other Guys
10. 127 Hours
Chris
Barsanti
1. Fish Tank
2. Scott Pilgrim vs.
the World
3. The Social Network
4. Never Let Me
Go
5. Last Train Home
6. Boxing Gym
7.
White Material
8. True Grit
9. I Am Love
10.
Carlos
Blake French
1.
Black Swan
2. Blue Valentine
3. The Book of Eli
4.
Kick-Ass
5. Let Me In
6. The American
7.
For Colored Girls
8. The Eclipse
9. True Grit
10.
Never Let Me Go
Chris Cabin
1. Shutter
Island
2. The Social Network
3. Lebanon
4.
Henri-Georges Clouzot's Inferno
5. Scott Pilgrim vs. the
World
6. Everyone Else
7. Greenberg
8.
Carlos
9. Mother
10. Exit Through the Gift Shop
Don
Willmott
1. Winter's Bone
2. The Kids Are
Alright
3. Inception
4. Please Give
5.
Cyrus
6. The Ghost Writer
7. Black Swan
8.
Mother
9. The Social Network
10. Kick-Ass
Read More