Sundance 2011 – AMC News Wrap-Up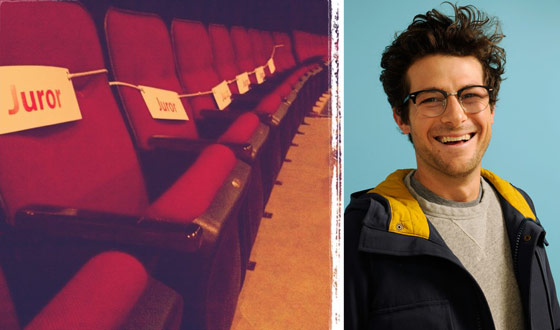 There are four more days of the Sundance Film Festival to go, with screenings to be seen and deals to be struck. Your AMC News team was on the ground in Park City for the first half of the festival. Be sure
to tune into my festival updates, airing all week on AMC, starting
Mon., Jan. 24, leading up to AMC's Sundance Film Festival 2011
weekend, where my interviews with actors and filmmakers will air
during movies on AMC all day, all weekend long, on Sat., Jan. 29, and
Sun., Jan. 30.
Here's a roundup of the filmmakers and actors I interviewed at Sundance — and of what business, if any, has transpired around the films.
Cedar Rapids
A comedy from Fox Searchlight (in theaters Feb. 11) starring Ed Helms as an insurance agent who goes on a journey from innocence to experience. Director
Miguel Arteta called the film the "Wizard of Oz of insurance,"
pegging Helms's Tim Lippe as Dorothy and John C. Reilly, Anne Heche, and Isiah Whitlock Jr. as the rest of the motley crew. (Click here to watch my interview with the cast)
The Greatest Movie Ever Sold
Super Size Me director Morgan Spurlock and producer-writer Jeremy Chilnick (my fellow executive producers on
the AMC original documentary Committed) was at the festival with his
documentary about product placement, marketing, and advertising — paid
for by product placement, marketing, and advertising. His film was the
first to sell at the festival (or did it really sell before the festival, only to be announced there?) to Sony Pictures Classics. I was at the premiere of Morgan's movie, and the crowd loved it, laughing where they were supposed to and acting shocked when they should be. Immediately following the screening, the film's title was changed, to
POM Wonderful Presents: The Greatest Movie Ever Sold. If you're still
in Park City, keep your eyes peeled for a giant billboard of Spurlock
on your way out of town. (Click here to watch my interview with Spurlock)
Hell and Back Again
Danfung Dennis was in Afghanistan as a
photojournalist accredited by the New York Times, until he switched his Canon 5D over to HD film mode, built a homemade Steadicam rig, and
started documenting U.S. Marine Sgt. Nathan Harris in battle. Each of the film's frames I saw (I haven't seen the entire movie) looks as though it could be its own
photograph in the Times. The first-time filmmaker from New
York told me he made the film to help people stop thinking about war as an abstraction. (Click here to watch my interview with Dennis)
Page One: A Year Inside the New York 'Times'
Director Andrew Rossi
and Times writer David Carr stopped by our AMC News studio the day
after their premiere. During the interview, Carr said to me "Way to go,
fluffy" but not because of my interview style. My hair sticking up
caused a delay in our interview. The film chronicles what the writers
and editors on the media desk at the New York Times do and deal with
on a daily basis, and it couldn't have been done at a better time: 2009, when the
film was shot, was the year the iPad debuted, the Tribune Company went
through extraordinary financial trouble, and the WikiLeaks story
broke. The newspaper business changes before your very eyes as you
watch this film. The film's subjects include Times reporters Carr and
Brian Stelter, their beat and work landscape literally shifting as
they type. After the film's premiere, which I attended, Magnolia
Pictures and Participant Media, who previously teamed up for the hit
documentary Food, Inc., bought the film.
My Idiot Brother
With back-to-back screenings at the 1,200-seat Eccles Theatre, this film was surely a Sundance main attraction. I sat
with stars Zooey Deschanel, Emily Mortimer, and Paul Rudd and director Jesse Peretz to talk about the extraordinary speed with which the film
was made: ten months from when cameras started rolling to its debut, at
Sundance. Paul Rudd plays Ned, a bearded stoner living in upstate New
York whose lifestyle complicates and then unites his family. After a marathon bidding session, which began right after the film's Saturday-night world premiere, between the Weinstein Company, Relativity Media, and Fox Searchlight, TWC won the auction, paying a reported $6 to $7 million to acquire the film, plus committing $15 million for advertising to promote it for a wide release. It was one of the biggest deals out of this year's festival.
Rebirth
I went to the premiere of this film — about the separate but interconnected lives of five people affected by the 9/11 attacks — and
sat directly in front of filmmaker Michael Moore. The subject matter
is heavy, but the film, which chronicles both the subjects and the
rebuilding at ground zero over the last ten years, is beautifully done
and received an enthusiastic response after the screening. Director
Jim Whitaker and two 9/11 survivors, Ling and Tim, sat with me in our
AMC News studio to discuss their healing and the film. Whitaker told
me this film will be played at the 9/11 memorial scheduled to open on
the tenth anniversary of the attacks, this coming September.
Win Win
Actors Paul Giamatti, Alex Shaffer, Amy Ryan, and Melanie Lynskey and director Thomas McCarthy stopped by our AMC News studio. They
told me about their sold-out premiere at Eccles Theatre (I was
there), where 1,200 fans gave the film, about an elder-care attorney
(Giamatti) who gets himself into a pickle, a warm response. Fox
Searchlight picked it up for distribution. (Click here to watch my interview with the cast)
Now it's up to the jury to decide who walks home a true Sundance winner.
For more Sundance coverage, check out the Sundance Channel blog,
SUNfiltered.
Read More