Sundance 2011 – AMC News Returns to Sundance With Exclusive Coverage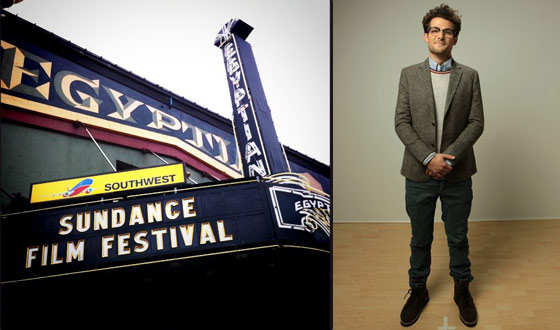 In a matter of days, the flights from New York City and Los Angeles to
Salt Lake City, Utah, will be packed to the brim. Not for a long ski
weekend or for trips home for the holidays. The flights will be
packed full of entertainment-industry veterans and wannabes talking
about scripts, publicity schedules, or the Hollywood awards
season as they head to Robert Redford's Sundance Film Festival.
Sundance 2011 kicks off Jan. 20 and runs for ten days, and AMC News will
be there covering the films, actors, and filmmakers hoping to take it to the next level. In fact, I'm already here.
Be sure to tune into my festival updates, airing all week on AMC
starting Mon., Jan. 24, all leading up to AMC's Sundance Film
Festival 2011 weekend, where my interviews with actors and filmmakers
will air during films on AMC all day, all weekend long, on Sat.,
Jan. 29, and Sun., Jan. 30.
Last year, we brought you interviews with the stars and filmmakers of
movies that are now in the middle of Golden Globe and Oscar madness,
including Michelle Williams and Ryan Gosling, of Blue Valentine, and Davis Guggenheim, of Waiting for "Superman."
Here's a list of films we'll be seeing and the stars and filmmakers
I'll be interviewing this year:
• Another Happy Day chronicles the dysfunctions of an upper-class
family played by Ellen Barkin, Ellen Burstyn, and Ezra Miller.
• Cedar Rapids (which I saw at an exclusive press screening in Los
Angeles earlier this month) is a comedy starring Ed Helms of The
Hangover and The Office as a midwestern insurance salesman.
• Super Size Me director Morgan Spurlock (my fellow executive producer
on the original AMC documentary Committed) is here with The Greatest
Movie Ever Sold, a documentary about, and paid for, by product
placement.
• Sergeant Nathan Harris is the subject of the documentary Hell and
Back Again about his journey with the U.S. Army to Afgahnistan and his
return to life in North Carolina.
• Kevin Spacey, fresh off his Golden Globe-nominated role as Jack
Abramoff in Casino Jack at the Toronto Film Festival, is here with
Margin Call, a thriller set in a financial firm during the start of
the 2008 financial crisis. Co-stars include Zachary Quinto, Paul
Bettany, Jeremy Irons, Stanley Tucci, and Demi Moore.
• My Idiot Brother stars Zooey Deschanel, Paul Rudd, and Rashida Jones and sounds like a familial comedy of errors. The log line: "There's no such thing as a normal family."
• Page One is a documentary that chronicles a year inside the New York Times as the fate of journalism remains unknown. A
"dialectical play-within-a-play" is how Sundance describes it. The
film is directed by Andrew Rossi.
• Rebirth is a documentary about the lives of a group of people whose are connected by the 9/11 attacks and its aftermath.
I will be Tweeting with AMC News producer and director Mark Marraccini during our Sundance-trip daily, bringing you exclusive pictures, news, and behind-the-scenes action.
For more Sundance coverage, check out the Sundance Channel blog, SUNfiltered.
Read More