Science Fiction at the 2011 Oscars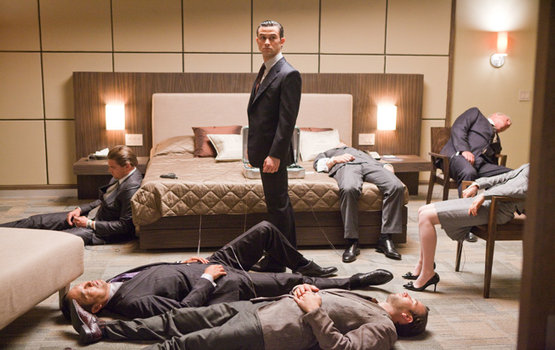 Last year, the Oscar nominations were unusually kind to science fiction, with both Avatar and District 9 nabbing Best Picture noms and both of them (and Star Trek) getting a raft of other nominations. This year, the Oscars were not nearly so kind, but there is good news, including the Best Picture nomination of Inception. So let's get into this year's notes on the Academy Awards and sci-fi.
1. The biggest news in science-fictional Oscars is that Inception, as I not-so-bravely predicted last year, has come away with a Best Picture nomination, as well as nominations for Art Direction, Cinematography, Original Score, Sound Editing, Sound Mixing, Visual Effects, and Original Screenplay. Eight nominations in all, which is a hell of a nomination haul. There's very little to complain about here.
2. Except that Inception was not also graced
with a Best Director nod for Christopher Nolan, which effectively takes
it out of actual contention for the Picture Oscar. It's been
decades since a film has won Best Picture without its director being at
least nominated. (The last was Driving Miss Daisy, in 1989).
Given the overall Best Picture slate this year and the fact that the six nominated directors (Darren Aronofsky, David O. Russell, Tom Hooper, David Fincher, and Joel and
Ethan Coen) are also nominated for Best Picture, there's very
little chance that Inception is going to be the film that breaks
tradition.
So while Inception becomes only the sixth science-fiction film to get a Best Picture nod — and let's not discount that achievement — it's also very likely to become the sixth film of that genre not to take home the award. At least Nolan can content himself with his two nominations, both in that category (he's one of two listed producers) and also for Original Screenplay.

3. Okay,
so, outside of Inception, what Academy nomination spoils does
the science-fiction genre gain this year? Let's see. Tron:
Legacy has a nod for Best Sound Editing, Iron Man 2 has a
nod in Visual Effects, and — well, that's pretty much it. So even in
the technical categories, where science-fiction does pretty well, it's
not a spectacular year for the genre. This is a general reflection of
the 2010 year in cinematic science fiction, which outside of Inception was not one of the really great ones. That said, one real surprise
for me was the Best Animated Feature Film category: it lacks Despicable Me,
which I thought had a good chance at a nod. But nope: science
fiction's out in the cold there as well.
4. If we
expand our gaze a bit to include fantasy films as well, things perk up a
bit. Toy Story 3 got Best Picture, Adapted Screenplay, Animated Feature Film, Sound Editing, and Song nods. How to Train Your Dragon also saw a Best Animated Film nod and a surprising Score nomination. Alice in Wonderland claimed three nominations: Best Art Direction, Costume Design, and Visual Effects. Harry Potter's latest film also popped up for Best Visual Effects, while The Wolfman got a Makeup nod for Rick Baker, who won the first award in that category in 1981 for
another hairy film, An American Werewolf in London.
It's
also not a bad year for actors who owe some portion of their fame to
science fiction. James Franco and Jesse
Eisenberg, who came to fame in Spider-Man and Zombieland,
respectively, received Best Actor nominations, while Batman himself,
Christian Bale, is the front-runner in the Supporting Actor category.
And of course there's Princess Amidala, Natalie Portman, who is
currently a good bet to walk away with the Best Actress statuette for
her role in Black Swan.
5. So when all is said and
done, how will science fiction do at the Oscars this year? Okay, if not
great. As noted earlier, I think Inception has very little chance
at winning Best Picture. In most of the other categories, it
has some good chances, in part because of its Best Picture nod.
The two categories to watch in particular are Cinematography and Original Screenplay. In the former, Inception is the film in the category that is the most daring in how it uses the camera, and it doesn't hurt that some of the most visually intense
scenes in the film (the hallway fight scene) were not done inside a computer, which means the camera folks had to get in there. Nolan might get Best Original Screenplay as a consolation Oscar, if there's a feeling in Academy land that he was cheated out of a Director nod. I would be fine with this because, hey, an Oscar is an
Oscar, and it really is a very good script.
And that's where we
are for the Oscars and science fiction this year. Your thoughts?
Read More