Interviews
Q&A – John Cameron Mitchell Ventures Down the Rabbit Hole With Nicole Kidman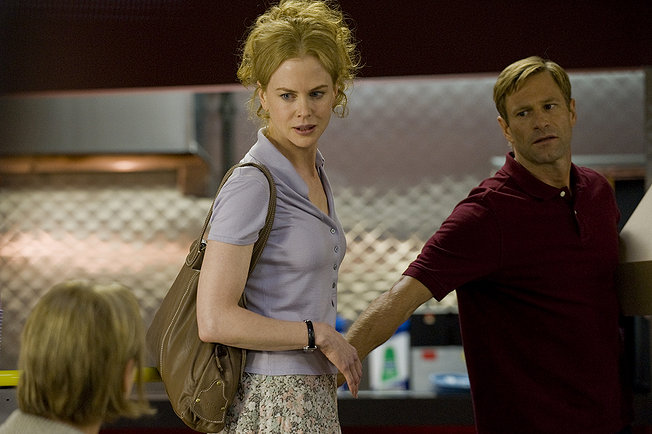 Let's be honest: John Cameron Mitchell's Rabbit Hole can be a tough film to recommend. The material, adapted from David Lindsay-Abaire's Pulitzer Prize-winning play, revolves around a couple mourning the loss of their young son. It sounds too depressing to stomach, no matter how great Nicole Kidman and Aaron Eckhart are at playing the grieving parents. And yet I fell head over heels in love with this tender, honest, raw, and ultimately liberating discussion of grief and redemption. As Rabbit Hole continues to receive award considerations, Mitchell spoke to us about feel-good cries, Kidman's process, and the Golden Globes.
Q: Do you hear from people who simply confess that they are too uncomfortable or scared to sit through a film like this?
A: Well, yes. But what's strange about it is what you just said: "A film like this." You don't know what the film is until you hear about it, right? [Lars von Trier's] Antichrist is the same subject matter. It's just played out in a different way. [Laughs] My films will always be entertaining while, hopefully, going somewhere deep. That's probably why I was hired. Another odd thing, though, is that in the past an Ordinary People, a Kramer vs. Kramer, or a Tender Mercies was a family drama about intense things with humor woven throughout and an audience-friendly tone. Those were just the things you'd go see. Hollywood made plenty of them, and they were touchstones. "Oh, have you seen that film? It was the good cry of the year." But now there's a weird hesitation about going to those. Maybe because there are fewer films like that now. But I love a good cry. As opposed to a bad cry. Maybe Antichrist was a bad cry.
Q: Do you put your actors through multiple takes?
A: I do, and they love it. We maximize the screen time by reducing
the fanciness of the shots. "More takes" was my mantra, and that meant
fewer dolly shots and multiple cameras so that all of my actors are on
camera at all times and they never have that off-camera kind of lull
that you can get when you are doing a scene too many times. So it's not
too many takes and not too few takes. That's my approach.
Q: I didn't see the stage play. Again there was that fear of the
material. What changes did you make when adapting it to film?
A: There's a lot of stuff that's only mentioned in the play that can
be seen in the film. The group-therapy scenes, Sandra Oh's character, and
such. In our film, Becca [Nicole Kidman's character] stalks the boy,
while in the play the boy comes to her. The selling-the-house scene
from the film is new. The slap in the supermarket. Even the big scene
where Becca sees the kid going to the prom, which seems very important, is
not mentioned in the play. It's mentioned, but it isn't dramatized. So I
actually think that the screenplay is better than the Pulitzer
Prize-winning play. It gives more dimension. It has a different
structure to it.
Q: Now that the accolades are starting to come in, what does it
mean for you to get a Golden Globe or Independent Spirit nomination?
Does it mean more people will come and see the film?
A: Yes, totally. You know that. Because of the resistance that you,
yourself, were expressing, you need award nominations to tell people,
"It's okay to go with this movie to that dark place." You need people to
say, "This is a performance you can't miss." That is necessary for this
type of film in this day and age.
Q: Nicole has been nominated for a Golden Globe, and her
performance is generating Oscar buzz. Tell me what she brings to a
project.
A: Well, I didn't really know her beforehand, and we weren't palling
around so much. It was very businesslike. But it was also very tender.
We are similar people in that we are both very self-sufficient. We have
our own lives. We create our own environments of creativity, and we
interacted for this one because she went on impulse. She heard me
talking about the story and realized how moved I was.
She didn't say this, but I wasn't the first choice for directing Rabbit
Hole. I wasn't a safe choice, meaning I hadn't directed anything onscreen like this before. She heard how I wanted to direct this with an
invisible directorial hand, and she heard that I related to the story,
having lost a brother. She also knew that I directed actors really well.
In some ways, all of my films are about strong feminine characters who
are trapped in a prison of their emotions who are desperately trying to
get out. And she is a consummate professional. You can also see the
overly tall junior-high girl that she probably was — the odd girl out
— in all of her roles. We usually see the incredibly popular, luminous,
queen-bee presence that she definitely gives off in person, too. But of
course behind that is the oddball girl that she probably was that made
it necessary for her to become an actress. [Laughs] She's a freak like
me.
Read More