Press
Mad Men and Breaking Bad Nominated for Producers Guild Awards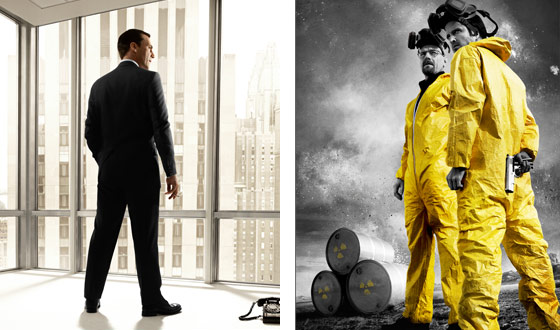 Nominations for the 2011 Producers Guild Awards were announced this morning, and two AMC dramas made the cut, as both Mad Men and Breaking Bad were recognized in the category of Outstanding Producer of Episodic Television, Drama. This is Mad Men's third PGA nomination and Breaking Bad's second. AMC's competition in the category includes Dexter (Showtime), Lost (ABC), and True Blood (HBO).
Breaking Bad (AMC)
Producers: Melissa Bernstein, Vince Gilligan, Mark Johnson, Stewart Lyons,
Michelle MacLaren
Dexter (Showtime)
Producers: Sara Colleton, John Goldwyn, Robert Lloyd Lewis, Clyde Phillips
Lost (ABC)
Producers: Jack Bender, Bryan Burk, Carlton Cuse, Ra'uf Glasgow, Jean Higgins,
Adam Horowitz, Edward Kitsis, Damon Lindelof, Liz Sarnoff, Paul Zbyszewski
Mad Men (AMC)
Producers: Lisa Albert, Scott Hornbacher, Andre Jacquemetton, Maria
Jacquemetton, Blake McCormick, Dwayne Shattuck, Matthew Weiner
True Blood (HBO)
Producers: Alan Ball, Brian Buckner, Gregg Fienberg, Mark McNair, Nancy
Oliver, Raelle Tucker, Alexander Woo
The winners will be announced at the Producers Guild Awards ceremony on Sat., Jan. 22.
Read More