Uncategorized
If the Academy's Female Voters Band Together, Maybe The Social Network Won't Win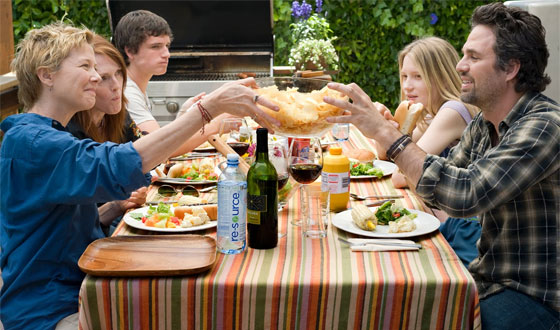 Here's my hope for the Oscars: The Social Network, about a bunch of dudes getting rich, won't win Best Picture. Inception, about a bunch of dudes shooting things within each other's mind, won't win, and The Fighter, about a dude who beats up other dudes for a living, won't win. Instead, The Kids Are All Right, the one contender that could be considered a chick flick, will. It's not impossible. The Academy has periodically awarded its top honors to movies that are especially female friendly.
Shakespeare in Love
In one of the biggest Best Picture upsets ever, this romantic comedy beat out the WWII epic Saving Private Ryan, proving that, while a man in a uniform is good, a man in tights is better and a love story really does conquer all. Alas, for Spielberg and Hanks. But even a duo that powerful has nothing on the Bard, especially when he looks like Joseph Fiennes.
Titanic
Mock Titanic all you want, but there's a reason James Cameron's blockbuster is the second-highest-grossing movie of all time, and that's the same reason the movie won Best Picture: Titanic is sweet (almost painfully so), sentimental, romantic, and tragic. It revolves around a tale of true love and features a soaring Celine Dion theme that's probably still stuck in your head over a decade later. And that's just the tip of the iceberg.
The English Patient
Was it wrong that Fargo lost to this three-hour romance? The dark comedy features death by woodchopper; the winner, death by love. The English Patient — an epic, and epically long, story of tragic love in the desert, life, death, and betrayal — is crack for anyone craving pure, undiluted emotion from a movie. How could the Coen brothers compete?
Forrest Gump
To this day, guys (every single one) say Pulp Fiction was robbed in favor of Gump. Fellas, would it ease the pain to know that Forrest wasn't trying to win — or do anything noteworthy? He's just a simple man with an uncanny ability to do just the right thing, at the right place and right time. He can't help his onscreen greatness. Also Gump's a fantastic and moving flick, so tough noogies.
Annie Hall
The Force was not with George Lucas when Star Wars took a beating from this very earthy — if not exactly down-to-earth — comedy. You'd think the geeks who rallied around the space opera would have an appreciation for Woody Allen's neurotic look at love or at least his glasses. But you'd be wrong; they're bitter. They shouldn't be: Annie Hall is a truly great romantic comedy.
Terms of Endearment
Have you come to terms yet? That's the question posed by this movie: have you made peace with the fact that this quirky comedy-drama about a mother and daughter looking for love won Best Picture? Not only is Terms of Endearment the most chick-flick-iest movie to win Best Picture, but it has the distinct honor of being the movie that introduced the world to a Jack Nicholson who isn't a complete maniac.
Ordinary People
The more masculine choice in 1980 was Raging Bull, but voters instead opted for Robert Redford's directorial debut about a suburban family in crisis. Nothing against sport movies, but the Academy got it right: the ordinary families falling in or, in this case, out of love, dealing with death, and trying to stay together are the ones who deserve the laurels.
Kramer vs. Kramer
Kramer, a true tearjerker if ever there were one, beat what's considered to be among the greatest movies ever made, Apocalypse Now, to take home the top honor. It's not that the war story isn't full of feeling. Who can forget Robert Duvall's love of the smell of napalm in the morning? But Kramer taps into slightly more relatable feelings and features pitch-perfect performances by Dustin Hoffman and Meryl Streep.
My Fair Lady
As much as guys love, love, love musicals, I'm guessing that they were hoping Dr. Strangelove or: How I Learned to Stop Worrying and Love the Bomb would win over this Cinderella story. Sorry, dudes, but sometimes singing, dancing, sumptuous sets, a floral color palette, and Audrey Hepburn in a fantastically oversize hat carries the day.
Gone With the Wind
With roughly 100 straight hours of romance, old-timey banter, and Civil War drama, how could ladies and guys alike not love Gone With the Wind? Any chance the movie's competitors — like John Ford's groundbreaking Western Stagecoach — had of winning an Oscar vanished with the wind once the movie was released.
Should a chick flick win this year's Best Picture award? Cast your vote for Best Picture and seven other categories.
Read More