New on DVD – January 25, 2011 – Red and Client 9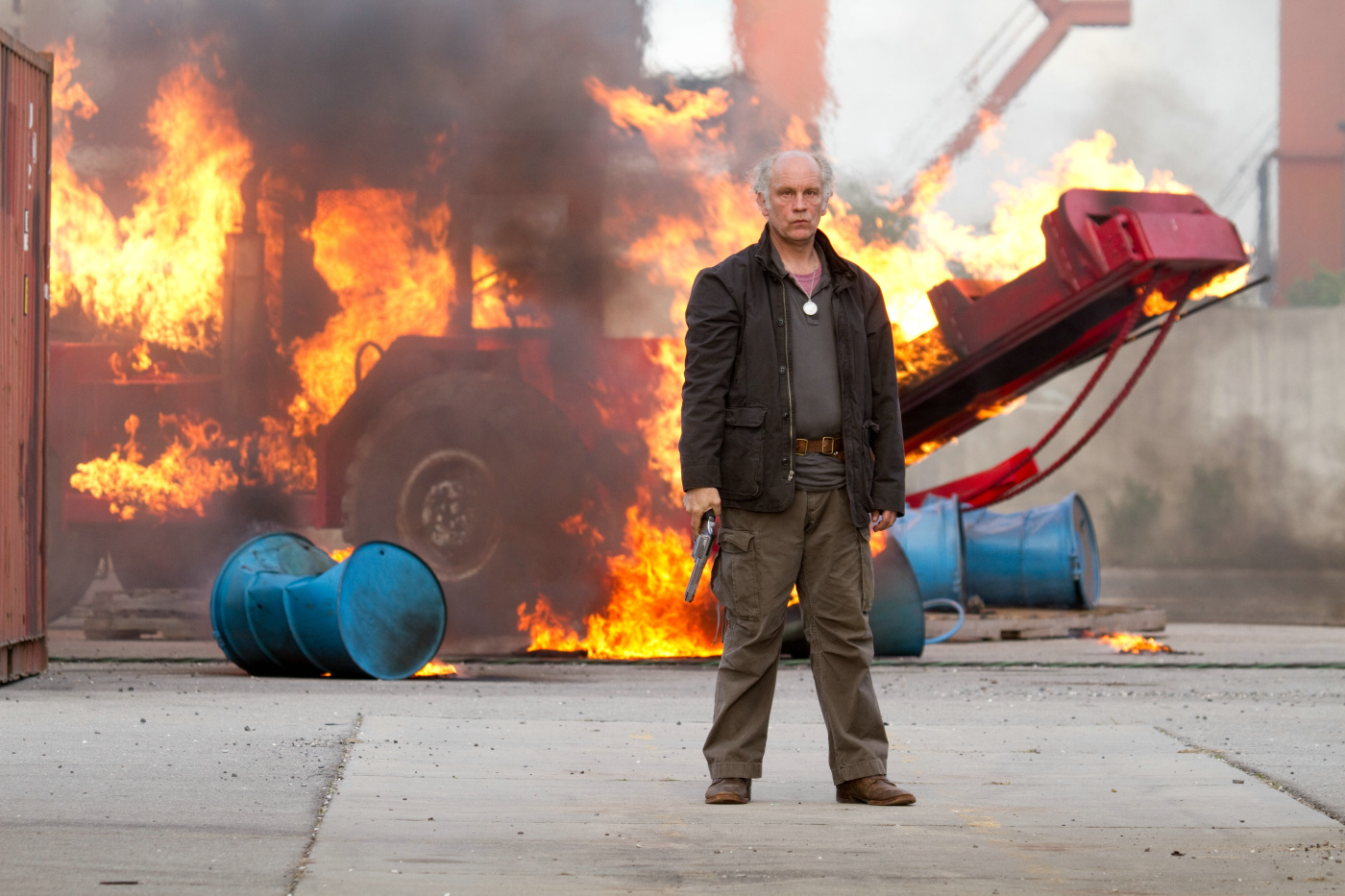 Action-flick retread and real-life political scandals: Red brings together a rogues' gallery of aged superspies for some postretirement fireworks, while Client 9 digs deep into the dark and seedy conspiracies behind the downfall of Eliot Spitzer. These and a wide range of other films (from indie extravaganzas Dogtooth and Enter the Void to the John Lennon biopic Nowhere Boy) are coming this week to DVD and Blu-ray.
Red

Bruce Willis plays a CIA agent whose retirement is disturbed by a vengeful hit squad. After disposing of the assassins as only Willis can, he hits the road with a kidnapped Mary-Louise Parker to figure out what's going on. Fellow retirees Helen Mirren, John Malkovich, and Morgan Freeman pop in to help blow stuff up. It "may be a smorgasbord of tired genre mash ups," our critic noted, "but they're mounted with such heedless glee and winking humor that the film's basic construction almost doesn't matter."
Client 9: The Rise and Fall of Eliot Spitzer

All that most people remember about onetime New York governor Eliot Spitzer is that he retired after his dalliance with a prostitute became tabloid news. Alex Gibney's documentary digs beneath the salaciousness to uncover the backroom machinations that underpinned Spitzer's fall from grace, not to mention the powerful interests (Wall Street, the Albany Legislature) that the reformist governor had targeted. Our critic called this a "coolheaded, incisive investigation." Secretariat

Another of those quasi-athletic based-on-a-true-story films that Disney has come to specialize in over the past few years, Secretariat is a throwback piece of heartwarming drama about one of racing's most famous horses and its determined owner (Diane Lane) and
trainer (John Malkovich), who battle against the odds as only
plucky film underdogs can. While our critic thought there was
"nothing groundbreaking or game changing about the film," it completely
succeeds in its aim to "take families through an interesting emotional
journey and leave them smiling."
Enter the Void

Gasper Noé's newest cinematic
carnival is a trippy take on The Tibetan Book of the Dead,
following the afterlife of a young French drug dealer who's killed by
Tokyo police early on and spends the remainder of the surreal,
kaleidoscopic film keeping an eye on his beloved younger sister. While
our critic found this erotic, hallucinatory film in some ways a
"phosphorescent mess," he also thought it "transfixing and not easily
dismissed."
Dogtooth

This hard-to-describe film is a series of loosely linked
scenes centered around the idea of a strange father who has locked away
his three grown-up children in a compound. Their knowledge
of the real world is filtered through his cockeyed narratives (which he
believes superior to and safer than reality). The results are rambling,
absurd, bleak, funny, and almost completely nonsensical. Our critic
found its "fearless black humor and shocks of gasp-worthy horror" to be
"intensely unsettling" but "remarkable."
The
Girl Who Kicked the Hornets' Nest

The last of
the Swedish film adaptations of Stieg Larsson's mysteries follows the
further adventures of autistic hacker Lisbeth Salander and crusading
journalist Mikael Blomkvist as they uncover further conspiracies and try
to keep from getting murdered. Our writer wasn't greatly impressed with
the results but found the film certainly smoother going than the dull
predecessor, The Girl Who Played With Fire.
Nowhere
Boy

John Lennon's troubled Liverpool adolescence
is dramatized in this film that sticks the crafty and cocky young
musician between the stern aunt who raised him (a brilliant Kristin Scott Thomas) and the scatterbrained mother who couldn't handle the
responsibility. Our writer called the potent rock-and-roll melodrama
"smartly paced, rollicking entertainment."
Saw 3D

Number seven in the franchise finally gets the 3-D treatment. We termed the film a "sloppy, subpar slasher." More overly
complicated bloodletting for all who care.
Read More