Uncategorized
Flashback Five – Multiple-Oscar-Winning Actors and Actresses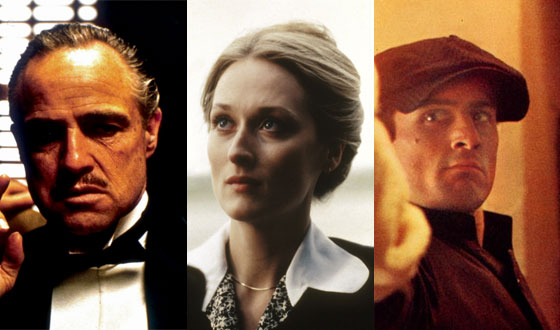 Winning an Academy Award is a once-in-a-lifetime thrill, proof that your peers really, really like you. Granted, sometimes an actor just gets lucky. Yes, we mean you, Whoopi Goldberg and Mira Sorvino. But the actors and actresses who keep getting invited back to the Academy's annual lovefest and have, at the very least, a pair of acting Oscars? They're the crème de la crème, your Marlon Brandos, Meryl Streeps, Jack Nicholsons, and — well, you get the picture. So which members of this already exclusive club — and the performances for which they were honored — rise to the top?
1. Meryl Streep – Best Supporting Actress, Kramer vs. Kramer (1979); Best Actress, Sophie's Choice (1982)
Quick — name a bad Meryl Streep movie. The worst you can say about her worst flicks — maybe Prime — is that they're not exceptional. What is exceptional is Kramer vs. Kramer, released a mere two years after her film debut, and her performance as a wife attempting to reclaim her child from her husband. No less impressive is her Best Actress-winning performance as an haunted Auschwitz survivor in Sophie's Choice. But the most impressive part of Streep's Oscar résumé? With sixteen total nominations — the most ever, by the way — the fact that she has only two wins is probably merely bad luck.
2. Robert De Niro – Best Supporting Actor, The Godfather: Part II (1974); Best Actor, Raging Bull (1980)
De Niro defined the generation of actors who rejected sleek leading-man roles in favor of playing men at war with themselves and the world — quickly setting the bar that every performer dreams of surpassing. His Oscar for playing the young Vito in The Godfather: Part II, one of the toughest roles ever, is an acknowledgment that he'd done something truly remarkable, playing a young version of Marlon Brando's take on the part. De Niro's second win, for Raging Bull, is nearly as impressive, an ode to his prodigious talent and his ability to make troubled and tragic men come to life.
3. Jodie Foster – Best Actress,
The Accused (1988) and The Silence of the Lambs (1991)
Foster is the rare child actor who successfully transitioned to adult roles. She wasn't awarded an Oscar for her brazen performance as a teen prostitute in Taxi Driver, but her Oscars did come for equally gutsy performances: the first for The Accused, as a hard-partying rape victim braving public scorn to challenge the idea that she deserved what she got. Her second statuette, for The Silence of the Lambs, cemented her reputation as a woman who wouldn't be pigeonholed as a stereotypically feminine character.
4. Marlon Brando – Best Actor, On the Waterfront (1954) and The Godfather (1972)

Just three years after Brando's debut marked him as a new kind of leading man — raw and emotional — he won his first Oscar, for On the Waterfront. Unfortunately, the actor's squandering of his potential is legendary: during his prime, he made as many bad movies as good ones, which is exactly why Brando sits behind the legends above. By 1971, Francis Ford Coppola had to beg Brando to play Vito Corleone in The Godfather. The role became perhaps the most famous of all time, earned Brando his second Oscar, and revitalized his career, which remains, on the whole, a classic case of "What if?"
5. Jack Nicholson – Best Actor, One Flew Over the Cuckoo's Nest (1975) and As Good As It Gets (1997); Best Supporting Actor, Terms of Endearment (1983)
By the mid-sixties, Jack had been acting for ten years with nothing to show for it. And then a role in the counterculture classic Easy Rider changed everything and landed him parts commensurate with his talent, including Cuckoo's Nest's grinning rebel. The role — in which he perfected his trademark bravado and mania — won Jack his first Oscar. The magic would work again and again, securing Jack another two Oscars for parts that couldn't be more different than his in Cuckoo's Nest: one as an aging astronaut in the weepy Terms of Endearment and another as a damaged man who woos a single mother in the quirky comedy As Good As It Gets.
Honorable Mentions
1. Katharine Hepburn – Best Actress, Morning Glory (1933), Guess Who's Coming to Dinner (1967), The Lion in Winter (1968), and On Golden Pond (1981)
The 33-year-old won her first Oscar 59 years before her last, by which time she was officially a resilient old broad, though looking good. They didn't call her Great Kate for nothing.
2. Michael Caine – Best Actor, Alfie (1966); Best Supporting Actor, Hannah and Her Sisters (1986)
Caine has played everything from a callow cad in swinging London to Batman's butler over the course of a still-vital 60-year career, and he was over 50 when he received his first Oscar.
3. Gene Hackman – Best Actor, The French Connection (1971); Best Supporting Actor, Unforgiven (1992)
Hackman was in his thirties before taking up acting, and his been-around-the-block face made him perfect for casting as a cop, crook, and grifter, which is just what he won his two Oscars for.
4. Dustin Hoffman – Best Actor, Kramer vs. Kramer (1979) and Rain Man (1988)
Hoffman — short and decidedly un-Waspy — came along right as Hollywood's doors opened (to all white guys, at least), allowing him to play a Times Square grifter (Midnight Cowboy), a middle-class dad (Kramer vs. Kramer), and an autistic savant (Rain Man), the latter two earning him Oscars.
5. Denzel Washington – Best Supporting Actor, Glory (1989); Best Actor, Training Day (2001)
Washington has spent much of his career playing principled, upright men but earned his Oscars for going against the grain: in Glory he's an authority hater who endangers his fellow soldiers and in Training Day a dangerous corrupt cop.

Who should go home with the Oscar this year? Vote now in AMCtv.com's 2011 Oscar poll.
Read More