Uncategorized
Flashback Five – John Wayne's Best Westerns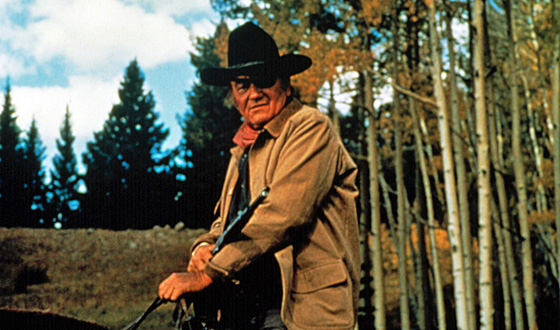 With his signature swagger and old-school attitude, John Wayne epitomized Western machismo. His onscreen actions could serve as a user's guide for aspiring cowboys: never let up, never back down, be honest, be fair, and fight for what's right. That much-mimicked drawl was never the main reason people were so crazy about him. This Sat., Jan 8, AMC shows exactly why he inspired such devotion with Crazy About the Duke, an all-day movie marathon starting with Fort Apache, at 9:30AM | 8:30C, and continuing with cowboy classics like the original True Grit. Wondering which of his Westerns is the best? Check out one opinion below, then rank his greatest for yourself.
1. The Searchers (1956)
Every star needs a role that spotlights his dark side, and The Searchers did exactly that for the Duke. In this brilliant psychological portrait, Wayne took the standard Western hero (self-reliant, unyielding) and turned his positive qualities into something pathological. Wayne — on a mission to find his kidnapped niece — is not pleased to find the girl has gone native. Indeed, he now wants to kill her. This is Wayne at his most mesmerizing.
2. True Grit (1969)
He's drunk half the time and wears an eye patch, but that doesn't slow down crack shot Rooster Cogburn. The Duke's turn as the mercurial bounty hunter is a late-career high point, earning him his only Oscar. Here's a chance to see Wayne poking fun at his own tough-guy persona and to watch as he passes on the Western torch to then-newcomer Robert Duvall.
3. Rio Bravo (1959)
This fast-paced Western is as tight as a drum and as explosive as a powder keg. The classic flick features the holy trinity of Dean Martin, Ricky Nelson, and Wayne as a ragtag group of lawmen trying to defend a town from outlaws. Aside from its star power, Rio Bravo distinguishes itself with comic relief in the form of Stumpy — an old coot who enjoys throwing a little dynamite when the occasion calls for it. Howard Hawks directed Rio Bravo and liked it so much he remade it twice (El Dorado, Rio Lobo). Both times Wayne returned for the party.
4. Stagecoach (1939)
Love must be shown to Wayne's star-making role: the misunderstood Ringo Kid, who's picked up by a covered wagon filled with whores, Holy Rollers, pregnant women, and gamblers trucking through Apache territory. Stagecoach has everything people have come to expect from a Western. And no wonder: with its old-fashioned storytelling under the direction of John Ford, the movie helped make the genre legitimate.
5. Red River (1948)
Generational conflict has rarely been as raw as the battle waged here between Wayne and Montgomery Clift. The pair are very different actors: Clift is quiet and sensitive; Wayne is brusque and direct. That polarity led to explosive chemistry as their characters work out their differences — not to mention their Oedipal conflicts — while driving a huge run of cattle across the frontier. This ain't no City Slickers. As tensions simmer and Indians attack, Wayne delivers an anguished performance to rival any method actor.
Honorable Mentions
1. The Shootist (1976): The parallels to Wayne's own life are hard to ignore in this, his last onscreen performance, as the Duke plays a dying gunfighter who goes out with both guns blazing — literally.
2. Fort Apache (1948): The first film in John Ford's Cavalry trilogy, it remains the best of the lot thanks to Henry Fonda and Wayne battling it out as two officers with very different styles.
3. McLintock! (1963): This light comedy has Wayne pitched in the most fearsome conflict of all: the battle of the sexes. His opponent? None other than frequent collaborator (and friend) Maureen O'Hara.
4. She Wore a Yellow Ribbon (1949): When people say "Send in the cavalry," they might as well be referring to Wayne's fearsome officer, who, despite advanced age, hasn't lost a bit of his nerve in this quiet, elegiac film.
5. The Man Who Shot Liberty Valance (1962): This swan song to the Western wouldn't be complete without Wayne's sturdy presence anchoring the movie as a rancher who leaves his own indelible mark on history.

Don't miss AMC's Crazy About the Duke marathon, starting Sat., Jan. 8, at 9:30AM | 8:30C.
Read More