Green Lantern, Tintin, and More Comic Book Flicks to Get Excited for in 2011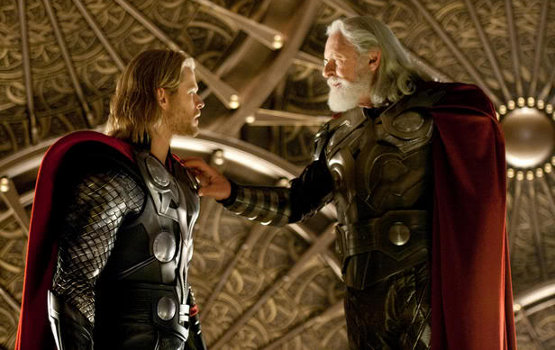 2011's comic-book crop comes with several questions. Is the star of The Proposal the right choice for Green Lantern? How will Thor and Captain America: The First Avenger set the stage for 2012's Avengers? Will fans weep tears of joy or just plain weep after seeing Steven Spielberg and Peter Jackson's long-awaited (and awkwardly titled) Adventures of Tintin: The Secret of the Unicorn? And can The Green Hornet erase all memory of The Spirit? Join me for a look at the wide variety of comic-book movies on tap for the New Year.


The Green Hornet (Jan.)
Pulp hero Green Hornet has been in development since the early nineties, with everyone from George Clooney to Jake Gyllenhaal considered for the role of the playboy turned masked crime fighter Britt Reid. (The fact that the project landed with Seth Rogen and indie director Michel Gondry is more than a little surreal.) While a release during the January doldrums isn't promising, early reviews have pegged Hornet as an entertaining — if uneven — action comedy. (Based on the trailers, it looks like Jay Chou's deadpan Kato scores most of the laughs.) After the ludicrously hard-boiled camp of Frank Miller's Spirit, could The Green Hornet make it safe for pulp heroes to return to the big screen? And will audiences care about a 70-year-old crime fighter in a Zorro mask?


Priest (Mar.)
No, it's not the long-awaited Preacher movie. It's yet another vampire movie. In a world overrun by vampires, one warrior-priest (Paul Bettany) must — what? Sorry, the premise caused me to nod off for a second there. Loosely based on the Korean manhwa of the same name, Priest wants to be Blade and will probably end up more like Underworld: Evolution. (The trailer is almost identical to Legion, Bettany's last supernatural thriller.) At least Bettany still has his off-camera gig as the voice of Iron Man's computerized sidekick (and future butler to the Avengers), Jarvis.

Thor (May)
While I'm still not sold on the Flash Gordon-esque costumes, Thor's latest action-packed trailer suggests that it's the
summer movie to beat. And after the tease at the end of Iron Man 2, rumor has it that fans could see Jeremy Renner's Hawkeye turn up as a bridge to next year's Avengers. But will audiences flock to a major summer movie with an unknown lead? (For
Marvel's sake, let's hope Hemsworth is a bigger breakout star than
Brandon Routh.) Stacking the supporting cast with the likes of Natalie
Portman, Anthony Hopkins, and The Wire's Idris Elba is definitely a smart move.
X-Men: First Class (Jun.)
Should we still trust Fox after the disaster that was X-Men: The Last Stand? Luckily, this prequel has far more going for it than X-Men Origins: Wolverine. First, there's director Matthew Vaughn, who injected some life into the superhero genre with last year's edgy Kick-Ass. (With Layer Cake and Stardust also under his belt, Vaughn is three for three.) Then there's the casting (everyone from Inglourious Basterds star
Michael Fassbender to Oliver Platt as the Man in Black), which is
insane in the best possible way. (You had me at Kevin Bacon as Sebastian Shaw.) Plus the sixties setting is a great excuse for January Jones's Emma Frost to wear awesome Emma Peel boots.


Green Lantern (Jun.)
DC is betting the farm on Green Lantern being the next blockbuster franchise. Based on the early trailers, fan reaction is mixed. While the filmmakers seem to have concocted a fun
mix of sci-fi action and humor, Ryan Reynolds's CGI costume has inspired
some eye rolling. (Is it me, or does Tomar-Re kind of look like Chicken Little?) If nothing else, the sprawling supporting cast of Lanterns (everyone
from Kilowog to the villainous Sinestro, played by Mark Strong) should provide fodder for
multiple sequels and spin-offs. (The Sinestro Corps War story line
alone could make up a trilogy.)


Captain America: The First Avenger (Jul.)
The latest photos from Marvel's Avengers
prequel suggest that director Joe Johnston has nailed the Word War
II-era setting. That said, it's a little disconcerting that we've yet to
see a trailer. In fact, it's the only summer movie on this list that
hasn't bombarded fans with teasers and set photos. With Hydra
reportedly subbing in for Nazis as the movie's big bad, fans are a
little concerned that the filmmakers are whitewashing comic-book (and
actual) history. Plus there's the fact that Johnston hasn't directed a
decent movie since Jumanji. A trailer could go a long way toward silencing critics and getting fans pumped for some shield-slinging action.


Cowboys & Aliens (Jul.)
Okay, so the obscure graphic novel on which this Harrison Ford-Daniel Craig sci-fi flick is based isn't exactly "Watchmen." (Heck, it's not even Scott Pilgrim.) But the buzz-worthy trailer suggests that it won't be flying under the radar much longer. (Ironically, Platinum Studios also published "Men in Black," another comic turned blockbuster.) Iron Man
director Jon Favreau is behind the adaptation and looks to have
delivered on the fun promised in the title. (You can't beat Craig's
sweet fist-cannon.) Could Cowboys & Aliens redeem the weird Western genre after the horror that was Jonah Hex?
The Adventures of Tintin: The Secret of the Unicorn (Dec.)
Amazingly,
the first installment in Steven Spielberg and Peter Jackson's planned
trilogy is something of a gamble. First, there's the recognition
factor: though universally acclaimed (and beloved overseas), Tintin is
something of an unknown in the U.S. Then there's the duo's decision to
film with 3-D motion-capture technology, a move that brings to mind the creepy CGI Tom Hanks in The Polar Express. While the early images are intriguing, fans are concerned that Hergé's gorgeous artwork will be lost amid the gimmickry. Still, if nothing else, the movie will hopefully bring a new generation of readers to Hergé's timeless comic.
Read More