Uncategorized
Flashback Five – Al Pacino's Best Movies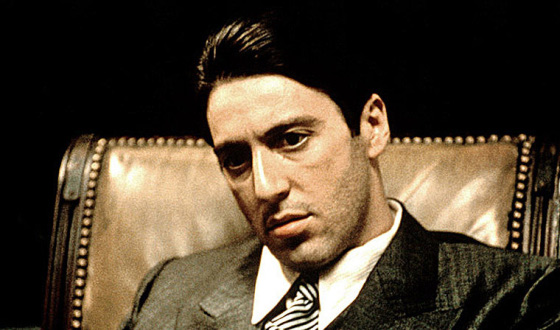 Al Pacino is white-hot. Fresh off of a Golden Globe win for his turn as Jack Kevorkian in You Don't Know Jack and a well-received run as Shylock in Broadway's Merchant of Venice, Pacino's reaching heights he hasn't hit in a couple of decades. And with his crime drama The Son of No One set to close out the Sundance Film Festival, more critical kudos may be on the horizon. Not bad for a septuagenarian who's supposed to be in the twilight of his career. Which is to say that the time seems ripe to take a look back at the brash, bold actor's best roles.
1. The Godfather (1972)
Pacino makes the transition from good son to hardened killer seem like nothing, in what many consider the greatest movie of all time. Pacino's Michael Corleone is determined to make a break from his family's criminal roots, but getting out is as difficult as untangling a bowl of spaghetti. That's quite a journey to make for an actor — and the audience — but Pacino holds us firmly in his grip every blood-soaked step of the way. And at the decisive moment when his loyalties collide — the ultratense restaurant murder scene — the actor communicates every torturous moment with his eyes. A truly flawless performance that's brilliant each step of the way.
2. Scarface (1983)
Tony Montana is basically Michael Corleone on acid. Or, actually, just cocaine. Piles of cocaine. Mountains of it. Enough to bury your face in, which is just what Montana famously does. But at base, Scarface is your traditional rags-to-rich tale — albeit played out on the bloody streets of Miami — which explains why, after a rough start, the movie went from cult classic to universally loved. A political refugee from Cuba, Montana pursues the American dream by diving headlong into Miami's lucrative and deadly drug trade. Along the way, Pacino creates a truly unique and memorable anti-hero. Reptilian, charming, volatile, needy, he's ambition personified.
3. Dog Day Afternoon (1975)
Pacino would never play your average bank robber. No, his version is an idiosyncratic thief with some rather unusual plans for his loot: paying for his partner's sex-change operation. And when he isn't trying to figure a way out of the surrounded savings and loan, he's riling up the gathered crowd with cries of, "Attica! Attica! Attica!" What chutzpah. Tense and unpredictable in this ill-planned hostage situation, Pacino makes a charismatic captor for movie audiences. He's the reason why Stockholm syndrome was invented.
4. The Panic in Needle Park (1971)
This is the closest Pacino gets to a romantic comedy. As you might imagine, it's well clear of When Harry Met Sally territory, with Pacino as a junkie who tries and fails to change when he meets a women (Kitty Winn). Their courtship is tinged with fatalism, and their life together is nothing if not doomed. Is the movie depressing? Yes. But it made Pacino a star, and you won't know why until you give it a shot. It'll also give you a taste of that old-time syringes-crunching-under-your-shoes New York City that everyone's so nostalgic about.
5. Scent of a Woman (1992)
This is Pacino at his pure showboating best. Berserk, over-the-top, and frenetic, Pacino is an old blind military man who plans to have one last carouse with his awkward overseer (Chris O'Donnell) before ending his life like a samurai. But why kill yourself when you're at the height of your powers? Indeed, Pacino proves that his rapscallion charms are fully intact — tangoing with a young woman before throwing her O'Donnell's way. There's still one more reason to see this movie. Say it with me: hoo-ha!
Honorable Mentions
1. The Godfather: Part II (1974): With Marlon Brando out of the picture, Pacino has his thunder stolen by longtime rival Robert De Niro but still gives a great performance in a great film.
2. Carlito's Way (1993): Pacino plays a gangster just out of the joint. Meanwhile, a curly-headed Sean Penn fills the Scarface-esque crazed-cokehead role.
3. Serpico (1973): Pacino is wonderfully impassioned — and gloriously scruffy — in his role as the undercover cop. This gritty true story makes Woodward and Bernstein looks like saps.
4. Donnie Brasco (1997): This razor-sharp crime thriller is an intriguing reversal of Serpico, with Johnny Depp as the undercover cop ingratiating himself with a mobster (Pacino). Trouble is, he kind of gets to like the guy. Understandable.
5. Any Given Sunday (1999): Let's face it: if you're down in the fourth quarter and want a pep talk, an emotional, bombastic Pacino is the guy to do it. Which is just what makes this football flick so fun.

Check out Pacino in The Godfather and The Godfather: Part II on AMC, starting Sat., Feb. 12, at 4PM | 3C, and continuing all weekend during AMC's Can't Get Enough Godfather.
Read about The Son of No One and the rest of the movies generating buzz at the Sundance Film Festival, then tune into AMC starting Jan. 24 for AMC News coverage of the festival.
Read More