Press
AMC Garners Six WGA Award Nominations for Mad Men, Breaking Bad, and The Walking Dead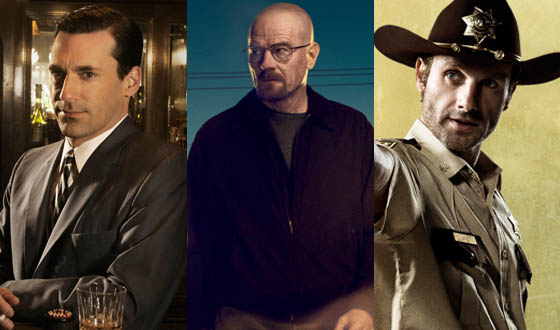 Today the Writers Guild of America (WGA) announced its nominees for outstanding achievement in television, radio, news, promotional writing, and graphic animation during the 2010 season. AMC's award-winning original series Mad Men, Breaking Bad, and The Walking Dead were all honored.
BEST DRAMATIC SERIES – Breaking Bad
Written by: Sam Catlin, Vince Gilligan, Peter Gould, Gennifer Hutchison, George Mastras, Tom Schnauz, John Shiban, Moira Walley-Beckett, AMC
AMC, produced by Sony Pictures Television
BEST DRAMATIC SERIES – Mad Men
Written by: Jonathan Abrahams, Lisa Albert, Keith Huff, Jonathan Igla, Andre Jacquemetton, Maria Jacquemetton, Brett Johnson, Janet Leahy, Erin Levy, Tracy McMillan, Dahvi Waller, Matthew Weiner
AMC, produced by Lionsgate
BEST NEW SERIES – The Walking Dead
Written by: Frank Darabont, Charles H. Eglee, Robert Kirkman, Jack LoGiudice, Glen Mazzara
AMC
EPISODIC DRAMA – One Nomination for Mad Men
"The Chrysanthemum and the Sword" – Written by Erin Levy, AMC
AMC, produced by Lionsgate
EPISODIC DRAMA – Two Nominations for Breaking Bad
"I.F.T." – Written by George Mastras
AMC, produced by Sony Pictures Television
"I See You" – Written by Gennifer Hutchison
AMC, produced by Sony Pictures Television
About Mad Men
Set in sixties New York, Mad Men follows the lives of the ruthlessly competitive men and women of Madison Avenue advertising. Created, written, and executive-produced by Emmy® and Golden Globe® Award winner Matthew Weiner, the show's cast includes 2007 Golden Globe® winner Jon Hamm, Elisabeth Moss, Vincent Kartheiser, January Jones, Christina Hendricks, John Slattery, Jared Harris, Rich Sommer, Aaron Staton, Robert Morse, and Kiernan Shipka. Mad Men is produced by Lionsgate, in association with AMC.
About Breaking Bad
Created by acclaimed writer-producer-director Vince Gilligan, Breaking Bad follows Walter White (Bryan Cranston), a milquetoast high-school chemistry teacher who discovers he is dying of lung cancer. Desperate to secure his family's financial future, Walt teams up with a former student, Jesse Pinkman (Aaron Paul), to turn a used RV into a mobile drug lab. Filmed in Albuquerque, N.M., Breaking Bad stars three-time Emmy® Award winner Bryan Cranston, Emmy® winner Aaron Paul, Anna Gunn, Dean Norris, Betsy Brandt, RJ Mitte, Bob Odenkirk, Giancarlo Esposito, and Jonathan Banks. Breaking Bad is produced by Sony Pictures Television in association with AMC.
About The Walking Dead
Based on Robert Kirkman's hugely successful and popular comic-book series, The Walking Dead tells the story of the weeks and months that follow after a zombie apocalypse. A survivalist story at its core, the series explores how the living are changed by the overwhelming realization that those who survive can be far more dangerous that the mindless walkers roaming the Earth. The Walking Dead is written and executive-produced by three-time Academy® Award nominee Frank Darabont and executive-produced by Gale Anne Hurd.
About AMC
AMC reigns as the only cable network in history to win the Emmy® Award for Outstanding Drama Series three years in a row, as well as the Golden Globe® Award for Best Television Series, Drama, for three consecutive years. Whether commemorating favorite films from every genre and decade or creating acclaimed original programming, the AMC experience is an uncompromising celebration of great stories. AMC's original stories include the Emmy® Award-winning dramas Mad Men and Breaking Bad and entertaining non-scripted programming such as AMC News. AMC further demonstrates its commitment to the art of storytelling with curated movie franchises like AMC Hollywood Icon and AMC Complete Collection. Available in more than 96 million homes (source: Nielsen Media Research), AMC is a subsidiary of Rainbow Media Holdings LLC, which includes sister networks IFC, Sundance Channel, WE tv, and Wedding Central. AMC is available across all platforms, including on air, online, on demand, and via mobile. AMC: Story Matters Here.
Read More