Top Ten Worst Movie Christmases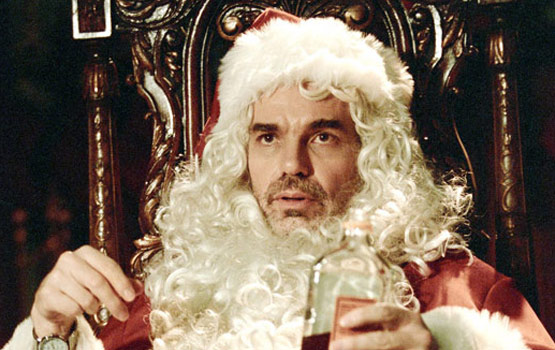 This bitter weather, the overcrowded shopping malls, and the incessant stream of faux-cheery holiday tunes going on right now have the grinches at FilmCritic.com in a foul mood. So instead of hanging our stockings with care, we're digging through Hollywood's dirtiest laundry to find the top ten worst movie Christmases. Consider it a lump of cinematic coal delivered straight to your computer. Bah, humbug.
10. A Christmas Story
With the pull of a trigger, "You'll shoot your eye out" becomes a self-fulfilling prophecy, sending Ralphie (Peter Billingsley) to the snow-covered turf and leading to the eventual pulverization of his glasses. But Christmas isn't officially ruined until the scent of a freshly cooked turkey summons the hounds, and A Christmas Story quite literally goes to the dogs. Still a holiday classic, though.
9. Bad Santa
Want to sing a traditional Christmas carol about Billy Bob Thornton's foulmouthed, sweat-stained, child-hating Saint Nick? Better change the lyrics to, "He sees you when you're drinking. / He knows when you're having sex with a prostitute." Even if you somehow were able to edit out the scenes of Thornton's Santa getting gunned down by trigger-happy sheriffs, this still would qualify as the most depressing (yet unabashedly hilarious) Christmas movie of our generation.
8. Reindeer Games
Maybe all of the other reindeers who used to laugh and call Rudolph names didn't let him join any reindeer games because they suspected it would be as boring and nonsensical as John Frankenheimer's heist picture. Ben Affleck has made a handful of bad Christmas movies, but it's his hammy turn in Reindeer Games that earns him a permanent spot on Hollywood's naughty list.
7. Home Alone
We're not saying that this was a bad Christmas for Kevin (Macaulay Culkin). He got the whole house to himself, after all. But his mom (Catherine O'Hara) will need therapy to shake the shame of having left her child behind as the family embarks on a European trip. And his tormentors (Joe Pesci and Daniel Stern) have certainly had better holidays: Kevin tortures them like Guantánamo Bay detainees simply because they chose the wrong house to burgle. Ho, ho, home alone, indeed.
6. Gremlins
A note to all of the last-minute shoppers reading this: wandering into a mystical shop that's tucked back in a seedy corner of Chinatown to choose that hard-to-find gift can only lead to trouble. The Christmas setting for Joe Dante's creature feature beautifully contradicts the film's black comedy, while the adorable Gizmo begot the invention of such irritating Christmas toys as the Furby and Zhu Zhu Pets.
5. It's a Wonderful Life
I know what you're thinking. What kind of Scrooge would put Frank Capra's masterpiece on a Worst Christmases list? But think about it: the movie starts with George Bailey (James Stewart) about to commit suicide. And Capra's film piles on the heartbreak as George makes one sacrifice after another for the benefit of those around him. You'll need more than a few belts of spiked eggnog to make it through this routinely depressing Life in one sitting.
4. How the Grinch Stole Christmas
On any other list, we'd celebrate the animated version of Dr. Seuss's bedtime story that most of us grew up with. But this being a Worst Christmases collection, we'd be remiss not to dis Jim Carrey's overblown turn as the grouchy green Grinch. Carrey — with his physical-comedy meter cranked to 11 — vamps around stealing Christmas, and it's as bad for the residents of Whoville as it for us, watching at home. Still, it's a better movie than The Cat in the Hat.
3. Christmas Vacation
Clark Griswold (Chevy Chase) would definitely rather have twelve drummers, eleven pipers, and ten lords a-leaping in his house during the holidays than the redneck relative (Randy Quaid) who's disrupting his Christmas celebration. Things quickly go from bad to worse, but the screenplay (by John Hughes) has more solid one-liners than we expected, and the bit with the squirrel hiding in Clark's tree still gets laughs more than twenty years later.
2. Silent Night, Deadly Night
So you didn't get that toy you asked for this year. Poor Billy Chapman (Danny Wagner) has really got something to cry about. On Christmas Eve, a criminal in a Santa suit slaughters the young boy's parents. Now everyone's on Billy's naughty list, and he's forced to bring them something much worse than lumps of coal. Bob Clark's Black Christmas may get more buzz, but this deranged slasher flick really delivers the sadistic thrills.
1. Christmas With the Kranks
In the annals of movies that highlight the darker side of the holidays, this Tim Allen and Jamie Lee Curtis flick absolutely takes the fruitcake. After swearing off Christmas for the year, the couple is forced to reconsider when their daughter announces she's coming home for a surprise visit. Chaos ensues, with the Kranks' last-minute scramble resulting in a dead tree, bad trout for dinner, and a slew of neighborhood misunderstandings that would turn anyone into a lifelong Scrooge.
Read More