Top Ten Reasons We Can't Get Enough Back to the Future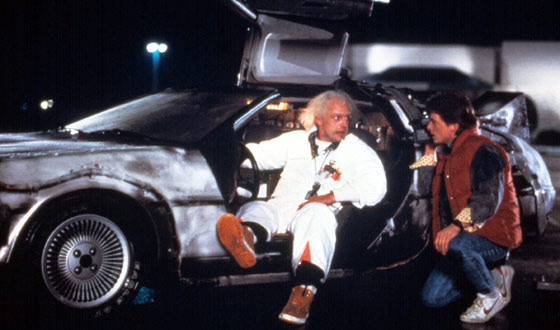 Time-travel movies are a genre unto themselves, and Back to the Future is a paragon within the genre. Director Robert Zemeckis took a classic sci-fi premise and spun it into a relatable tale with an ace cast (led by Michael J. Fox and Christopher Lloyd) and boffo humor. AMC's week-long tribute to this classic eighties movie — and the sequels it inspired — concludes with a Can't Get Enough Back to the Future marathon on Fri., Dec. 31 beginning at 10:30AM | 9:30C. If you want to ponder what makes these flicks so great, here are the top ten reasons we can't get enough Back to the Future:
10. Huey Lewis and the News
Huey Lewis and the News wrote "The Power of Love" and "Back in Time" specifically for Back to the Future, and the tunes reflect the movie perfectly: catchy, upbeat, and crowd-pleasing, they're bound to get your toes tapping. "Back in Time" is especially wry, since it sums up the story so succinctly: "All I wanted to do was play my guitar and sing. / So take me away — I don't mind. / But you'd better promise me I'll be back in time." Marty McFly (Michael J. Fox) couldn't have said it better himself.
9. 1.21 Gigawatts
Everyone knows the exact amount of electricity required to power a flux capacitor thanks to the exasperated "1.21 gigawatts!" of Doc Brown (Christopher Lloyd). With one well-placed epithet, Doc establishes the grandeur of the trilogy's premise (a nuclear-powered time-traveling sports car) and sets up the conflict that drives the entire first film. (Plutonium is a little hard to come by in 1955.) And then there's the term itself, often a point of contention among purists who point out that Doc misspeaks by saying "gigawatts" with a soft, instead of hard, "g." However, both pronunciations are acceptable: the on-set physicist hired by Zemeckis pronounced the word with a soft "g." So there.
8. Self-Drying, Resizing Coat
As you'd expect from any great time-travel flick, fashions are a big part of the appeal — and nevermore so than when director Robert Zemeckis takes a look at futuristic outfits. Of particular note is Marty's jacket from the 2015
spring line (Back to the Future Part II). Never mind the cut: once McFly
gets the sporty jacket on, it resizes itself as if tailored for him. The jacket also dries itself after a dunk in the courthouse fountain. We'll take one of those jackets in black (and a pair of self-lacing Nikes) over a jet pack any day.
7. DeLorean Time Machine
As Marty puts it to Doc, "Are you telling me that you built a time machine out of a DeLorean?" He sure did, and thus the DeLorean, which in reality was a very short-lived car model, became immortalized as one of the most peculiar time machines in movie history. When Marty and Doc go back to 1955, a farmer mistakes the DeLorean for a UFO. With those distinct gull-wing doors, you can't blame him for his error.
6. Crispin Glover, Twice Over
Crispin Glover is handsome, but he's also a bit of an oddball. It's the perfect combination of qualities to play George McFly, a nerdy, eccentric, and also heroic figure. In one version of reality, he gets the girl and lives happily ever after, but in another version he's forever groveling at the feet of Biff (Thomas F. Wilson). Whether he's in lady-killer or geek mode, Glover's offbeat take on George McFly never fails to entertain.
5. Oedipal Humor
When Marty saves his father, George, from getting hit by a car, little does he know he's just prevented the event that caused his parents to meet and fall in love. From then on, his mission is to set things right and match his parents back up. To his horror, though, his mom, Lorraine (Lea Thompson), develops the hots for him instead of George. Hilarious Oedipal awkwardness begins, culminating in an uncomfortable (and very short) Marty-and-Lorraine make-out session in the front seat of a car.
4. The Unique Parent-Child Bond
Screenwriter Bob Gale says he got the idea for Back to the Future after discovering his father's high-school yearbook and wondering if he would have been friends with his dad had they grown up peers. The movie really strikes a chord with anyone who's wondered that very same question about their parents. Marty gets the unique opportunity to explore this question, and the answer is, Yes, they could have been pals — in an odd-couple kind of way.
3. The Enchantment Under the Sea Dance
The Enchantment Under the Sea dance is a perfectly scripted and riveting climax for a movie. This is the dance where George and Lorraine are supposed to fall in love to the tune of "Earth Angel (Will You Be Mine)," which means Marty must somehow rebuff his mother's advances and sic her on George. He achieves his goal through a suspenseful sequence of events that involves a great car-trunk escape, a Biff-versus-George showdown, and an unforgettable rendition of "Johnny B. Goode."
2. Michael J. Fox
Marty McFly is a role that could easily have been overacted, but Michael J. Fox puts just the right dose of comedy into his performance. As Marty copes with the shocks of time travel — meeting his parents in their youth, encountering anachronisms at every turn — the looks of disbelief that cross his face are consistently funny yet genuine. Fox was a natural for this role. Thank goodness he was able to fit it into his Family Ties schedule.
1. A Triple Dose of Nostalgia
When the original Back to the Future premiered, in 1985, the movie applied a contemporary attitude while looking at fifties culture, but nowadays the then-present eighties triggers just as much nostalgia with references to Pepsi Free and expressions like, "This is heavy." Take the journey further back in time to the Old West via Back to the Future Part III, and you're nostalgia factor triples. For the way it sets its satirical eye on 25 years ago, 50 years ago, and over 100 years ago, this trilogy can't be beat.
Read More