Top Ten Most Inspired Movie Couples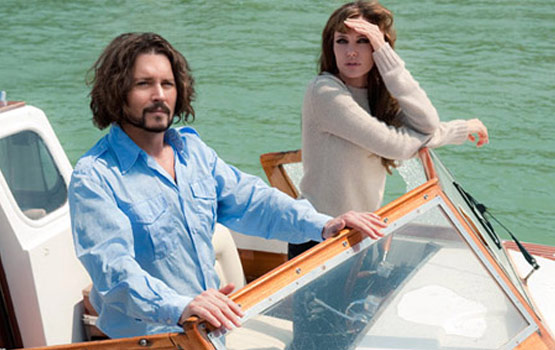 The pairing of Angelina Jolie and Johnny Depp — she of the ice-cold action-heroine glory and he the possessor of one of the most offbeat, transfixing charms Hollywood's ever seen — as the leads in the dramatic thriller The Tourist is one of the more intriguing couplings in recent movies. Of course, as any film fanatic knows, there have been plenty of inspired onscreen pairs who didn't necessarily make sense on the page but became iconic couples once audiences saw their chemistry. For example…
10. Superman / Clark Kent (Christopher Reeve) and Lois Lane (Margot Kidder), Superman
Back in 1978, Reeve was just a shrimpy kid desperate for a shot at fame, and Kidder was a Canadian actress with a few unseen movies under her belt. The film's casters were reluctant to pick them, but Reeve's all-American affect and Kidder's tough-but-vulnerable demeanor were a perfect fit — as the audiences who made Superman the sixth-highest-grossing film of all time (back then) made clear.
9. Jack T. Colton (Michael Douglas) and Joan Wilder (Kathleen Turner), Romancing the Stone
They may have gone on to become one of the most iconic pairings of the eighties, but Douglas and Turner weren't by any means an obvious match: his star was fading when he was cast in the film, and Turner's was still on the rise. Their love-hate chemistry crackled onscreen nonetheless, and the movie was a smash hit — as were two more collaborative pics, The Jewel of the Nile and The War of the Roses.
8. Joel Barish (Jim Carrey) and Clementine Kruczynski (Kate Winslet), Eternal Sunshine of the Spotless Mind
It was a moment of true inspiration when Michel Gondry conceived of pairing lanky goofball Carrey with actress's actress Winslet as the kooky leads in this dreamy romance. And though the reception of the film was mixed, the pair couldn't have been better cast as an unlikely couple whose inability to live with or without each other was the cornerstone of the movie's plot.
7. Barry Egan (Adam Sandler) and Lena Leonard (Emily Watson), Punch-Drunk Love
Director Paul Thomas Anderson must have felt vindicated when Sandler won critical accolades for this dark romantic comedy. As the woman he encounters on the street after a bizarre encounter with a harmonium, Watson's Lena remains a cipher for much of the film, but the pair's off-kilter chemistry made the unlikely movie — and the romance between the two — a thing to behold.
6. Alvy Singer (Woody Allen) and Annie Hall (Diane Keaton), Annie Hall
Allen's predilection for pairing himself up with gorgeous leading ladies is well documented, and you could pick almost any of his movies for this list — mostly because any beautiful woman seems weirdly cast opposite Allen's nebbish charms. But his classic rapport with Keaton in this flick is one of a kind: a kooky, neurotic back-and-forth that manages to feel real against all odds.
5. John Smith (Brad Pitt) and Jane Smith (Angelina Jolie), Mr. & Mrs. Smith
They may be one of the tabloids' most well-established couples now, but back in 2005 Pitt and Jolie were simply the two hottest stars in Hollywood. Bringing them together for this action-romance flick seems like it must have been a no-brainer, but at the time it was casting genius — as evidenced by the film's blockbuster reception and the real-life romance that ensued.
4. Edward Lewis (Richard Gere) and Vivian Ward (Julia Roberts), Pretty Woman
This one really needs no explanation. Gere may have been an easy pick for the role of the hotshot millionaire with commitment issues, but Roberts wasn't the director Garry Marshall's first choice for the hooker with a heart of gold — he reportedly approached Meg Ryan, Molly Ringwald, and Daryl Hannah first. Without Roberts's horsey laugh and leggy appeal to coax Gere's Edward out of his shell, it's hard to imagine that this flick would have secured its perennial spot at the top of the list of the best romantic comedies of all time.
3. Loretta Castorini (Cher) and Ronny Cammareri (Nicolas Cage), Moonstruck

A full eighteen years younger than his spotlight-loving leading lady, Cage may never have been better than when he played the tortured, disabled romantic who falls for Cher's gruff spinster in this captivating pic. There may never have been a pairing as unlikely onscreen, and that only serves to underscore the movie's underlying message: that love could be waiting around any corner, often when you least expect it.

2. Tony Montana (Al Pacino) and Elvira Hancock (Michelle Pfeiffer), Scarface
Who better to play the gorgeous, uninterested foil to Pacino's irascible (but pint-size) drug lord than Pfeiffer, in all her flawless twentysomething glory? The pair's physical incongruity and unlikely connection serves to underscore the movie's theme of misguided aspiration — and foreshadows, elegantly, how unlikely it was that any of this was going to end well.
1. Rick Blaine (Humphrey Bogart) and Ilsa Lund (Ingrid Bergman), Casablanca
There may be no cinematic love story more enduring than the one in this 1942 film, so it can be easy to forget that Bogart wasn't exactly considered a romantic superstar beforehand and that Bergman was barely a blip on the international radar prior to its release. And yet what happened when the pair came together onscreen was the stuff of Hollywood legend — and remains so to this day.
Read More